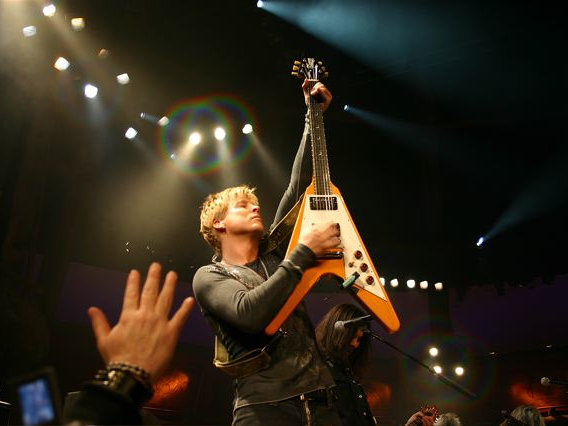 Scrap Metal teases up '80s hair metal
Fans of '80s pop metal will have an opportunity to relive those halcyon days of spandex and Aqua Net when an interesting amalgamation of some of hair metal's leading hitmakers invade Milwaukee's Northern Lights Theater on April 25 and 26.
In aggregate, the members of "Scrap Metal" and their primary bands – Nelson, Slaughter, Night Ranger and Vixen – have sold 50 million records worldwide. Impressive by any standard, but that's not at all that this band is about.
"Scrap Metal shows have allowed us to get back to the fun – back to the reasons we got into music in the first place – because we love music and enjoy playing live," said Gunnar Nelson, vocalist and guitarist of the band Nelson and co-founder of Scrap Metal. "These gigs are like a vacation for us – we look forward to them so much. It's really a collaborative, party atmosphere."
Co-founder Mark Slaughter agrees.
"Scrap Metal is a great time – it really is a lot of fun – no headaches, no drama – just people who enjoy each other's company both on and off stage. That's the key – we really enjoy playing together and that comes through on stage. The shows are relaxed and intimate – almost a living room, kind of a get-to-know you thing."
The lineup for the upcoming Milwaukee shows includes Gunnar and Matthew Nelson from Nelson, Mark Slaughter of Slaughter (who plays the Rock USA Festival in Oshkosh on July 18), Kelly Keagy of Night Ranger and Janet Gardner from Vixen. What makes the Scrap Metal concept unique is the fact that all of them are lead vocalists on major chart hits for their respective bands.
"As a music fan, I got tired of the bands that I love changing out their front person and expecting fans to believe that they were the same band," said Nelson. "I realized that there is some power in that – we're all original front people singing some of the greatest hits of the '80s.
"It's all killer and no filler. The audience knows all the words to every song – all sung respectfully by the original lead singers – that's a pretty cool thing. Rather than going to see one band and knowing three or four of their tunes – you'll know every single song that we play."
Songs like "Sister Christian," "(Can't Live Without Your) Love" and Affection," "Fly to the Angels" and "Edge of a Broken Heart" – all major '80s hits and MTV staples, from back when MTV actually played music videos.
Nothin' But a Good Vibe
Scrap Metal started about five years ago as a one-off gig for a bunch of friends and over the years has developed a rotating cast of musicians that play five to seven dates per year. Other regular Scrap Metal participants include Eric Martin (Mr. Big), Jimi Jamison (Survivor) and Joe Lynn Turner (Rainbow / Deep Purple).
"People have thought about doing this in the past, but they think that the logistics are too daunting, egos are going to get involved, scheduling is crazy… What they underestimated is that we're all really good friends. We love each other, we all have each others' backs and we push each other to do well in normal life and with our other bands. That's the stuff that makes Scrap Metal work," said Nelson.
"That's what makes people want to sacrifice a Friday or Saturday where they could be making 10 times the money with their usual band and come out and play a gig with their friends at a Scrap Metal show. It's a safe place to go to and reconnect with friends and get back to the basics – it's nothing but a good vibe."
Since they're playing two nights in a row in Milwaukee, Nelson promises this Scrap Metal gig will bring a bit more production value than usual, including screens to share lots of video clips – undoubtedly featuring lots and lots of teased hair.
"The shows really are an event," said Nelson.
"All of them have sold out," said Slaughter.
"If you're a fan of the era and are tired with people messing with your memories – be it the same tired sets over and over or bands not on their 'A' game from a performance perspective – we are going to dispel that notion and set a new standard and we'll all laugh through the entire thing." said Nelson.
"It's going to be a blast. There will be no better way to spend your evening."
Matthew and Gunnar Nelson will be coming into town a couple of days before the Scrap Metal shows and will be doing their acoustic "Ricky Nelson Remembered" show at the Northern Lights Theater. For more information, visit paysbig.com.
Facebook Comments
Disclaimer: Please note that Facebook comments are posted through Facebook and cannot be approved, edited or declined by OnMilwaukee.com. The opinions expressed in Facebook comments do not necessarily reflect those of OnMilwaukee.com or its staff.