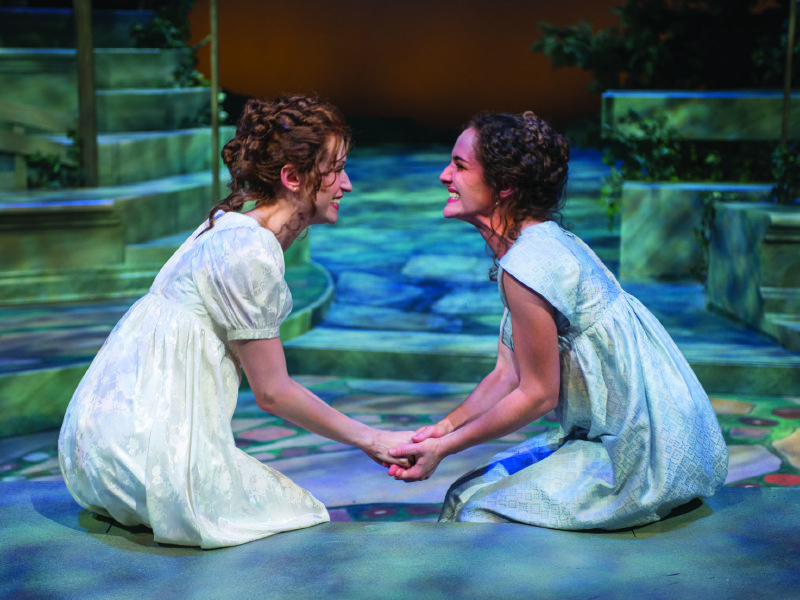 "Sense and Sensibility" falls short of delivering both
One of the things that you expect when you go to a play is that somewhere along the line some of the characters will do something or have something happen to them to make us care about them.
It's a threat, or tension or drama. Even great comedy has tension. It's what makes us watch closely and care.
And if there is one thing missing from the visually stunning production of "Sense and Sensibility" that opened at the Milwaukee Rep Friday night, it's that tension or that sense of dramatic danger. What we are left with is a lovely, slow stroll through the lives of two young women who are wildly different in their approach to life.
"Sense and Sensibility" is a classic novel, the first written by Jane Austen, who wrote of romance and natural wonders and the complexities of life for a variety of heroines. English classes the world over have exposed young readers to her works, and she is universally acclaimed.
But there is a vast difference between a novel and a play.
In Austen's novel you take your time. She gently sets scenes and creates flowing dialogue and speeches that warm you and give you pause to reflect. Her novel is full of episodes in the life of the two sisters as they fall in love, are courted, are spurned, are surprised and are, in the end, happily in love and thrilled to be sisters. Austen encourages us to take our time and grow to love these women.
The difficulty with the adaptation, by Mark Healy, a well-known British actor who has created a nice niche for himself by adapting classic novels for the stage, is that it's hard to get all of that into a play.
In this adaptation, we waited almost an hour and three quarters until something threatening happened to one of the sisters. Marianne, the youngest sister, falls ill, suffering from an infection as well as a broken heart.
That's a long time to go before we really start to care.
This is a story with a lot of complexity, and it's hard to detail those complexities with any kind of depth on a stage. The curious nature of this production gives us dozens of scenes, some several minutes long, others in the one-minute range. Lights and music and small setting changes try to move the story along.
Art Manke directed this production. He's a highly respected director who has a national reputation, but his touch on this one doesn't do the adaptation any favors.
It's difficult to clearly understand what has happened in the journey from novel to play that has caused such a disruption in our attention span, but a big part of it is the staggeringly slow pace of the play. More than a few heads were nodding Friday night. Not sleeping, necessarily, but not engaged in the play.
And in many respects, it's a shame that so much wonderful stuff has been unable to rescue this production. The period costumes are splendid; the set and sound are a real treat.
But, as they say in the world of basketball, you don't know who to root for.
One of the sisters lives a life of good sense. She thinks about things and is reserved in her emotions. The other is driven by sensibility, letting her feelings be her guide in all things.
In the end, we don't even get a lesson in which approach leads to the greater truth.
All we are left with is a kind of empty feeling that maybe we missed the point of something. And nobody likes missing the point.
Facebook Comments
Disclaimer: Please note that Facebook comments are posted through Facebook and cannot be approved, edited or declined by OnMilwaukee.com. The opinions expressed in Facebook comments do not necessarily reflect those of OnMilwaukee.com or its staff.