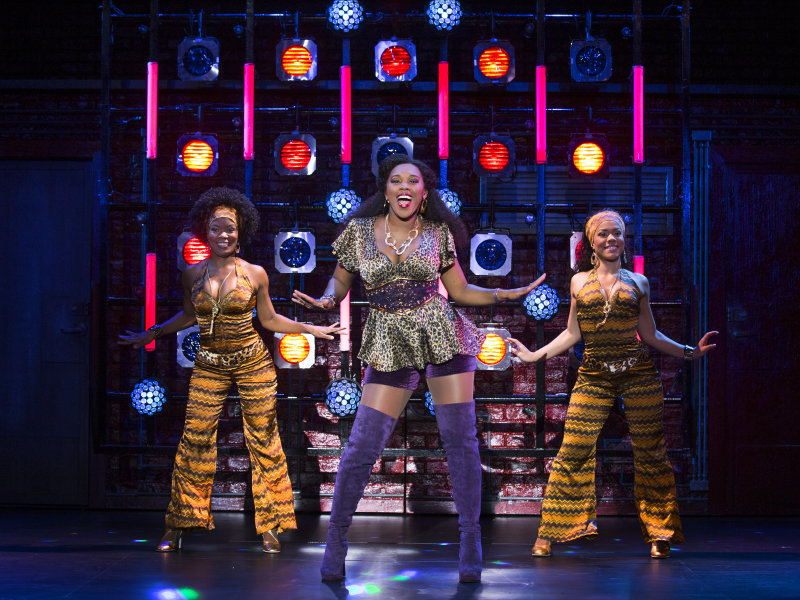 "Sister Act" gives audience good, clean nun fun
Taking a popular movie and moving it to the live stage is a rare thing, and even more rare is to turn the movie into a live theater hit.
"The Lion King" did it and so did "The Producers." But there aren't many that became big hits.
But "Sister Act," the movie starring Whoopi Goldberg, has had nice runs in London and on Broadway and a Broadway-caliber cast brought the play to life Tuesday night at the Marcus Center for the Performing Arts, starting a run that goes through Sunday.
This is a musical that has received both popular and critical praise and it's easy to see why people love this show.
The story is well-known. Deloris Van Cartier is a high-toned and sexy singer who finds herself undercover and being hidden in a church after witnessing a murder. This red-hot mama is totally out of place with the cloistered nuns who toil away and have a choir that sounds like a dozen tone-deaf ladies all singing different songs.
But Deloris finds herself stepping up to the plate and turning these lackluster melody makers into a singing group so hot and so popular that congregants dig deep in their pockets in praise of the singing and save the church from going out of existence.
That's the story. And that's also the joke.
Sister Act is a one-joke show. Take a black woman who can both walk the walk and talk the talk, and put her with a group of mostly white, sheltered nuns and see what happens. What happens is funny.
When Deloris is called on to give the Lord's Prayer at the start of her first meal of mutton, she delivers a fractured version that had the audience in tears and ended with "...let's eat at last, Thank God Almighty, let's eat at last."
Ta'Rea Campbell, who created the role of Nala in "The Lion King" on Broadway, commands the stage as Deloris. She can dance and sing and deliver a joke with perfect timing. She establishes great rapport with the audience and it's easy to see why she's going to be a star someday soon.
The music takes cues from Barry White, Leiber and Stoller, Phil Spector's Wall of Sound, the Bee Gees and John Travolta. If it sounds like white folks music, that's because it is.
One odd thing about the musical is that with a black leading lady and a lot of black supporting actors, this show has such little soul. It's not that the music is lousy, but all of the songs are clever and either real funny or a little funny. And there is none of the grit and grime of great, soulful songs. These are all pretty antiseptic. Good, but kind of un-enchanting.
I found myself wondering how many songs I'd have to sit through with nuns doing the boogie and shaking their bosoms and doing all the hand movements made popular on MTV, which got it from "American Bandstand." The first time was funny. The third and fourth were merely repetitive.
Somewhere along the way I wanted to hear something beautiful, moving and serious. A couple of the songs tried, but this musical is so wrapped up in playing it for laughs that it forgets to sometimes let us feel something.
This is a show that is fun to see. No doubt about it. It's well worth getting tickets and seeing it before it sneaks out of town. Just know that what you are going to see, while popular, is pretty vanilla stuff.
Facebook Comments
Disclaimer: Please note that Facebook comments are posted through Facebook and cannot be approved, edited or declined by OnMilwaukee.com. The opinions expressed in Facebook comments do not necessarily reflect those of OnMilwaukee.com or its staff.