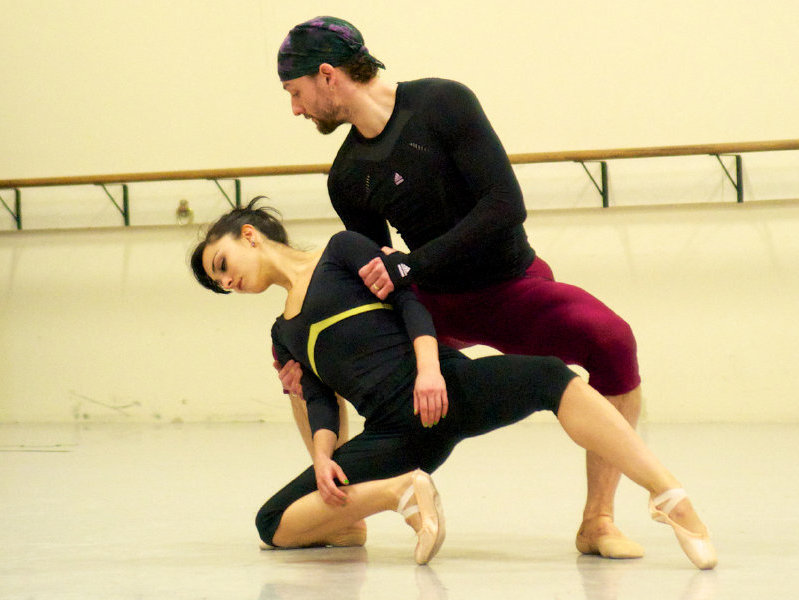 Milwaukee Ballet set to soar into spring
Float through the air with the greatest of ease, daring young dancers, an imagined trapeze.
There is no trapeze in the Milwaukee Ballet's "Spring Series," which opens April 3, but there is enough floating to stage a parade.
Watching the Milwaukee Ballet company rehearse for its "Spring Series," I was totally entranced by the soaring power of these dancers who are the focus of three distinct pieces where the dancer is at center stage, unencumbered by story or history.
Two world premieres and a well-loved 40-year old dance are showcases for the marvelous dancers of this company.
"These are not story dances," said Nicole Teague, a leading dancer in the company. "We may have a character to play off, but it's more about the relationship between the person we are dancing with. It's definitely not a story.
"It's much more individualized for each one of us. The choreographers who come in set the new works on us. It's very internal for us."
Having this kind of intense focus on each of the dancers is a relatively rare event in the world of big time ballet. Many ballet companies go with the tried and true shows since audiences are often both fickle and fragile. Michael Pink, artistic director of the Milwaukee Ballet, is the brains and spirit behind everything that appears onstage.
"This is an opportunity to take three individual works and explore all the dancers in the company," Pink said, relaxing in his office filled with the details of a new work he is bringing to Milwaukee in May. "This is a wonderful opportunity for our audience to discover dancers they might not know.
"Take 'Our Waltzes,' one of the pieces we are doing. It's a wonderful celebration of music and dance that's 40 years old. It's performed all over the world. The waltz has a certain sort of feeling. When people hear a waltz played, it just generates a sense of freedom and movement. Our production is a series of duets that are spectacular."
Watching a rehearsal of "Our Waltzes" under the watchful eye of repetiteur Yanis Pikieris, it's striking how something as simple as a waltz can also be so mesmerizing.
We have all waltzed at weddings, the famous box waltz. One, two, three; one, two, three. Make a box shape.
Well, under the magnificent piano of Milwaukee's own Steve Ayers, who will perform live on stage, these particular waltzes become a magic carpet ride of singular beauty. In tight embrace and so far apart they seem to be in different worlds, five couples take turns in the spotlight.
Annia Hidalgo catches the eye, dressed in shining silver shorts. She darts and flows and gives herself with total abandon to her partner, the stately and expressive Davit Hovhannisyan. Love, passion and sexual tension are on vivid display. Hidalgo is as tiny and lithe as a single daisy coming out of a field of grass, but she has the kind of power you see in world class athletes, gymnasts, track and field stars. She is a seriously lovely dancer, and the two of them take your breath away.
They are followed into mid-stage by the striking Jennifer Ferrigno, who is new to Milwaukee this season. She has a serene and smoky beauty about her, and when partner Timothy O'Donnell carefully lifts her to the stars and she wraps herself around his head and shoulders, there is an intimacy that is all that anyone ever dreamed about.
Besides "Our Waltzes," the ballet will debut two world premieres, created by choreographers – Amy Seiwert and Matthew Neenan – who have worked in Milwaukee before and both of whom have impressive pedigrees.
Seiwart has created "In Passing," while Neenan has a piece called "Something Borrowed" that is set to the music of Pink Martini, a rollicking sound that is the perfect accompaniment to the dawn of spring. There is a strong Latin feel to the performance with some of the sexiest dancing you will ever see. The challenges issued by partners to each other are palpable and romantic. The famed Pink Martini provides the musical framework for the piece.
"The music is always key for me," Pink said. "The impact of the music and how it all fits together for the three pieces is what is engaging for the audience. I think people will be surprised."
The ballet in the "Spring Series" is contemporary ballet, and Teague easily explains the difference between classical and contemporary.
"Ballets like 'Romeo and Juliet' and 'Nutcracker' are so classic," she said. "You know what to expect. With these pieces, it's unexpected for the audience and for the dancers. With these, a dancer needs to be open-minded and explore what your body can do.
"It's kind of breathtaking, both for dancers and the audience. There is so much more for people to see. It's going to be quite an experience. We have a great and loyal audience in Milwaukee, and I think they are going to love this."
Pink firmly believes that this will be a unique and valuable experience for all of the fans of the Milwaukee Ballet.
"This is an opportunity to take these three individual works and explore all the dancers in the company," he said. "This is going to surprise a lot of people. That surprise is a testament to why these programs are so interesting, how you establish new relationships and how you look differently at the dancers on stage. In the bigger pieces, you only get so many people on stage. This is a chance to love what everyone does."
Milwaukee is blessed to have a couple of riverboat gamblers in charge of entertainment companies. Viswa Subbaraman had shown great courage in staging the kind of programs rarely seen in Milwaukee at Skylight Music Theatre and opening audiences to new things.
Pink has that same kind of courage and bravery, although he denies that it takes courage to stage a production like this.
"There is always a gamble," he said. "You can't control everything, even with your most loyal supporters. The news of the day or the weather. It all plays into the gamble of theater.
"All I aspire to do is build a sense of confidence in the audience that if you see the name Milwaukee Ballet, you are going to immediately assume it's going to be quality dancing, interesting, engaging and challenging. Those are the things you want people to feel about when they come."
Those are likely to be the opinions after people see these dances. And Pink's job of picking dances is made easier by the obvious confidence and belief he has in his company.
"We have wonderful dancers here," he said. "And these dances provide an opportunity for them to shine. Really shine. It will be a great night of dance."
Facebook Comments
Disclaimer: Please note that Facebook comments are posted through Facebook and cannot be approved, edited or declined by OnMilwaukee.com. The opinions expressed in Facebook comments do not necessarily reflect those of OnMilwaukee.com or its staff.