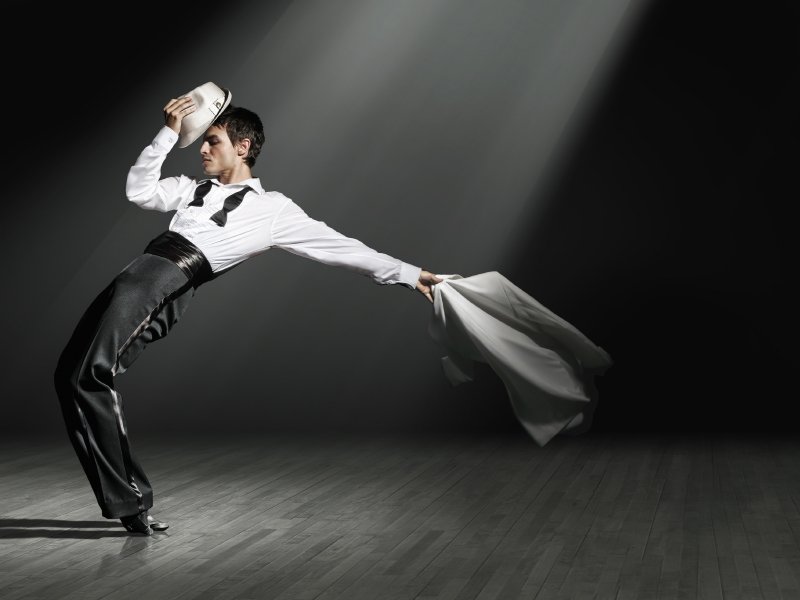 Milwaukee Ballet's "Spring Series" promises to be a study in contrasts
This weekend, three very different choreographers are helping to put a spring in the step of the Milwaukee Ballet Company - literally.
On Thursday, the Milwaukee Ballet's "Spring Series" returns to the Marcus Center for the Performing Arts. The show has become an annual tradition in a company known for its bold approach to new choreography.
Audiences will see the company perform Darrell Grand Moultrie's much-talked-about "Simply Sammy," an ode to Sammy Davis Jr., as well as Amy Seiwert's "Mozart's Requiem," set to the legendary unfinished masterpiece. Finally, 2009 "Genesis" competition winner and Milwaukee Ballet Choreographer-in-Residence Timothy O'Donnell will premiere his newest work, "Children of the Wall."
We caught up with the choreographers to talk about what inspired their pieces, and just how tap-dancing, death and the Cold War complement each other in a night at the ballet.
Darrell Grand Moultrie
Moultrie is no stranger to the Milwaukee Ballet Company. He's worked with them three times already, and the world premiere of his "Frequencies Lit" took place in 2011 with the company's production of "Three."
He's excited about bringing "Simply Sammy," which features a tantalizing mash-up of traditional ballet and tap-dancing by world-renowned hoofer Marshall Davis, Jr., to Milwaukee audiences.
"I'm so excited (for "Spring Series")," he told OnMilwaukee.com. "I have, like, over 40 pieces that I've created and this is probably one of my favorites because it's just so much fun. There's also some meat to it where it gets very serious but it definitely is a feel-good piece."
Moultrie concentrated on "marrying" the worlds of tap and ballet while still respecting the integrity of both traditions, and thinks the iconic Rat Packer would be proud of the genre-crossing creation.
"You know, Sammy, he was one of those entertainers that...loves crossing genres," he said. "And it's funny because my friend, a friend of mine who knows Chita Rivera, she heard about the piece and she knew Sammy Davis and she said 'Wow, Sammy would have loved that.'
"He always wanted to do stuff with ballet dancers and modern dancers. He love that perfection. I think he always wanted to be, you know - he loved well-trained dancers, she thought he would have loved that if he was alive."
As for the other choreographers' pieces in the "Spring Series," Moultrie has not seen them, but is excited to see the contrast.
"I know what Michael is famous for is making sure the program is a mix of so many different diverse types of dances," he said.
Timothy O'Donnell
O'Donnell's "Children of the Wall" is really a meditation on freedom. How do people react to losing freedom - and more importantly, how do they react to having it restored to them?
"I was in Berlin last year...in that week that I was there, what I was really taken aback by in Berlin was the way this transformation that it went through from day to night," he says. "The day was what you'd expect a German city to be like, efficient and clean and so on down the line, but then at nighttime it just turns into this kiddie-sized theme park in a way where all these characters emerge and anything goes."
For O'Donnell, dance is as natural a medium as any to communicate that dichotomy.
"I guess what it comes down to is that dance is an advanced form of body language," he says. "So I think sometimes people, if you can look through a step and feel how the dancer's doing a step then there's a lot to be said there. A dancer can do a step called an arabesque, and in every single piece of dance you see there will be an arabesque done. But how it's formed is the way which communicates what we're trying to do. I think (dance) is a wonderful medium for expressing emotions."
"Children of the Wall" also incorporates vocal narrative, beginning with dancer Justin Genna's pre-recorded reading of a CK Williams poem to help set the scene.
It'll be a busy weekend for O'Donnell, who is pulling double-duty during "Spring Series" - the choreographer is also dancing in Seiwert's "Requiem."
"This is such a diverse evening of work," he says. "What really draws people to narrative work is the fact that you actually, you know, come along with the journey and get a story and get a little bit of everything because narrative works tend to, you know, have this real journey that's going on. And Michael in programming this evening has done exactly the same thing... there's no one who could come to the show and not find something they love, and probably be surprised by something they didn't know they loved."
Amy Seiwert
San Francisco-based choreographer Amy Seiwert doesn't want to tell you too much about her piece, "Requiem," before you see it. She's a firm believer in the integrity of each audience member's personal reaction to a performance.
"I get so frustrated when people are like, oh, did I get it? I'm like, that's not the way you watch a dance. Like people are scared they got it wrong. It's not a pass/fail test!" she laughed. "You know, we paint pictures without words so people have different interpretations and what I've heard people get out of this is totally not where I came from (creating it) but as long as they're having a genuine experience, I don't care."
Where she came from, in creating it, was a place of grieving and uncertainty. Her boss, Michael Smuin of San Francisco's Smuin Ballet, died suddenly of a heart attack in 2007. The loss made Seiwert reevaluate her calling as a choreographer.
"He was someone who gave me so many opportunities as far as becoming the choreographer that I am and so really doing it anywhere else other than Smuin just seemed wrong," she said. "Requiem" is dedicated to the members of the Smuin Company.
And though the piece is really a contemplation of the process of death and unfinished business, don't expect it to be depressing.
"I wouldn't actually say it's sad," she said. "But it's definitely dramatic and it's definitely intense."
To learn more about "Spring Series," which runs April 11-14 at the Marcus Center for the Performing Arts, visit the Milwaukee Ballet's website.
Facebook Comments
Disclaimer: Please note that Facebook comments are posted through Facebook and cannot be approved, edited or declined by OnMilwaukee.com. The opinions expressed in Facebook comments do not necessarily reflect those of OnMilwaukee.com or its staff.