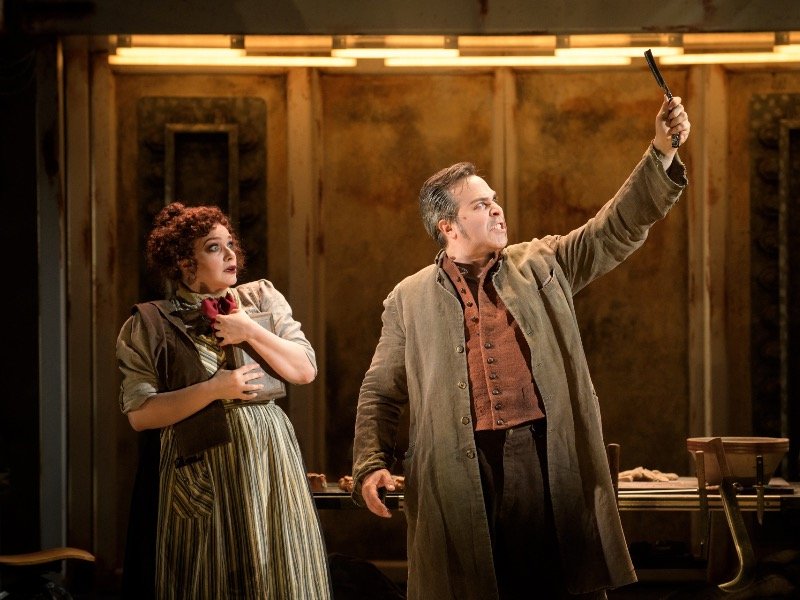 "Sweeney Todd" star speaks about close shaves and staying sane
The cut arteries may always steal the spotlight from the haircuts in "Sweeney Todd," but Andrew Varela, the star of the Skylight's upcoming run of the beloved bloody Broadway hit, is putting as much thought into the hair on stage as the hemoglobin hitting it.
"I put my hands through my hair – I just finished shaving so my hands were wet – and my hair stuck out on the sides," the actor noted. "And I realized that, as I go through the show, I want to do something so that my hair starts back and comes further and further out as I descend further and further. I want him to start off as normal as I can make somebody who's broken, and then you can see the descent in the hair. Just pay attention to the hair!"
Indeed, Sweeney's side gig providing fresh meat for Mrs. Lovett's pie shop downstairs is certainly the splashiest part of the production – quite literally. But in preparation for this run of "Sweeney Todd" – opening Friday night and running through June 11 – Varela concerned himself a great deal with his character's main occupation, the actual barber part of the famed "Demon Barber of Fleet Street." And that included a trip to the real-life Fleet Street in London and getting an authentic, very old-school straight razor shave.
"First of all, my wife was not allowed inside," Varela recalled. "They sat her right outside the door at a table with a Vogue and a glass of champagne. That's one thing I learned about England is that they never miss a chance to have a drink; she was sitting outside, reading Vogue, drinking champagne and taking photos of me inside … I was having a scotch while they were cutting my hair, and at that point, I probably would've accepted the barber having a drink. I would've figured he had some special British liver.
"But I got this great shave and a beautiful haircut. And the guy worked on me for a long time – no trimmers; it was all scissors and just getting in there. It was totally cool. If you go to Fleet Street, you gotta get a haircut."
The visit wasn't just good for a smooth drink and an even smoother shave, however. When he came back across the Atlantic, Varela bought himself a straight razor to try his own hand at the art of shaving. Two bloody failures enough to make Sweeney squeamish later, he went back to a regular razor for everyday use.
But while the neck ninja knifework didn't quite make the trip home (he intends to give the straight-edge another shot soon), Varela was at least able to take his real-life experience on Fleet Street and bring it to the miniature Fleet Street coming alive in the Skylight Music Theatre's confines.
"Shaving is the male pedicure," he explained. "A barber shave is this way of male luxuriating. And that's what I realized that I could bring: Even though it's a necessary thing to happen, there is a pageantry and a ritualistic aspect to it that I wanted to have in the piece. So Sweeney is very courtly; every man who comes in is a king."
A king eventually cut down to size and baked into pies – but a king nevertheless!
The art of the shave might be the deadliest part of the role, but it's far from the most difficult. According to Varela, after Jean Valjean from "Les Miserables," Sweeney Todd is the most demanding role for a man to play due to the amount of singing and how much it can wear on one's voice every step of the way. Then, if your vocal cords don't snap taking on the taxing role, you've got to make sure your brain doesn't too.
"I've had to really balance my personal life as far as staying happy and listening to country music and playing with my kid, because the darkness is so deep," Varela said. "My wife and I were at home, and I was sitting there, running the character through my mind. I didn't tell her I was doing that – we were about to have dinner – and she looked at me and said, "What are you doing!?" Because I looked like I was going to kill somebody at the dinner table.
"You don't want to be that weird about it, but you still want to give a good show and do the character justice. I've played dark characters before I played Judd in 'Oklahoma' years ago, and I got really sick because it was so depressing, and I was spending so much time in the dumps. Now I'm making sure that I'm having a good time while I'm doing it."
And why wouldn't he be having a good time? After all, for all the challenges both mental and physical the role of Sweeney Todd provides, it's also been a bucket list item, Varela's "white whale," ever since 1982.
"I caught (the George Hearn/Angela Lansbury version) on PBS, and I was like, 'What is this!?'" he recalled. "It played so often that I'd catch a minute of it and then I'd catch another part of it, and I'd sing it. I was in ninth grade, and I used to go to the Y and exercise after school. I went into the racquetball courts, and I sang one of the pieces from this thing – "My Friends" – because your voice reverberated in there. And then somebody in the other court came over and said, 'Dude, shut up!'"
Decades later, the dream's become reality. The racquetball court's been upgraded to an actual stage – with a hopefully more receptive crowd – and it'll be Varela's turn to add to a character played by icons like Hearn (his personal favorite), Len Cariou, Bob Gunton, Kelsey Grammer, Michael Cerveris and – close your ears, theater lovers – Johnny Depp.
"What I'm trying to do – and what's important to me – is to create a character we can have empathy for," he said. "I want to show his arc; I want to show how a normal man became a murderer. I want to create a man who has everything taken from him and snaps – and then it becomes OK for him to do one of the most vile things you could possibly do, and he's laughing all the way through it. At the end of it, I want people to be like, 'I totally saw how he became Sweeney Todd. I understood him.'
"It really begins with a decent man who is robbed of everything in the cruelest way, and he becomes just as cruel in response. At the end of it, we're talking about, 'There's Sweeney. There's Sweeney.' This man could be any one of you. And that's how I want to portray it here.
"I just came to that realization this morning. I was playing with my hair …"
Skylight Music Theatre's "Sweeney Todd" runs Friday, May 19 through Sunday, June 11. For more information on showtimes and tickets, visit the Skylight's website.
Facebook Comments
Disclaimer: Please note that Facebook comments are posted through Facebook and cannot be approved, edited or declined by OnMilwaukee.com. The opinions expressed in Facebook comments do not necessarily reflect those of OnMilwaukee.com or its staff.