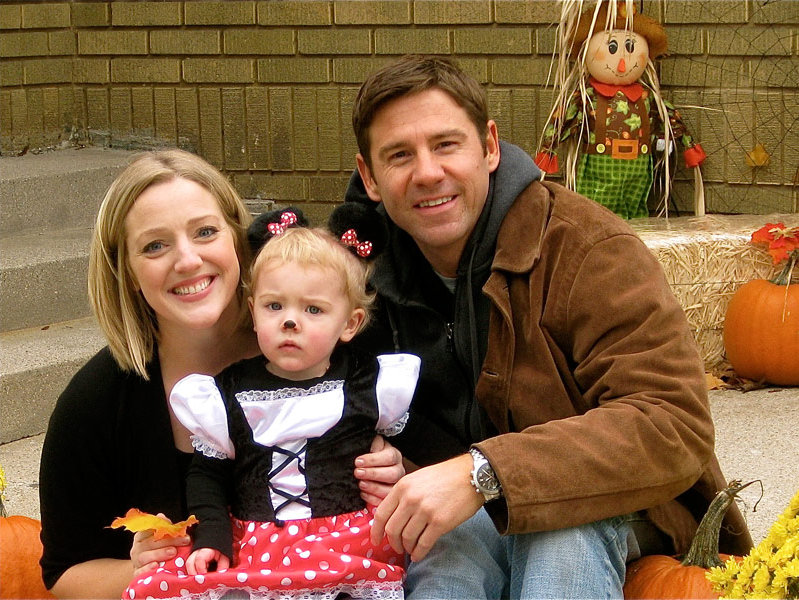 Sharing the stage at home and in the theater
The professionals who make theater in Milwaukee and Wisconsin are the marrying kind, and often they do marry each other.
Jim and Rose Pickering of the Milwaukee Rep are the patriarch and matriarch of wedded acting couples in a group that includes Jonathan Smoots and Laura Gordon, Jim Ridge and Colleen Madden, Deborah Staples and David Cecsarini, Marcus Truschinski and Tracy Michelle Arnold, Jonathan Wainwright and Laura Gray, and Chase Stoeger and Molly Rhode.
Broaden the category to include directors, playwrights and administrators, and you could fill a 99-seat theater with married couples.
Actors Brian Vaughn and Melinda Pfundstein were flying below the matrimonial radar for a couple of years. When Vaughn first came to town in 1997 to work at the Milwaukee Rep, he was a bachelor with a charming grin that set female hearts aflutter. Seven years later, Melinda Pfundstein slipped into the city to appear in the Rep's large cast production of "You Can't Take It With You," and the theatergoing public didn't know Vaughn was her link to the company.
The two had met in the acting company of the Utah Shakespearean Festival (see video below), one of the largest summer Shakespeare fests in the country. Vaughn is a wildly popular leading man there. Both actors are Westerners -- Vaughn is from Phoenix and Pfundstein from Las Vegas -- and both are theater graduates of Southern Utah University, although they studied there at different times.
Pfundstein subsequently kept a relatively low profile in the Rep's production of "A Christmas Carol" and revival of "The Nerd," and it wasn't until she was cast by the Skylight Opera Theatre in the leading role of Betty in "White Christmas" two years ago that her marriage to Vaughn became apparent. She was pregnant, and the Skylight's costume shop built her an expandable wardrobe so she could be comfortable during the course of the show's run.
"I don't think I looked so much pregnant as just carrying a little extra weight," the actress recently said. "I really started to show the week after the production closed." Daughter Addie was born two months later.
Pfundstein is matching her husband's onstage visibility with back-to-back high-profile roles this fall for Renaissance Theaterworks and the Milwaukee Chamber Theatre. She closed Sunday in Renaissance's dark comedy "The Smell of the Kill," and opens in the Chamber's "Moon Over the Brewery" Nov. 13.
Unlike the homicidal "Smell," "Moon Over the Brewery" is a romantic comedy. The actress will get a taste of parenting a teenager, as she plays a single mom waitress raising a 13-year-old daughter.
Offstage, Pfundstein and Vaughn are dealing with raising a nearly 2-year-old daughter while maintaining theater careers, and they are finding it works well. Before the baby's birth, they suffered some anxiety over mixing parenthood with their unconventional schedules.
"Addie is a really, really good kid," the actress said. "She is happy. She sleeps 12 hours a night. We are happy."
"I actually think theater is the perfect profession for having kids," Vaughn added. "After a show opens and we are no longer rehearsing, she gets our attention all day long."
"We do miss kissing her before she gets into bed," Pfundstein said. Addie's grandmothers have been here doing the kissing this fall. The couple hired a nanny to look after their daughter while performing in Utah in the summer.
Vaughn is currently acting in the Rep's main stage production of "Happy Now?" and he will appear in the company's "Yankee Tavern" and "Seven Keys to Baldpate" later in the season. Pfundstein has one more show this season after "Moon Over the Brewery" closes Dec. 13 -- the Skylight Opera Theatre's "A Day in Hollywood / A Night in the Ukraine."
The duo won't be onstage together in Milwaukee this year, but they like working together. "In rehearsals, we can cut to the chase much faster," Vaughn said. "Acting together has never been a stretch for us."
Pfundstein and Vaughn have been able to maintain boundaries between their real and make-believe lives. Family stresses don't transfer to the stage, and they don't take the shows home with them, they said.
The two played Cyrano de Bergerac and his love Roxanne in Utah in the summer of 2008. "That ending is so emotional," Vaughn said. "Afterwards, we would need to recover. One of us would say, let's go get some ice cream."
American Players Theatre announces 2010 lineup
The American Players Theatre in Spring Green has revealed the plays it will produce next summer. On its large outdoor stage the company will offer two Shakespeares -- "As You Like It" and "All's Well That Ends Well" -- as well as "Picnic" by William Inge, "Major Barbara" by George Bernard Shaw and "The Circle" by W. Somerset Maugham.
On its much smaller indoor stage, the APT will mount "Waiting for Godot" by Samuel Beckett, "Exits and Entrances" by Athol Fugard, and "The Syringa Tree" by Pamela Gien. Just as she did for Renaissance Theaterworks in 2005, Colleen Madden will play all 24 characters in "The Syringa Tree."
Pfundstein and Vaughn with the Utah Shakespearean Festival:
Video Courtesy of KSL.com
Talkbacks
davidbcohen | Nov. 5, 2009 at 11:15 p.m. (report)
great story! This is a "behind the scenes, behind the scenes" story, but helps illustrate what makes Milwaukee such a fine theater town!
Facebook Comments
Disclaimer: Please note that Facebook comments are posted through Facebook and cannot be approved, edited or declined by OnMilwaukee.com. The opinions expressed in Facebook comments do not necessarily reflect those of OnMilwaukee.com or its staff.