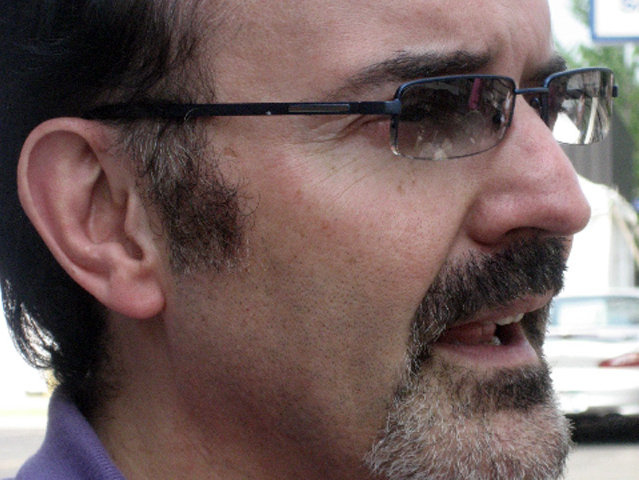 Thule log: Luhrssen traces the story of society that helped birth Nazism
Most of us likely know of Dave Luhrssen via his writings on film or music for the Shepherd Express. As a writer, Luhrssen has been part of the local music landscape since the late 1970s. But Luhrssen also holds degrees in history and has taught at the university level.
He is also the author of books on a range of topics and his latest, "Hammer of the Gods," tells the story of Germany's Thule Society and how it figured into the birth of Nazism. Published in hardcover by Potomac Books, the work began as a dissertation at UWM.
As Luhrssen gears up to read from the book at 7 p.m. on Friday, May 11 at Boswell Books on Downer Avenue (Lurhssen's sometimes collaborator Glen Jeansonne will also appear, to read from his new bio of Herbert Hoover), we asked him about the his book, the Thule Society and the lessons the story has to teach us.
OnMilwaukee.com: How did you come to the story of the Thule Society and what about it captured your imagination enough to write a book about it?
Dave Luhrssen: I kept coming across hurried references to the Thule Society in major biographies of Hitler and studies of the Third Reich – always a sentence or two about an occult lodge that founded the Nazi Party before the historian moved quickly on to the usual analysis of Germany's economic and political problems.
I was intrigued and wanted to know who these people were and what they were all about. I wasn't disappointed. They turned out to be an interesting if seriously wrong-headed group of rogue artists, frustrated poets, misguided adventurers – who often espoused vegetarianism and animal rights along with racism. In today's terms, Thule was counter-cultural, alternative, and an object lesson in how being counter-cultural or alternative is no substitute for respect for humanity as a whole.
OMC: I know it was your dissertation; how long had you been working on it?
DL: My original dissertation was written in 1990-91 and received an award as UWM's best history thesis for '91. It sat in my file cabinet for a few years before I expanded it in the late '90s when a publisher expressed interest. After opening my rejection letter, it sat for several more years until I was inspired to resume work on it after meeting a UWM professor who shared my interest in this obscure topic.
The revamped manuscript was finally accepted. I can't claim to have worked on it continuously from 1990 through its acceptance in 2010, but my ideas certainly had time to develop and mature over two decades.
OMC: Tell me a bit about the importance of the society in terms of understanding Nazism.
DL: Germany's defeat in World War I, the harsh peace treaty that followed and the economic collapse of the early 1920s along with the onset of the Great Depression left the country ripe for the rise of some sort of aggressive nationalist regime. But the peculiar character of the Nazi Party came from the ideas it received from the Thule Society and a network of similar groups.
There was no overriding reason why a German government, even one seeking payback for World War I, would initiate the systematic extermination of particular races, attempt to breed a "master race" or impose some of the particular cultural policies that characterize Nazi Germany. Many of these ideas, along with the swastika emblem, came from Thule.
OMC: But it has lived on, hasn't it, and there are Thule web sites and defenders out there, too, aren't there?
DL: As far as I know, the original Thule Society was suppressed by the Nazis after their takeover of Germany, but the name and some of its neo-pagan Nordic mythology has lived on in the imagination of neo-Nazi groups. The Thule Society has also popped up in fiction, movies and video games.
OMC: Are there lessons to be learned from Thule and it's connection to Nazism?
DL: The lesson is that small groups of people can change the world – for worse as well as for better. And in looking at some of the philosophers and writers who influenced Thule, we need to be aware of the possible unintended consequences of the ideas we broadcast into the world.
OMC: I know you've always got some irons in the fire; what else are you working on at the moment?
DL: My next book will be published this fall by University Press of Kentucky. It's a biography of Rouben Mamoulian, who directed "Dr. Jekyll & Mr. Hyde" and "The Mark of Zorro" in Hollywood and the premieres of "Porgy and Bess" and "Oklahoma!" on Broadway.
wrqsxbzezvvuuryzxddfeedfayas
Facebook Comments
Disclaimer: Please note that Facebook comments are posted through Facebook and cannot be approved, edited or declined by OnMilwaukee.com. The opinions expressed in Facebook comments do not necessarily reflect those of OnMilwaukee.com or its staff.