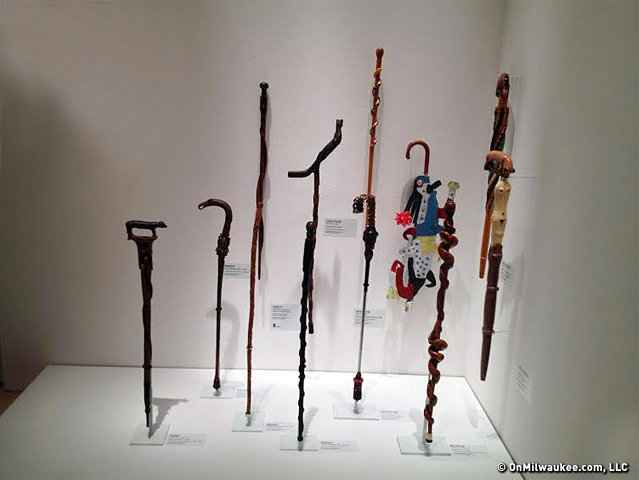 "Uncommon Folk" - an art museum prequel
Prequels are nothing new to Hollywood, but rarely do we expect to find them at art museums.
Milwaukee Art Museum's wide-ranging new show, "Uncommon Folk: Traditions in American Art," which opens Friday, Jan. 31 and runs through May 4 in the museum's main Baker/Rowland Gallery, is just that, says exhibition curator Margaret Andera.
Two years ago, Andera curated "Accidental Genius: Art from the Anthony Petullo Collection," which focused on works by European artists collected by Petullo and donated to the museum.
"Uncommon Folk," with nearly 600 works, is something a prequel to that show," says Andera.
"This exhibition is about what came first and that is the building of our American folk and self-taught collections," she says while leading a tour of the new show. "We have, I would say, the best collection of American folk and self-taught art. It's a really large collection and the story of how the collection was built isn't overly told in this exhibition, but it is there if you're looking for it.
"(This year) is the 25th anniversary of the Hall Collection of American Folk Art coming to the museum and that was really the moment that we were put permanently on that map of an institution that is committed to collecting and showing this art."
In fact, says Andera, thanks to the foresight of a number of directors and curators, Milwaukee Art Museum was a pioneer among established art institutions of collecting what has alternately been called folk art, self-taught art and outsider art. Some of the works in "Uncommon Folk" were obtained by MAM at the dawn of the 1970s when there were almost no other museums collecting this work.
The show is packed full of work – so watch where you walk – from toys to furniture to quilts to paintings to drawings to photography to carved walking sticks and more. The variety of work is so varied that the museum's media squad has crafted no fewer than six news releases focusing on different aspects of the show: Wisconsin artists, African-American artists, women artists, quilters, duck decoys, etc.
There is quite literally something for everyone – from advertising signage, to 19th century portraiture to religious works to paintings of ships – divided into thematic areas like "toys," "found objects" and artist-specific "American Independents."
"It's a large exhibition; it's an uncommonly large exhibition," says Andera. "There are a lot of objects, partly because we wanted to show the breadth and depth of what this collection is, but also as a way of kind of changing things up with how you normally experience art exhibitions, what I call the 'Mona Lisa moment' when you walk up to a single work of art and perhaps you genuflect or you sit there and contemplate it."
"You can do that in this exhibition if there's something that particularly strikes you. But the way we've installed it, we've invited you to look at things as a group, as a tradition. You can look at things and ask yourself, 'what's changed in that time span?' and 'what hasn't changed?'"
My favorites are James Castle's soot on paper drawings – executed with soot collected from his wood stove – a schoolhouse made out of thousands of bottle caps and a wall of dangling fish decoys.
Unlike "Accidental Genius," which showcased artists across the pond, "Uncommon Folk" is pure Americana, exploring the kind of work that artists made without expectations of grandeur. Some of it was utilitarian – like the signage, the decoys and the quilts – and some of it was devotional. Other works were whimsical.
"Are they self taught? Are they outsiders? Are they untrained?" asks Andera, before answering her own question. "Most of the artists in this exhibition are outside of the mainstream art world but what this exhibition is all about is that these are not untrained artists. These traditions, while they're not art school traditions, they are traditions that are handed down. They're art-making traditions that are taught. There are things that are things that are expected of a lot of communities, so it's community-based art-making training, essentially.
"These artists were working outside of the mainstream art world and it's because these artists made art that is absolutely reflective of their own American experience."
Facebook Comments
Disclaimer: Please note that Facebook comments are posted through Facebook and cannot be approved, edited or declined by OnMilwaukee.com. The opinions expressed in Facebook comments do not necessarily reflect those of OnMilwaukee.com or its staff.