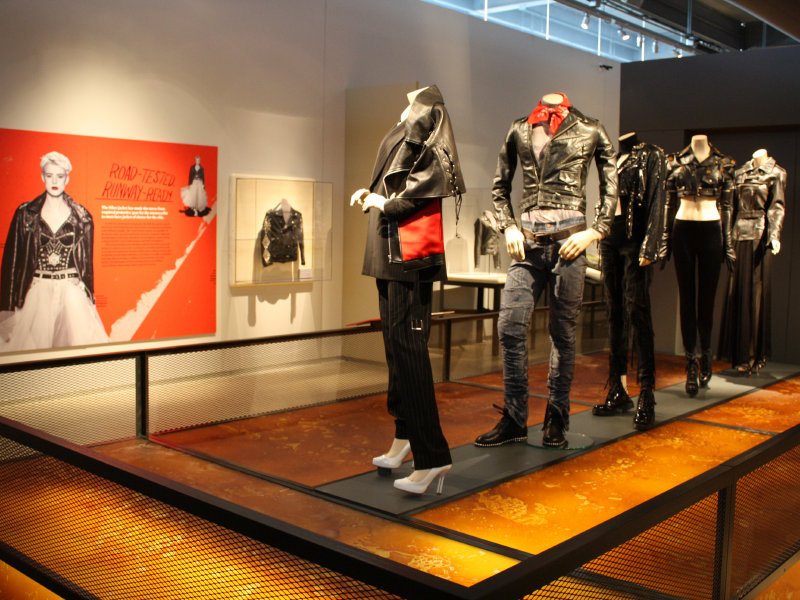 Road warriors, rebels & rock stars: 100 years of the leather jacket
The leather jacket. It's not just a piece of clothing. It's a symbol, a uniform, a battle flag – a coat of armor even. And more than anything, it's just plain cool.
The Harley-Davidson Museum is currently hosting the exhibit "Worn To be Wild: The Black Leather Jacket," which runs through Sept. 3. The exhibit has been in the works for a few years, says the museum's curatorial director Jim Fricke.
"We're always looking to bring new audiences to the museum, and a subject that naturally combines motorcycling, transportation and military history, rock n' roll, Hollywood and fashion was just too good to pass up," he said.
"We decided to focus on that classic biker jacket, show how it evolved as a functional garment, and then how it took on other cultural meanings and became an internationally-recognized symbol of rebellious cool."
Thursday night the museum gathers three people who were invaluable in creating the exhibit to participate in a roundtable discussion hosted by Fricke. "Untold Stories: Rockers, Rebels and Runways: The Black Leather Jacket" features Karen Davidson, Creative Director of Harley's Motorclothes division; Debra Nadoolman Landis, Hollywood costume designer and creator of the Indiana Jones signature look and Michael Jackson's "Thriller" jacket; and Howard Kramer, Curatorial Director at the Rock and Roll Hall of Fame and Museum.
"We'll have a freewheeling discussion, with lots of images and video to illustrate," said Fricke. "Like the exhibit, it's a unique opportunity to experience something like this in Milwaukee, and we're proud to host it at the museum."
OnMilwaukee.com talked to the panelists about the leather jacket and what it symbolizes in modern American culture, resulting in a multifaceted study of the history of one of the most evocative accessories of the 20th century.
In the beginning
"We started leather in 1921, when a leather coat was featured in our accessories catalog," said Davidson, who is the great-granddaughter of company co-founder William A. Davidson. "It's the most logical, effective, protective item of clothing when you're out in the elements.
"The biker jacket as we know it today was originally developed for the New York City Police Department in 1938. We picked it up in 1947 and began selling the classic black motorcycle jacket."
But Davidson said that function quickly gave way to fashion. The lifestyle of the motorcycle enthusiast came to represent much more than owning, maintaining and riding a bike – and therefore, so did the biker jacket.
"Once we launched it, it was picked up quickly with the onset of motorcycle clubs and it became adorned. That's what's so inspiring for us today – we watch how the quintessential biker jacket morphed into a canvass for personalization," she said.
"You saw club logos. Studs. People were so in love with their leather and with this jacket; it was the symbolism of the life they led. The road warrior and his gear, his armor – they relied on it so they became very attached to it."
It was becoming much more than a trend. With the plethora of patches, pins and embellishments from which riders could choose, said Davidson, it quickly became a bold statement of individuality.
"People are proud to say 'This is the life I lead. This is where I go. This is where my lifestyle takes me. I go everywhere. I've been everywhere,'" she said. "It's such an expression of how the lifestyle has empowered them to feel free."
It isn't about a look. It's about a culture.
"People don't want to pick up on a trend," said Davidson. "They admire the true, hardened road riders and the authentic club members. And then of course it was picked up by celebs, and it's become iconic."
"A thousand-yard stare"
The Rock and Roll Hall of Fame and Museum donated three pieces to the exhibit, and its curatorial director Howard Kramer said that each is a unique incarnation of the spirit of rebellion and independence so embraced by riders and those who admire them.
And what more appropriate milieu for rebellion and independence than the world of rock and roll?
One of the pieces donated by the museum is a Brooks leather jacket worn by rocker Joe Walsh on the cover of "James Gang Rides Again."
Page 1 of 2 (view all on one page)
Next >>
Facebook Comments
Disclaimer: Please note that Facebook comments are posted through Facebook and cannot be approved, edited or declined by OnMilwaukee.com. The opinions expressed in Facebook comments do not necessarily reflect those of OnMilwaukee.com or its staff.