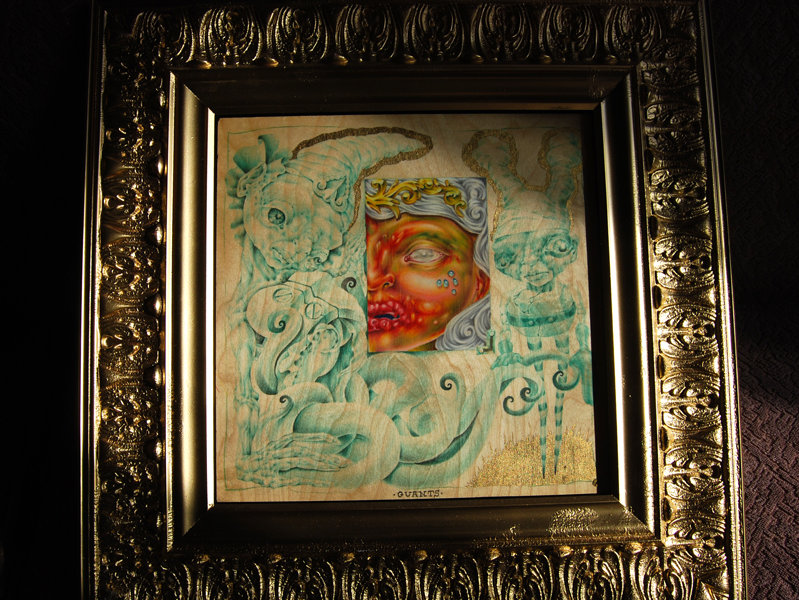 Tattoo king turns to fine art
More than a decade ago, Adam Werther -- who, at the time, was a fresh MIAD graduate -- opened a tattoo shop called Adambomb. Almost from the beginning, Werther was booked for months in advance and he worked during the majority of his waking hours.
"I'm not complaining, I love to tattoo," says Werther.
But recently, thanks to the waning economy, business has slowed down a little bit, and Werther finds himself booked for weeks, not months, in advance. The slight decrease in clients, however, isn't a bad thing for Werther. Instead, he's making the most of his looser schedule, and says it's good timing because he wanted to focus on his fine art for a long time.
"I've been drawing for everyone else, and now I'm just drawing for me," he says.
Werther describes his drawings as "anthropomorphic," or a combination of animal forms. He approaches a drawing without any idea what he's going to sketch, and lets the pencil marks turn into lines that turn into shapes that eventually become figures.
"Mostly, I've been drawing animals smashed together into one animal, like a mouse and a snail with antlers and crazy hair," says Werther.
Werther received a BFA in sculpture from MIAD in 1997 and contributed work to local art galleries, but would like to expand beyond Milwaukee. In the future, Werther plans to have a fine art show in a large city and to contribute his art to magazines like Juxtapose, Tattoo and International Tattoo.
Although Werther enjoys his work as a tattoo artist, he says the time crunch has always been an irritating aspect of his job. Because tattoo artists keep appointments, they must pay attention to the time, but Werther says ultimately he prefers getting lost in his work . Drawing for himself allows for this.
"I've always had my own tattooing style, but drawing for myself is the most freedom I've had in a long time," says Werther.
The drawing process has always been meditative for Werther, but it's even more of a meditation when he's drawing for himself as opposed to for a client.
"I release a lot of stress through drawing," says Werther.
Werther says he knows other tattoo artists who claim they have no interest in drawing unless they are working on a tattoo design. This is hard for Werther to understand, considering he spends almost all of his free time drawing.
"I'm still excited about drawing," says Werther. "It's all I want to do -- every morning, every night, every Sunday. And now I have more time."

Talkbacks
TosaJimBob | March 24, 2009 at 12:36 p.m. (report)
Dang...that kid can draw! I don't have, nor would I care for a tattoo, but if he starts drawing and selling his work, I'd pick one up....keep up the good work Adam.
darthfader | March 24, 2009 at 12:22 p.m. (report)
Adam is an amazing tattoo artist! I have several pieces from him myself and will going back soon (that whole "economy down the drain thing"). I get compliments on his work all the time!!
Facebook Comments
Disclaimer: Please note that Facebook comments are posted through Facebook and cannot be approved, edited or declined by OnMilwaukee.com. The opinions expressed in Facebook comments do not necessarily reflect those of OnMilwaukee.com or its staff.