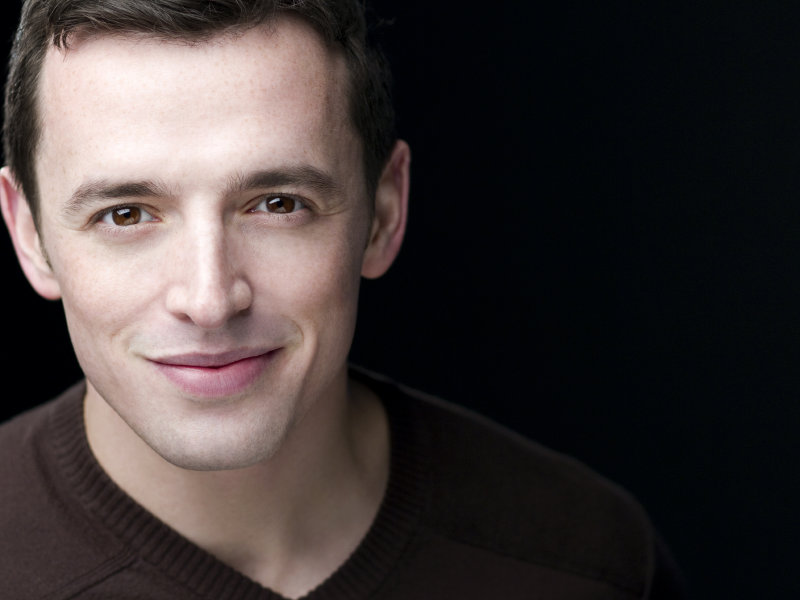 An interview with "The Whipping Man" star Josh Landay
When actor Josh Landay was a kid, acting wasn't his passion. No, it was actually karate. Unfortunately for him – but very fortunate for theater lovers – knee troubles pushed him out of karate, and he started kicking butt in a different style of performance: the world of acting.
His latest role brings him to Milwaukee, where he'll be playing Caleb in the Milwaukee Rep's production of "The Whipping Man," opening Saturday night. We got a chance to sit down with Josh and talk about his latest role and the performances that inspire him.
OnMilwaukee.com: So how did you get into acting?
Josh Landay: I guess my first entry into acting was when I was five years old. My cousin called my mom and said, "Hey, I need a kid to be in a commercial with me. Would Josh be interested in doing it?" So my mom asked me, and I said, "Yeah, sure! I get to be in an commercial with cousin Freddy!? Absolutely!"
So I went down to do this commercial for Meldan Appliances in Pittsburgh, which no longer exists. I remember Freddy was having trouble remembering his lines, and I was cuing him. (laughs) So that was how I first got into acting.
OMC: When was the moment when you realized that this was a thing that you could do for a living?
JL: For a long time, acting was what I did, but not what I was going to do. In college, I was always in a show. I was in one main stage show each semester, but my major was something called Public and Private Sector Organizations. It's a combination of public policy, sociology and economics to understand how organizations function and interact. That would've prepped me to go into non-profit work or business and sales.
So I did a semester abroad my junior year in Australia, and I was doing a Frederico Garcia Lorca play called "Yerma" at the University of New South Wales. It was 100 degrees in the summer in Sydney, and we had this literally dirt floor in a black box studio. Lorca's plays are really earthy and gutsy, so I remember coming out of there at night, and I'd be covered in mud and sweat and occasionally bleeding. And I was like, "THIS IS AWESOME!" (laughs) The junior in college version of Josh was exhilarated by acting.
The thing I took away from it, though, was this was something that I loved doing, and I should strongly consider it. Because everyone says you have to find your passion, right? And here it was in my back pocket the whole time.
OMC: What drew you to "The Whipping Man"?
JL: I had actually done a production of "The Whipping Man" once before at Hartford Stage. But the thing that drew me to "The Whipping Man" originally was seeing the production at Manhattan Theater Club with my wife in, I think, 2009. We saw this play, and it was just so emotional and interesting and gutsy, and it had a personal connection to me, growing up in a Jewish family. And I thought, "I have to do this at some point."
Luckily, I did the production in Hartford, which was a great experience. But there were still some things I wanted to find in it, so when I found out Milwaukee was doing it, I thought I'd love to have another crack at it. And I feel like I am finding those things now, and I've tried to bring the best of what I learned from the last production to this one, while still trying to approach it as if it's entirely fresh and new.
OMC: What are some of those new things that you've discovered this time through?
JL: I think Caleb is a lot more complex and compassionate than I discovered last time. It's very easy to see him as just somebody who feels like he's misunderstood and is angry about that, but I think that's too simple, and it gets boring pretty quickly. I think somebody that really cares deeply about the other two people in the play, in spite of the fact that, let's face it, they are slaves that his family owns. I think he truly sees them as being like family, and I think once you get to that point, you're able to uncover the true depth of the relationships there and access a fuller range of emotion.
OMC: Did you do any extra research into slave owners when you did this production this time, or do you just go in, reading what's on the page and try to get your character from there?
JL: You always have to do research, no matter the play, but especially when it's historical fiction. Most of the research I've done is about the Civil War in general, and about the battles that I refer to specifically, about Jews during that time and their roles as they relate to slavery.
Yes, Jews in the south owned slaves. We know that, and that's referenced in the play. And that's because Jews at that time wanted to become a part of society and wanted to integrate with the people who surrounded them. So yes, some owned slaves, and that's a horrible fact. And Jews in the north, many of them with supported the Union and were abolitionists in the same way the people around them were.
So I've looked at those things, and as a group, we've looked at a lot of Civil War history, from watching the Ken Burns videos to reading. The thing for me usually is trying to find visceral connections, things that really help you to feel something. Whether that's a picture or a letter or a story that's shared in a book, that's the research that normally works best to help unlock something. So the knowledge has to be there, sure, but it's the things that help you to access an emotional connection to the character. That's the research that's most important.
OMC: Did you find that picture or that letter for this show?
JL: I have a few of them.
OMC: May I ask what they are?
JL: Every actor needs to have a few secrets. (laughs)
OMC: Your previous show here at the Rep was "Ragtime," where you played Tateh. What was it like hopping from that character to Caleb?
JL: Tateh, for me, was in a sense kind of easy because I felt so close to him. His journey was very much like my grandparents' and great grandparents' journey to this country. My grandmother specifically grew up in a schtetel in what is now Belarus and left on the back of a horse drawn cart when she was four years old. She came to this country with nothing aside from her sister, her mom – her father was already in Washington state – and a dream of a better life. And that's what Tateh does. So from the stories I heard from her, in many ways, I felt like I was getting to tell her story every night.
So going to Caleb, you just have to find those places where you connect to it. Obviously, when we're doing a Passover seder on stage, that's something that I can just connect with immediately. I grew up having two Passover seders every year, so to call on sense memory of what those Passover seders meant to my family and me is something that's useful as Caleb is sitting there, reliving the seders he's had with his family and experiencing it in a totally new way with Simon and John.
It's also a smaller space, which does something as far as bringing the cast together. Especially in a play like this, where it's all about being confined to a burned out, bombed out home. The fact that we're in such close proximity to one another really ratchets up the tension and brings a nice level of intimacy, as opposed to a show like "Ragtime," that is so much larger in scale. And also obviously no music, but you still kind of need to find the music in this piece because there are so many twists and turns that you need to find the emotional threading of it.
OMC: What are the performances that have inspired you in your career?
JL: Let me think about that for a second. (long silence) Okay, I've got a handful. Most recently, I would have to name a Milwaukee native: Mark Rylance. He just amazes me every time he steps out on stage. I first saw him in "Jerusalem" a few years ago on Broadway in New York, and I was just blown away by his performance. His guts. His ability to be in the moment all of the time, so believable and so connected to his own emotions and everyone else's on stage. Just recently, I saw him do "Richard III" and "Twelfth Night" on Broadway. I would probably say he is one of the best actors of our time, if not the best.
It was amazing to see Shakespeare plays done as they would have been done in Shakespeare's time done on Broadway now, when many other things are happening on Broadway that are very tech-heavy and flying people in and out and huge lights and huge sound.
OMC: I don't know what infamous comic book-related, web-slinging show you might be hinting at.
JL: (laughs) Not going to name them! But there are so many technical aspects, which can lead to amazing shows, but to see something that is so simple with clothes of the time period and a set from that period that would've been a stage Shakespeare would've wanted and lighting by candles and audience members sitting on stage. To see that being such a success in the most commercial theater setting was really inspiring.
Facebook Comments
Disclaimer: Please note that Facebook comments are posted through Facebook and cannot be approved, edited or declined by OnMilwaukee.com. The opinions expressed in Facebook comments do not necessarily reflect those of OnMilwaukee.com or its staff.