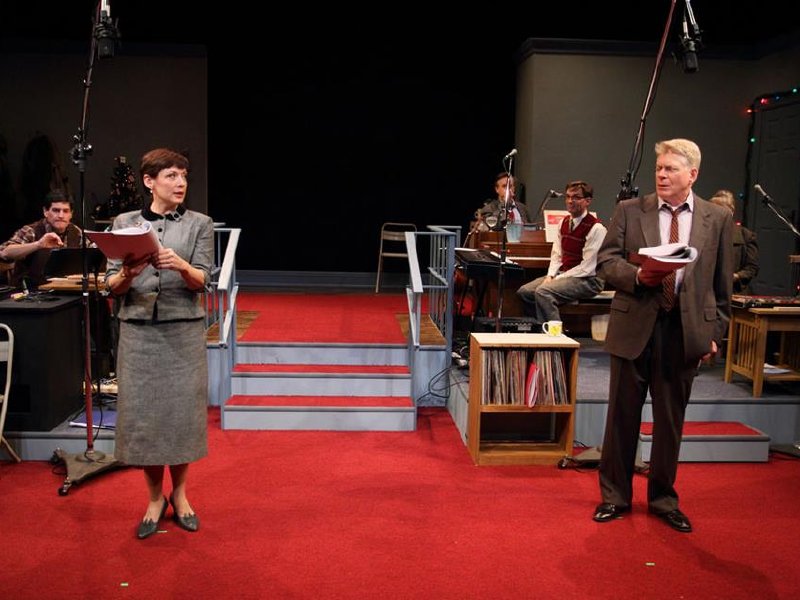 "It's A Wonderful Life: Live Radio Show" substitutes the stage for imagination
I am an absolute sucker for Christmas movies.
"Holiday Inn," "White Christmas," "National Lampoon's Christmas Vacation," "The Muppets Christmas Carol," "Miracle on 34th Street." Even "Home Alone" makes my list.
But at the very top of the heap is the heartwarming story of an honorable man named George Bailey, told in "It's A Wonderful Life." It never fails to make my heart sing and my eyes gloss over with tears.
And so, I approached the Next Act Theatre production of "It's A Wonderful Life: Live Radio Show" with a mixture of curiosity and impending dread. What kind of radio show, and were they going to ruin the movie for me forever?
The play was written in 1996 and has been performed countless times around the country. It's easy to adapt to a local setting, so there are inside jokes about Milwaukee in this one.
Mary MacDonald Kerr, who is one of the actors in this play and one of my favorites in this city, did the adaptation for Next Act.
The story concerns a group of radio actors who have been doing broadcasts together for 20 years. This night is their final performance, finally giving up drama to television and the radio station to wall-to-wall music.
The play we see is the final performance, complete with actors playing many characters, sound effects, music and tinkling bells for angels getting wings. They drama they perform is "It's A Wonderful Life."
Some of Milwaukee's best actors are in this play, led by Kerr, who plays Mary Bailey, and Norman Moses, who plays George Bailey. All the rest of the characters in the radio show are parceled out to Bo Johnson, Debra Babich, David Cecsarini and Jack Forbes Wilson. They are all absolutely wonderful.
As he is every time he takes to the stage, Moses is absolutely riveting to watch. He sets a pace that lifts everyone else in this cast to an incredibly high level.
But there is more to this play than just the radio play. During breaks and commercials, we discover that these actors also have real lives. And the lives of Kerr and Moses at one point intersected in a brief affair. She's been out of his life for five years and stumbles back for a holiday visit and is pressed back into service for the radio play.
She wants him back. He, like George Bailey, is uncertain of her and himself. He finds solace in the bottle, she touring the country in a traveling theater troupe. Their halting steps back toward each other, with one step back for every two steps forward, is the singular glimpse into the lives of the actors we are watching.
The success of radio drama was dependent on one thing more than all of the others – imagination. As the listeners sat in front of that machine, they could close their eyes and be transported to a cowboy being chased by Indians, by a damsel about to open a casket in the basement or a soldier dodging bullets.
And that may well be my problem with this production. I'm not sure I want to watch a radio play. I mean, what's the point?
What this play lacks is some equilibrium. Ask me to listen to "It's A Wonderful Life." OK. But if you show me the actors doing it, I need to find out something about them. It can't just be "I love you, do you love me and if not, why not?"
The point of all of this is that these people have other lives. It's a shame we don't get to see or hear much about them.
Kerr, who is a winsome figure on stage, opens up when she pleads with Moses for a life together. No picket fences, no children. What she wants is a "soft place to land."
If only we had seen what all these other characters want out of life, we would all have had a soft place to land.
Facebook Comments
Disclaimer: Please note that Facebook comments are posted through Facebook and cannot be approved, edited or declined by OnMilwaukee.com. The opinions expressed in Facebook comments do not necessarily reflect those of OnMilwaukee.com or its staff.