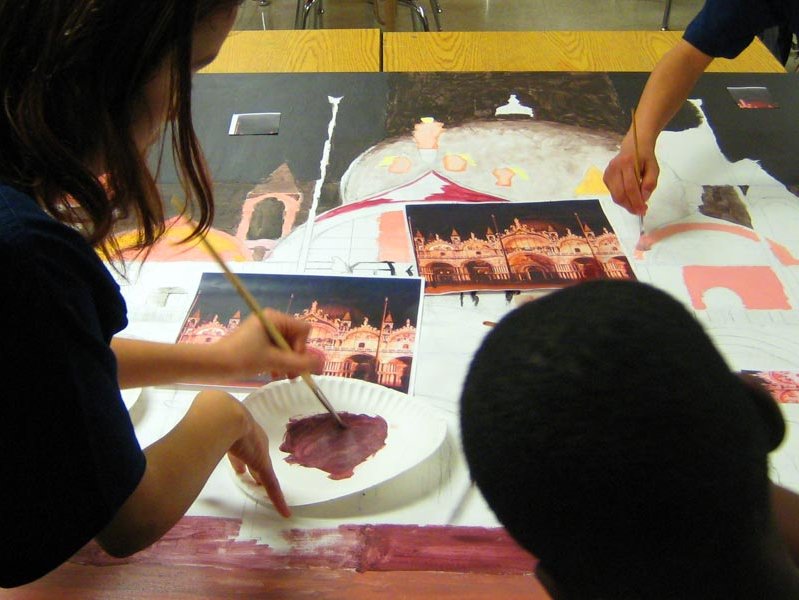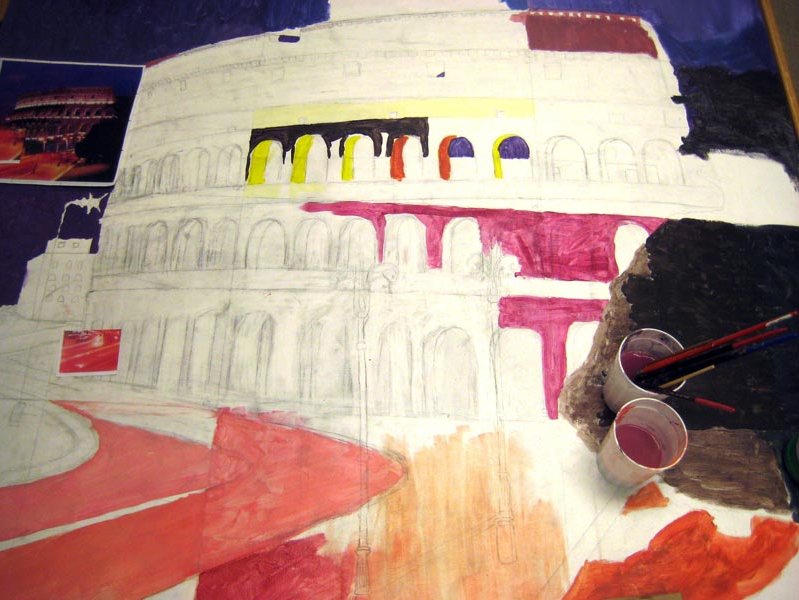 Students, artists team up on Meraviglioso mural
We hear a lot about the trials and tribulations of Milwaukee Public Schools and that often obscures the fact that MPS has some great programs engaging Milwaukee's kids.
One example is the exciting collaboration between Artists Working in Education (AWE) and students in Victory School's Italian Immersion Program that aims to build a bridge between the K5 students in the program with sixth- and seventh-grade students in Victory's Gifted and Talented Program.
Professional artists Laura Easey-Jones and Caitlin Carroll worked with students to create a triptych mural based on studies of Italian landmarks, like the Coliseum and Trevi Fountain in Rome and St. Mark's Basilica in Venice.
The "Meraviglioso" ("Marvelous") mural is publicly unveiled at the school, 2222 W. Henry Ave., on Wednesday, May 28 at 1:30 p.m. As part of the event, the K4 and K5 Italian Immersion Program students sing Italian songs and sixth-graders read their essays about the three landmarks in the school's auditorium. Refreshments follow.
"AWE invites schools to apply to have an Artist-in-Residence through our School Studio program," says AWE's Kari Couture. "Wendy Cooper, the art teacher at Victory, was the one that came up with the idea and I helped her find artists that fit what she was looking for and coordinate their planning. From there it was all up to the kids and the artists to make the magic happen!"
With the help of the artists, the older students opted to create a series of works depicting the Coliseum and the Trevi Fountain in Rome and St. Mark's Basilica in Venice," says Couture. Students then transferred images onto boards and learned about painting methods and materials as they painted. The K5 students made rubbings of textural décor patterns and created their own two-dimensional egg and dart molding to frame the paintings.
Students complete the project on Friday, May 30 with an artist-led tour of the Milwaukee Art Museum focusing on the works of Italian artists.
"You should really try to get out and see the work and hear the kids talk about what they learned about the historic landmarks they depicted in their pieces," urges Couture. "Victory is a very special school with very involved teachers, administration and parents. In fact, Laura Easey-Jones, the Lead Artist on the project, is a parent to a Victory School student!"
Artists Working in Education, Inc., founded in 1998, is a non profit organization that aims to provide Milwaukee-area youth with arts enrichment programs to enhance human potential, advance learning and cultivate community.
According to its mission state, AWE's two main initiatives are the School Studio, an artist-in-residence program designed to advance learning through the arts; and the Truck Studio, a mobile outreach program providing free outdoor art experiences for at risk children in city parks and neighborhoods during the summer months.
Facebook Comments
Disclaimer: Please note that Facebook comments are posted through Facebook and cannot be approved, edited or declined by OnMilwaukee.com. The opinions expressed in Facebook comments do not necessarily reflect those of OnMilwaukee.com or its staff.