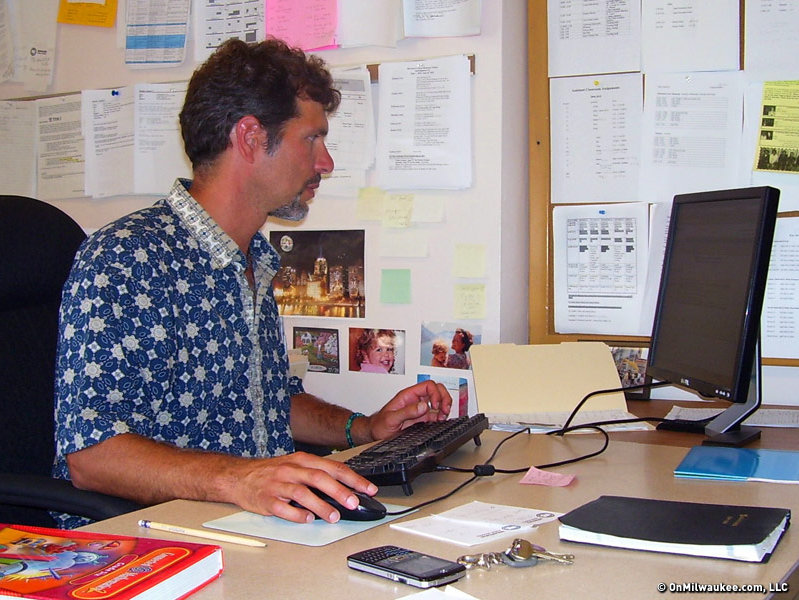 Anticipating the bell: Schools prepare for kids' return
The bell rings for most Milwaukee area school districts next week.
In reality, a lot of teachers have been working on their own time since mid-summer: decorating, organizing materials and preparing lessons.
I love teachers.
I'm surrounded by them in my family.
Two daughters, two sisters and my wife, Mary, are all involved in teaching and literacy.
I see the passion in their eyes whenever they talk about a child's excitement over a new book or learning opportunity.
I sensed that same enthusiasm when I visited the empty halls this week at Maryland Avenue Montessori School in Milwaukee, only days before the start of a new school year. Expectations were as high as the classroom ceilings in the grand old building.
They just love what they do, and alone time in the classroom is a chance to mentally prepare for feeding young minds.
I found Diana Timmers -- who is new to the school this year -- alone in her second floor room dusting shelves.
On Sept. 1 her empty desks and chairs will be filled with a group of 27 first, second and third grade children.
In the Montessori tradition the kids will learn from each other, as well as from the teacher.
As the late summer breeze drifted through the open windows, Timmers showed me around her space.
Excitement was building in her voice as she explained the visual aids and learning tools at hand.
They'll help her kids build sentences, discover regions of the world, even grasp the early concepts of geometry.
Just down the hall, veteran teacher and administrator Joe DiCarlo, the school's curriculum generalist, was busy entering data at his computer.
Although his days are filled with the demands of assisting Principal Phil Dosmann -- who is also principal at Craig Montessori School on the city's Northwest Side -- he admits his heart is still in the classroom.
In the coming months, he'll try to spend as much time with the kids as possible.
He lights up when talking about the human connection.
For now, the eve of a new school year finds him devoting his attention to the business of education: building improvements, updated enrollments, and organizational meetings.
On my way out the door, teacher Micki Sausen welcomes me into her first floor classroom.
Although she's been teaching for 30 years, Sausen tells me she still gets nervous before the first day of school.
While cleaning maps, she explains the final days of summer offer lots of time to think.
She takes pleasure in wondering aloud how the curiosity of her K-3, K-4 and K-5 kids will help influence the course of her year.
The possibilities are exciting.
It's an awesome responsibility.
Any good teacher understands that, and takes it to heart.
That's why the final days of summer are so important to them, and the kids who'll soon walk through their doors.
Talkbacks
green builder | Aug. 28, 2010 at 9:49 a.m. (report)
My son will also start k-3 at Maryland next week. Nice to see an encouraging post - since he will also be in Ms. Tanya's class. We are happy to have what by all accounts seems to be a very strong MPS option. Thanks teachers and administrators at Maryland Ave!
bevallalewis | Aug. 27, 2010 at 8:32 a.m. (report)
My granddaughter has been attending Maryland Ave Mont.school for 2 yrs and is going into K-5 this yr and my grandson is entering K-3 this yr. It has been a wonderful experience. Miss Tanya is a great teacher and my Granddaughter really likes her. I enjoyed the article. Thank you
Facebook Comments
Disclaimer: Please note that Facebook comments are posted through Facebook and cannot be approved, edited or declined by OnMilwaukee.com. The opinions expressed in Facebook comments do not necessarily reflect those of OnMilwaukee.com or its staff.