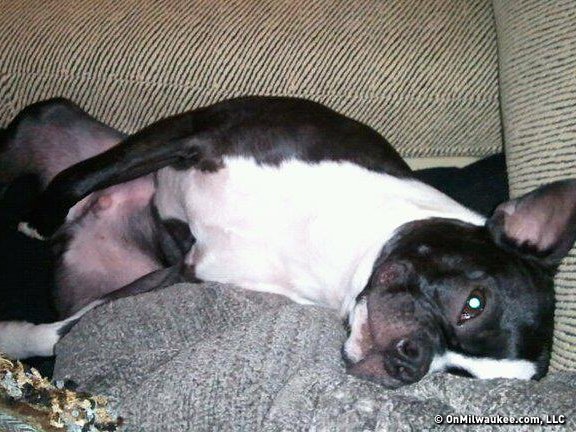 Briggs: the dramatic story of a stolen dog returned home safely
(page 2)




"She tried so hard and was so sincere. There were so many young people who were giving us a hard time, and this girl from a group home was really trying to help us," she says.

A strange wrench in the ordeal happened during the second week when Tricia received a call from a man who said he had a Boston Terrier who wasn't Briggs but that he thought they might like. Apparently, the man had other dogs in his house who did not like his Boston Terrier, who was malnourished, and he wanted to get rid of him for $100.

Tricia and a team of friends went to meet the guy and pick up the dog, but when they met him, he suddenly wanted $300, then $400, for the dog. Tricia said no, she wasn't going to pay that amount of money for the dog, and left. The man continued to send her photos of the dog and texts, and finally agreed to meet again to sell the dog for $125.

"I think, at the time, I just really wanted the dog to be Briggs even though I knew that it wasn't. And I wanted to save this dog, too. What are the chances of searching for your Boston Terrier and finding another Boston Terrier who really needed your help?" says Tricia.

The second meeting was successful, and the O'Malleys paid $125 for the dog they named Blue. They took him to the vet to see if he was microchipped, which he wasn't, and received confirmation that the 10-pound dog was severely undernourished at 10 months old.

Although the plan was to re-home Blue, he immediately started to attach to the O'Malleys, to the point that he suffers from severe separation anxiety and even cried until he threw up when he had to be separated from Tricia for a long period of time.

Shortly after, Tricia spent the day at the parking lot of El Rey, 1023 S. Cesar Chavez Dr., and set up a booth and handed out flyers in English and Spanish for the entire day. She says she went home that night, exhausted.

The next morning, Tricia was awakened at 6:30 a.m. and again at 6:35 and 7 a.m. by phone calls from people who were calling with false information about Briggs. She turned off her ringer and went back to bed, frustrated by the bogus calls.

At 8 a.m., the doorbell rang, but when she went to the door, no one was there. So she let Blue out and listened to her voicemails, expecting to hear more unhelpful information. Instead, she received a message from a woman saying, "I think your dog showed up at our church today."

Tricia ran over to the nearby Lake Park Lutheran Church and yelled to the groundsperson in the church's yard, "Do you have my dog!?" The groundsperson said yes, the dog had been sitting in front of the church shortly before the 8 a.m. service and was let into the church for water. The pastor identified the dog as "the missing dog" and held him up in front of the congregation which gave the dog a standing ovation.

A very good friend of the O'Malleys caught wind that Briggs was at the church so he picked up the dog and tried to call Tricia, but at that time, she still had her ringer turned off.

Soon after the conversation with the church groundskeeper, Tricia ran back to her house, screamed "He's back, he's back!" and she and Josh ran out of the house.

And then they saw her friend walking down the street toward her, holding Briggs.

"I started running down the sidewalk, sobbing. I was holding Blue, who I handed off to my friend, and grabbed Briggs and just sobbed into him," says Tricia. "Then my husband came out, and he started sobbing, and neighbors came out and people came out of the church and it was amazing."

Tricia says there are no signs of Briggs having been mistreated. His personality is the same and he has no physical signs of being in a violent situation. The only change is that he gained a pound, which might be because he wasn't exercised and / or fed unhealthy food.

Because Briggs is neutered and microchipped, Tricia thinks someone took him, perhaps, to be a family pet, even though many people suggested he was stolen to bait fighting dogs. In fact, she received more than five calls a day from strangers warning her that Briggs was probably being used in dog fights. She knows now this was not the case.

Tricia says during the 17 days Briggs was missing she never gave up hope. During the second week, friends started to suggest to her she might need to eventually move on, but she was certain Briggs would come home someday, somehow.

"Our mantra during the search was 'relentless.' We were going to be relentless until this person could not go anywhere without seeing some mention of Briggs. We wanted to put a value on Briggs to make sure people cared," she says.

Tricia says Briggs' abduction made her marriage stronger and allowed her and Josh to pool their talents and support. "I was the communicator and the marketer and he was the strength, the muscle, the footwork and the stable base to support me," she says.

Tricia and Josh cannot thank Milwaukee enough for the community support.

"Milwaukee stepped up big time. And beyond Milwaukee too. The state was going through so much these past couple of weeks and was so divided politically, but really came together to bring home Briggs," she says.

<< Back

Page 2 of 2 (view all on one page)


Talkbacks
alba | June 7, 2012 at 3:05 p.m. (report)
There are so many scam artists involved in this story, none bigger than the dog psychic they paid. I'm glad they got the dog back, but what is the chance that Blue was stolen from some other yard and sold to them?
Midwest | June 7, 2012 at 12:42 p.m. (report)
Good stuff Molly. I became intrigued the day those flyers started popping up on the East Side. The hard work by these dedicated dog owners certainly paid off.
Facebook Comments
Disclaimer: Please note that Facebook comments are posted through Facebook and cannot be approved, edited or declined by OnMilwaukee.com. The opinions expressed in Facebook comments do not necessarily reflect those of OnMilwaukee.com or its staff.