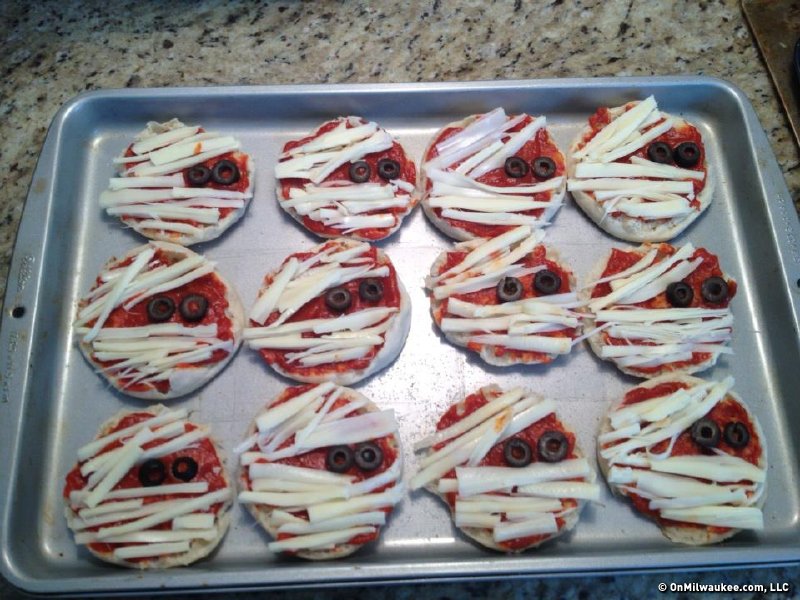 Easy, spook-tacular snacks for kids
For the sixth straight year, October is Dining Month on OnMilwaukee.com, presented by Concordia University. All month, we're stuffed with restaurant reviews, delectable features, chef profiles and unique articles on everything food, as well as the winners of our "Best of Dining 2012."
Many of us moms who do not consider ourselves "Martha Stewart" types occasionally like to create food for kids that's seasonal, fun and visually interesting. Sometimes we do it to hide nutritious ingredients that would otherwise be shunned by our sticky-handed picky eaters, but we also do it just because we love seeing them happy.
"The slightest creative flourishes really go a long way with kids," says Milwaukee mom Beth Docent. "Nobody appreciates 'the little things' more than kids."
Pinterest is a gold mine of crazy cute kid food ideas especially around Halloween, a great time to make "spooky" foods that kids will eat. Over the years, many moms have combed through websites and blogs and passed on recipes and ideas that have become personal Halloween food favorites.
Maria Raboin, a former Milwaukee mom who now lives in California, introduced my family to mummy pizzas and these top the list of our most-loved Halloween-themed foods. They are extremely easy to make and include healthy ingredients aside from the fact they really do look mummy-ish.
The simplest way to make these is with an English muffin "crust" – Raboin uses Trader Joe's multi-grain English muffins – but pizza dough cut into circles could be used, too. Then, top with sauce, arrange the mozzarella cheese so it looks like mummy wrappings and leave a pie-slice-shaped space to expose the black olive eyes.
Put these in a toaster oven or regular oven on 350 until they warm up, but not long enough that the cheese gets too melted and runs together.
Also on the mummy theme, breadstick mummy dogs are a hit in my house. Again, super simple: get one pack of breadstick dough and a package of hot dogs or veggie dogs, unroll the dough and cut each piece (there are usually 12 in a tube) and cut into three equal pieces. Then, wrap them around the dog, leaving a small space near the top for mustard eyes. Place on a lightly-greased cookie sheet and bake for 10-15 minutes at 375 degrees until lightly brown.
If you wanna get gross, you can use ketchup for blood.
Apple-and-marshmallow smiles are more of a seasonal food than a Halloween food, but still fall into the simple-but-ingenious category. To make them more Halloween-ish, use green apples and suddenly they're "witch lips." Either way, slice them into wedges, spread a thin layer of peanut butter on one side of the wedge – this serves as the "glue" – and then add mini marshmallows in between the peanut-butter-sides of the apple wedges.
Now, if only we could figure out a way to make the apples black, that would be so seasonally Goth. But, moving on ...
A few years ago, I bought a zombie brain gelatin mold for my kid because it was the only thing he said he wanted for his birthday. I'm not sure he ever had gelatin before, and I'm not particularly fond of the wiggly food myself, so I held off on actually making the thing for a couple of years.
Finally, he cornered me in the kitchen, demanding to know when I was going to make his "brains." I finally broke down and made it recently in honor of Halloween time, and it turned out a lot better than I expected.
All you need is this mold and some lime gelatin. He asked for gummy worms to be coming out of it, but I did not oblige.
There are many Halloween cookies that are way-too-adorable and super easy, but like the gelatin brain, they aren't exactly nutritious. However, Oreo spiders only require a cookie for the body, black licorice strings for the legs and mini M&M's for the eyes. You will have to "glue" the eyes with a small dab of peanut butter or frosting, which can easily come from a can.
Or, plop a Hershey's kiss on the backside of a fudge-striped cookie and you have a witches hat. Again, you will want to affix it with something sweet and sticky.
"The window for this stuff is so small. They grow out of appreciating (fun food) so quickly. Enjoy it while you can," says Docent.
Facebook Comments
Disclaimer: Please note that Facebook comments are posted through Facebook and cannot be approved, edited or declined by OnMilwaukee.com. The opinions expressed in Facebook comments do not necessarily reflect those of OnMilwaukee.com or its staff.