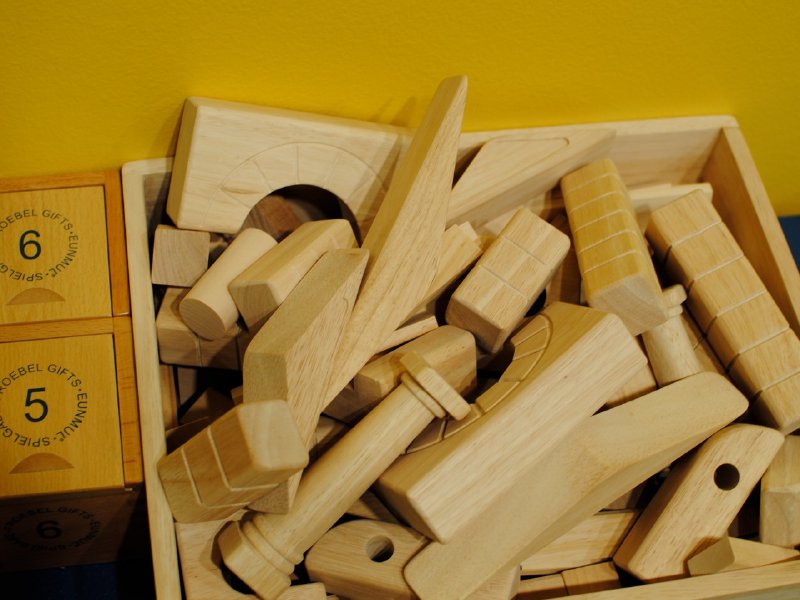 Kids' Wright exhibit provides the building blocks for smart design
The latest Kohl's Art Generation exhibit is called "Just the WRIGHT Size: Designing and Building Small Houses" and it's at the Milwaukee Art Museum. It opened this weekend and it runs through Jan. 2, 2012, in conjunction with the museum's feature exhibit, "Frank Lloyd Wright: Organic Architecture for the 21st Century."

This weekend, I took my kids to check out this new exhibit and we spent about 30 minutes exploring and talking to extremely friendly and helpful staff members like museum educator, Shannon Molter.

"Creativity and imagination are key elements to this exhibit," says Molter, who gave us an overview of the exhibit. Well, she gave me an overview. My kids we're already whapping eachother over the head with foam noodles.

Through the exhibit, kids are exposed to Wright's architecture and they learn how Wright's concepts are still relevant today. Best of all, they are able to build their own structures, both large and small. Overall, the exhibit is very interactive and hands on, which is a welcomed change for kids from the rest of the museum. (I must have hissed "don't touch that!" about a dozen times during our visit and I hear it at least that many times from the mouths of other parents.)

The exhibit is divided into four stations. The building block area features tables where kids can build, then draw, then display their own "houses." There is also a Frank Lloyd Wright-inspired dollhouse, three "smart design" houses to look at -- featuring "double duty" rooms made from shipping crates (a video showed real examples of such abodes in England) and, my sons' favorite, the huge, foam "imagination" blocks and noodles.

"They're really super durable and usable indoors, outdoor or in water," says Molter.
The exhibit's main message to kids is that architecture is super creative, extremely practical and that the work of Frank Lloyd Wright is still valued today. Maybe even more than ever.
According to signage in the exhibit, we gleaned that Wright had three big ideas. The first was to keep it simple. meaning, many of his structures had one big room or multiple large rooms instead of lots of small rooms. Secondly, he didn't believe in attics or basements because if a person didn't use something regularly, they really didn't need it.
Finally, Wright's work connected with the outside -- lots of "window walls" and water elements -- as well as previously unpopular building materials like plywood and cement blocks.

Although we didn't spend a ton of time here, we found the exhibit to be a fun way to start our exploration of the rest of the collection. My boys really enjoyed the contemporary art section, particularly walking into the Infinity Chamber.

On our way out of the exhibit, we borrowed an iPod for free (in exchange for a license) and took a Family iPod Touch Tour. There are two programs -- one for younger kids and one for older kids -- and they are both accessible via iPod and both provide info, games, scaveneger hunts and more for most of the collection.

My 8-year-old son got into this the most. He listened closely to the audio, looked at the art piece or circled it a few times if it was a sculpture. and then reported his findings.
"That's made out of mesh," he said matter of factly, pointing to a large contemporary piece of sculpture.
The Kohl's Art Generation Open Studio is free with admission and available on a drop-in basis during regular museum hours.
The Kohl's Art Generation program, now in its third year, is made possible by a $2.7 million gift from the Kohl's Cares® cause merchandise program, which sells special merchandise and donates 100 percent of the net profit to benefit children's health and education initiatives nationwide. The Kohl's Art Generation program provides art education and opportunities for creative expression at a time when visual and performing art resources at schools are stretched.


Facebook Comments
Disclaimer: Please note that Facebook comments are posted through Facebook and cannot be approved, edited or declined by OnMilwaukee.com. The opinions expressed in Facebook comments do not necessarily reflect those of OnMilwaukee.com or its staff.