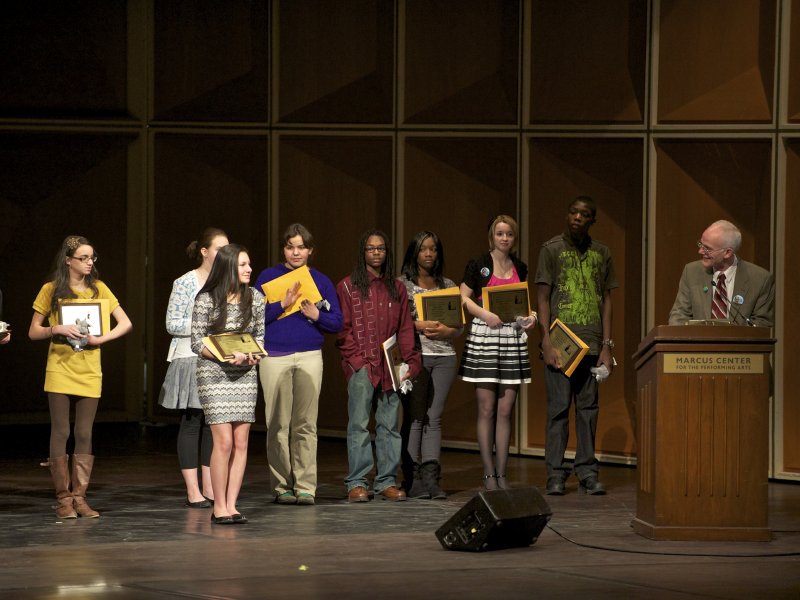 MLK contest winner urges nonviolence, goodwill
A senseless act of violence – against children, no less – inspired a high school senior at to bring to light within her community the lost art of peaceful activism.
A lot of people are proud of Rufus King High School's Gabriella Johnson. But if he were here today, it's hard to imagine that Dr. Martin Luther King, Jr. wouldn't be at the top of the list of her admirers.
It's fitting, though, since she is at the top of the list of his.
Johnson was one of the students honored yesterday at the 29th annual Dr. Martin Luther King Jr. Birthday Celebration at the Marcus Center for the Performing Arts. This yearly contest seeks to keep alive the words and principals of Dr. King in the minds – and school curriculum – of modern-day youth.
K-12 students in public and private schools within the City of Milwaukee have the opportunity to enter their interpretation of the yearly theme in the categories of art, speech and writing. This year's theme as selected by the committee was "Fair play, good will and justice."
Johnson's essay was the third place winner in the 11-12th grade writing category.
In "Birth of a new age: December 1955-December 1956," Dr. King wrote that "someone must have sense enough and morality enough to cut off the chain of hate and evil. The greatest way to do that is through love. I firmly believe that love is a transforming power that can lift a whole community to new horizons of fair play, good will and justice."
It is a moral code that struck a chord with Johnson.
"At the beginning of this year, our school was surrounded by some acts of violence and jumpings, sort of senseless, when students were trying to get on the bus," she told OnMilwaukee.com. "I was just irritated with the senseless violence. I felt that if people ever had understood Dr. King and his ways, they had lost it."
Her English teacher, Kelly O'Keefe-Boettcher, had introduced a unit on the writings of Dr. King. And though she had always been aware of his exemplary citizenship, Johnson found a new respect for him in researching his works - especially in the context of the events at her school.
"I learned about him in the light of (being) a preacher and his Christian, logical appeal and how the weapon of love is actually the most durable power – that's what he writes in one of his essays," she said.
"It's the strongest thing we can do. He taught me to love our oppressor because if we hate them and are violent, then that's only going to yield evil ends and not transcend anything. We have to endure the sacrifices and that's where we'll get redemption from."
She realizes that it is easier said than done. "It takes so much more strength than to just fight back in the moment. I just believe that being peaceful and nonviolent is just such a greater feat than retaliating violently in the moment."
Applying Dr. King's words to the situation at her school, Johnson wrote in her essay: "It is unimaginable for the victim of the jumping to love his attackers. However, Dr. King believed it could be done and would be effective. Evil means only yield evil ends. The good-willed nature of the victims to not retaliate with violence yielded, and will always yield, positive results."
It is this comprehensive understanding of the principles championed by the late civil rights icon, said committee member Donelle Johnson (no relation to Gabriella), that makes it so important for this contest to continue in Milwaukee. She has been instrumental in planning the contest, as well as the city-wide celebration of Dr. King's birthday, for over 30 years.
2012, of course, was a year of remarkable violence. Children, Donelle said, need to know that there are more constructive ways of dealing with the problems of life.
"It (the contest) has always been something that, when I was in the classroom in MPS, my students knew they did it every year. Some of those students now serve as judges in the contest or do it in their own classrooms as teachers," said the MPS teacher of 35 years, now retired.
"It's so important for kids to know there are nonviolent options to doing civil change, whether it's civil disobedience or to resist in different ways. We have to get our students to realize that no matter how hopeless they think things are, there's got to be someone they can reach out to or other alternatives to solve their problems."
Entries for the contest have dropped in recent years. The all-time high was 6,500; this year saw 2,500 entries, up 700 from last year.
"It's becoming harder and harder for teachers to visit this in the classroom because of the testing craze that says that testing is the end-all - they just feel threatened that if they (give the time to) do something like this that they'll be called on the carpet," she said. The deadline for the contest entries coincides with the time of school testing.
But more than testing, it was correcting the pattern of violence that was on Johnson's mind this year.
"I was frustrated (by the attack)," she said. "I was pained by it. I know it didn't happen to me, but I didn't want to picture the innocent student just being beaten for no reason, attacked for no reason."
And so, inspired by Dr. King, she decided to take ownership of her community - along with all its flaws.
"We had a student forum in our school led by my English teacher who has taught me all of these things, and we talked about what we were going to do to stop the violence that was happening," she said. "It is not a part of our community and we wanted to end it."
It is hard to imagine a more fitting birthday present for Dr. King.
Next year's Dr. Martin Luther King Jr. Birthday Celebration will again be held at the Marcus Center for the Performing Arts on Jan. 19, 2014, at 1 p.m.
Facebook Comments
Disclaimer: Please note that Facebook comments are posted through Facebook and cannot be approved, edited or declined by OnMilwaukee.com. The opinions expressed in Facebook comments do not necessarily reflect those of OnMilwaukee.com or its staff.