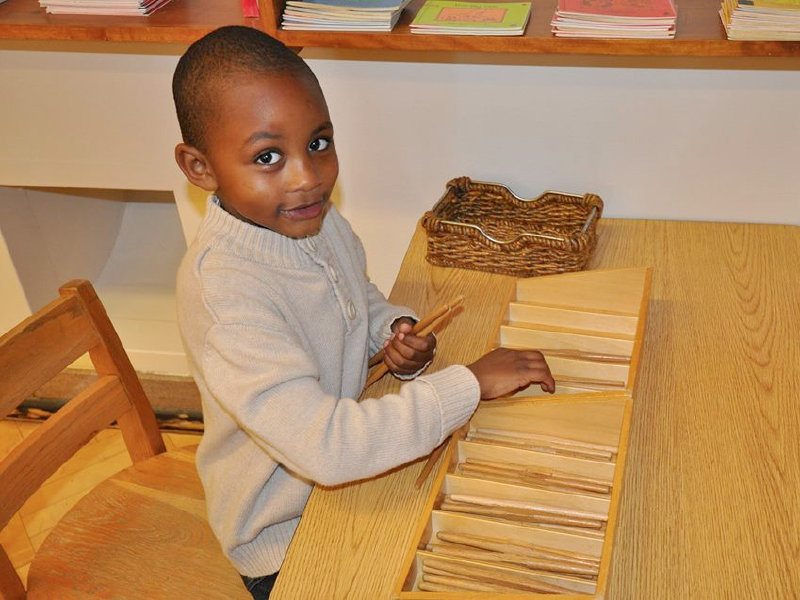 Annual public Montessori summit welcomes Milwaukee community
For the third straight year, Milwaukee Public Schools' Montessori community has organized a free event for parents, students, teachers and supporters of public Montessori programs.
MPS is home to the largest grouping of public Montessori schools in the nation, with seven traditional public Montessori schools – Lloyd Barbee, Craig, Fernwood, Howard Avenue, MacDowell and Maryland Avenue – and one MPS-chartered school, Highland Community Montessori.
Recent action by the MPS board will help expand two of those schools and talk of opening a new program on the under-served southwest side of the city has been swirling for a while now.
The summit, which takes place Saturday, Jan. 24 from noon until 4:30 p.m. at MacDowell Montessori, 6415 W. Mount Vernon Ave., is also a perfect opportunity for parents of young children and other community members curious about the Montessori method and about the schools.
The event will draw attendees from all the MPS programs, as well as prospective families and others interested in the programs.
Teachers interested in pursuing Montessori training will find many current Montessori teachers on hand and eager to share information about the training, about enrollment and more.
In a 2010 report, the Milwaukee NAACP said the MPS Montessori schools offered the best opportunity to get a great education in the city. In 2012, Fernwood Montessori – which like many of the programs has a waiting list – was dubbed the only Milwaukee school to "significantly exceed expectations" by the Wisconsin Department of Public Instruction.
"We work hard to provide families information about this research-based, high quality educational program," Andrea Corona, principal at MacDowell and organizer of this year's summit, told me last year.
"We are honored to be hosting the third annual Montessori Summit at MacDowell Montessori School," she adds now.
At last year's event, more than 300 parents and community members networked and talked shop; each school had a display reflecting their own unique school cultures; and Trevor Eissler, author of "Montessori Madness," gave an entertaining and inspiring talk on the power of the Montessori method.
This year's speaker is Dr. Stephen Hughes, a neuro-psychologist and director of the Center for Research on Developmental Education. Hughes also serves as chair of the Association Montessori Internationale Globe Research Committee. A fellow at the Inamori International Center for Ethics and Excellence at Case Western Reserve University, Dr. Hughes also lectures at the Montessori Center of Minnesota and the Maria Montessori Institute in London.
The event begins at noon with a tour of MacDowell's preschool, elementary, middle and high school classrooms, in which students will be engaged in Montessori work.
"As a Montessori Community, we have a responsibility to provide information to the greater community about our methodology, to show them what a child can accomplish when given access to the specialized materials and instruction in our schools," Corona says.
"We invite anyone in this community who would like to learn more about Montessori education to attend. We will provide an opportunity for community members to observe classrooms with children at work, and engaging breakout sessions for prospective parents and teachers."
Hughes will speak in the auditorium at 1:45 p.m., giving a presentation he calls, "School 2.0: The Neurological Case for Montessori Education."
At 3:45 there will be a trio of breakout sessions.
Two are directed toward parents: one for new and prospective parents who want to learn more (Montessori 101), and another (Montessori 201) for parents of current Montessori students, who will learn how to continue to advocate for Montessori education for Milwaukee children.
A third, Montessori 301, naturally, is aimed at current Montessori teachers, offering a refresher on the grace and courtesy work that is a part of the Montessori curriculum at all levels. Teachers will have a chance to share best practices with colleagues.
"Attending an information session and taking a school tour are important steps in choosing a school or educational program for your child," said Corona before last year's summit. "But here, at the Montessori Summit, parents can observe students at work in the environment, and have their questions answered by the experts, our highly qualified, Montessori trained teaching staff.
"We hope to host this event each year, and encourage anyone interested in learning more about Montessori to attend!"
For more information, call MacDowell Montessori School at (414) 935-1400 or visit the event page on Facebook.
You can RSVP for the free event by emailing MontessoriSummit@gmail.com.
There is plenty of street parking around the school as well as free parking in the lot directly across Mount Vernon Avenue from the school.
Facebook Comments
Disclaimer: Please note that Facebook comments are posted through Facebook and cannot be approved, edited or declined by OnMilwaukee.com. The opinions expressed in Facebook comments do not necessarily reflect those of OnMilwaukee.com or its staff.