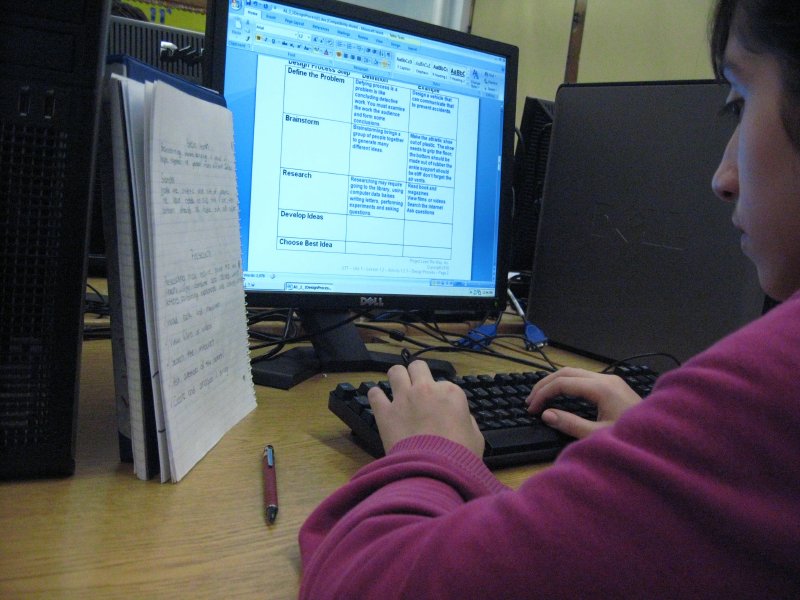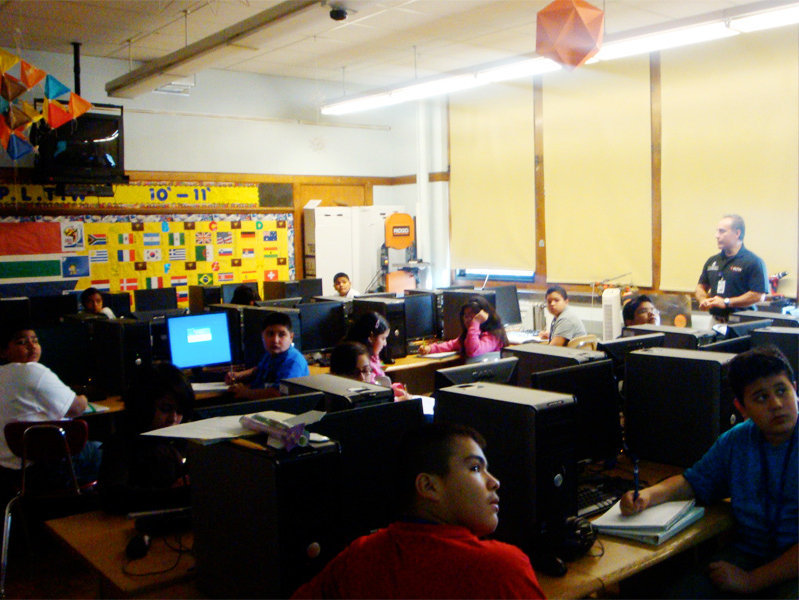 Engineering program points Vieau School kids toward career success
The blinds are pulled on the windows overlooking South 4th Street in Armando Dominguez's Project Lead the Way classroom at Escuela Vieau, a bilingual MPS school on National Avenue in Walker's Point. And despite the fact that one wall is papered with a Wave jersey and posters of international soccer stars like Wayne Rooney and Carlos Tevez, the students he's working with are all focused on him.
A compact, rock-solid stocky and personable fellow, Dominguez worked as a veterinarian in Mexico, before meeting his wife and returning with her to Milwaukee and joining the Vieau faculty in 2000. He is a formidable presence in his room, where every sixth through eighth grader in his K3-8 school studies principles of engineering.
Dominguez volunteered to head up the Project Lead the Way program at Vieau about five years ago when MPS paired it with Rockwell Automation -- whose clocktower shines like a beacon above the neighborhood. The company was eager to support the engineering program at the middle school level in the district.
Project Lead the Way is a national program -- MSOE president Hermann Viets is on the board -- that has made big waves across the country and in May grabbed headlines when it was announced that 20 percent of the schools on Newsweek magazine's "America's Best High Schools" list offered PLTW's science, technology, engineering and math (STEM) program.
This year 28 MPS schools have PLTW programs. Seven are high schools and the remainder are middle or K-8 schools (including Golda Meir, which is 3-8, and Westside Academy II, a 4-8 school).
Vieau runs on a quarterly schedule and kids take Project Lead the Way classes every other "semester." The school's all-inclusive approach -- in which every sixth, seventh and eighth grader takes part in PLTW -- is uncommon. But it has made an impact.
School counselor -- and Rockwell liaison -- Melinda Wyant Jansen recalls that just before the program came to her school students were surveyed and most didn't know what an engineer was. Those that did, conjured images of train drivers and the school's maintenance engineer.
"When we started this maybe one kid said they wanted to be an engineer and they really didn't know what it was," she tells me in her first floor office, where Roberto, a quiet fourth grader pretends he's reading a book at a low table. In fact, he's clearly listening to us talk, stealing occasional glances.
"Now we have about 25 to 30 kids out of our class who have said 'I'd like to be an engineer' and an even higher the kids who want to go into some kind of STEM."
But, perhaps even more importantly, says Wyant Jansen, this program that aims to lead kids into careers in engineering is lighting a path out of poverty for the school's roughly 700, mostly Hispanic, kids, most of whom come from the surrounding neighborhood.
"Graduation here is a big deal," says Wyant Jansen, "out of eighth grade. One of the biggest things about kids that are coming from poverty is that you have to show them that there is something else. And PLTW ... opens up a whole new world."
That world is one that is paved with scholarships -- including ones from Rockwell and MSOE, among others -- and leads to high-paying careers in all areas of engineering. And thanks to visits from Rockwell employees and executives, Vieau students understand that PLTW offers them concrete hope, not some abstract idea of the potential for a new life.
It leads them to focus, to think hard about where they want to go to high school and consider seriously what they want to do beyond that.
"It's really changed the way our kids have thought about what they're going to do after high school and where they're going to go," says Wyant Jansen.
"It's just about opportunity. If our kids continue in this program there are scholarships there for them when they finish high school. It's a really big deal. We start talking to these kids about all of that in fifth grade. So that whole idea of getting them ready in middle school to start thinking about those things is really important."
Page 1 of 2 (view all on one page)

Next >>




Facebook Comments
Disclaimer: Please note that Facebook comments are posted through Facebook and cannot be approved, edited or declined by OnMilwaukee.com. The opinions expressed in Facebook comments do not necessarily reflect those of OnMilwaukee.com or its staff.