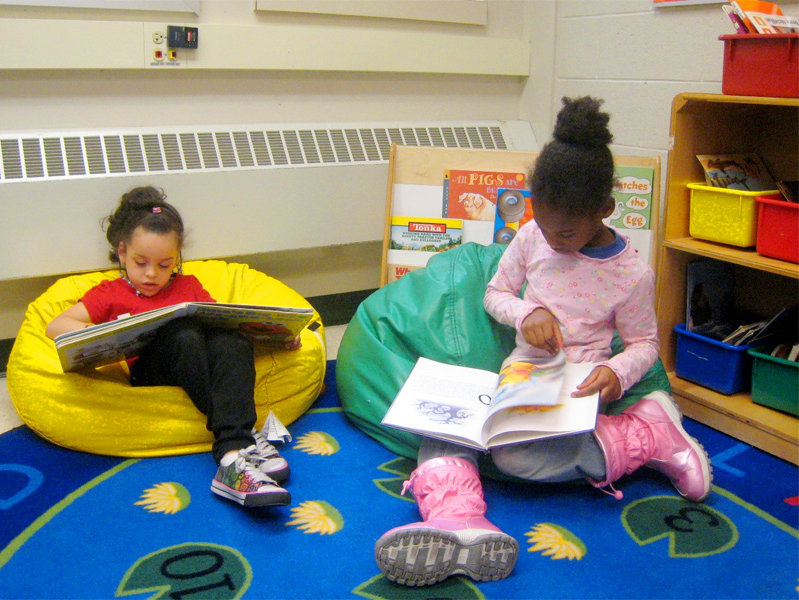 New reading curriculum spurs teacher creativity
When Superintendent Gregory Thornton arrived to take control of Milwaukee Public Schools after the end of the last school year, he started to work on a number of changes. Certainly the most drastic change came almost right away.
In July, MPS adopted a district-wide literacy curriculum to replace the 17 reading programs and 13 reading assessments previously being used in all 184 schools (only a few schools, like the nine Montessoris in the district, are exempt). Teachers were trained in the new curriculum over the summer and it was put in place when students returned on Sept. 1.
You can read the curriculum -- which runs hundreds of pages long -- to try and determine if it will make a difference. Or you can ask the educators who are implementing and using it every day.
The ones we spoke to said the new program has changed the way they teach. It has encouraged them to be creative and to model good reading behavior for their kids. And they say, they can see a difference already.
Timothy Manley, a K5 teacher at the Milwaukee Academy of Chinese Language, an MPS charter on 24th and Wisconsin, says that the new curriculum -- which at his grade level uses a program called "Journeys" -- is a marked improvement over the previous Direct Instruction method of teaching reading. In the past, he, like many teachers, taught reading with a scripted plan that offered little leeway for teachers to make the lessons their own and to adapt to children's needs.
New approaches
"The new reading program has definitely changed my approach to teaching reading," says Manley. "If there's a group of kids that's still struggling with letter names then you can pull them out and work on that, or if there's a group of kids that needs more of a challenge then the program offers more difficult books and tasks to suit their needs as well. With Direct Instruction everything was scripted, so every day I would come in, read from my script, and be done."
Now, instead, Manley says the curriculum not only encourages, but also requires him to think more about teaching reading. In the morning, he says, he sets up work stations, readies his new story for the day, assembles the materials and prepares his song of the day, among other tasks.
"It's a lot more work," he admits. "But I'm also seeing a lot more progress, and the kids are really enjoying it, so to me it's definitely worth all the extra effort."
While spurring teachers to inject life into their lessons, the curriculum makes no bones about how much teaching is expected of them. Most grade levels do 90-minute reading blocks each day. That mandate is also fueling teachers' creativity by leading them to find ways to bring other subjects into the reading and writing blocks, says 95th Street School principal Kristi Cole.
"There is a clear expectation of the time requirement for reading and other subject areas -- 90 minutes for reading, 60 minutes for language arts (writing) and 60 minutes for math," she says. "Science, social studies, health, art, physical education and music get the rest of the time. Teachers have to be creative in their integration of these subject areas; such as integrating social studies content in language arts, like writing a letter to Abraham Lincoln during the Civil War."
At Cole's school, for example, first grade teacher JoyLyn Rehm has learned to make the most of every minute in the school day.
"Ms. Rehm utilizes every moment of instruction time," says Cole. "Instead of having the students wait in the hallway during the bathroom break with nothing to do -- which often takes between 5 and 10 minutes -- she has them read.
"This time is a testament to their devotion to reading, although, we do have high expectations for our staff and students at 95th Street School. Teachers are expected to teach and students are expected to learn. There is no time to waste."
Making reading contagious
Many teachers are also modeling a love of reading to their kids. Four years ago, long before the new curriculum was in place, Samuel Clemens School, on 36th and Hope, began the D.E.A.R. program. Every Wednesday for 15 minutes, everyone Drop(s) Everything and Read(s), including the adults. Now, more than ever, this has proved valuable, says principal Jacqueline Richardson.
"It is important for students to see that our staff values reading," she says. "For us, the idea is to make reading a natural part of the day, like eating or sharing time with a good friend. We try to incorporate reading in the culture of our school by encouraging students to read every night, on weekends and over long breaks."
Page 1 of 2 (view all on one page)
Next >>
Talkbacks
MKEabouttown | Dec. 5, 2010 at 2:36 p.m. (report)
Wow, this is the best piece of propaganda I've read in a long time!
Facebook Comments
Disclaimer: Please note that Facebook comments are posted through Facebook and cannot be approved, edited or declined by OnMilwaukee.com. The opinions expressed in Facebook comments do not necessarily reflect those of OnMilwaukee.com or its staff.