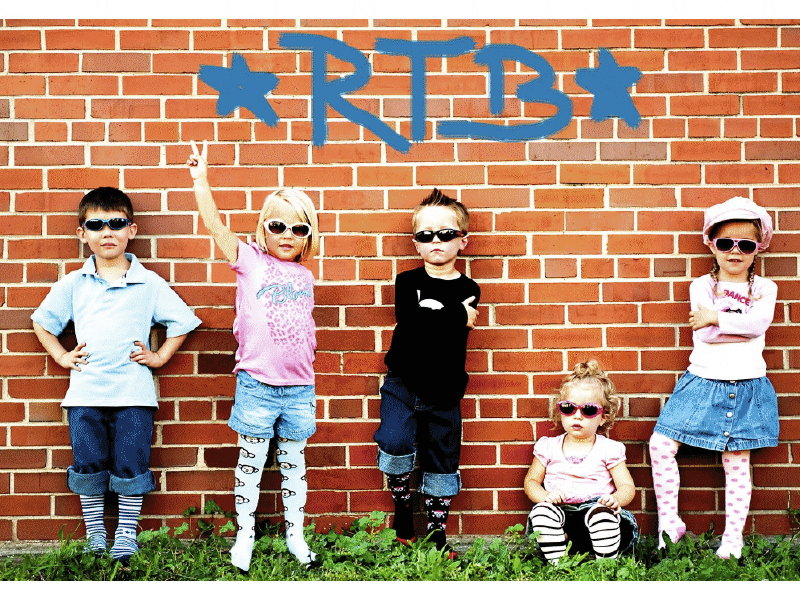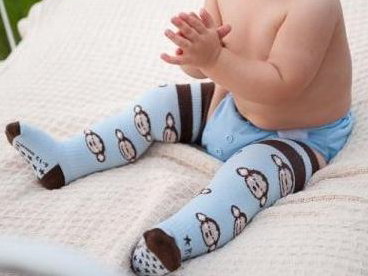 Rock-a-Thigh Baby makes sock wearing fun and fashionable
JANESVILLE -- One of the reasons Jennifer Dutcher started her business was to solve "missing sock syndrome." It's true. Tired of trying to locate the match to her kids' socks -- and because she wanted thigh-high children's socks to prevent cold ankles -- Dutcher started her own kiddie sock business called Rock-a-Thigh Baby.
"One chilly Spring evening, I went for a walk while wearing one of my daughters in a baby carrier. She was bundled up but because her pant legs were jacked up, her ankles and lower legs were cold. I went home to dress her warmer, and not wanting to hassle with taking off the layers of clothing she had on to put her in some cumbersome tights, I quickly snipped the legs off a pair of her yarn tights and used rubber bands to keep them up," says Dutcher.
Dutcher searched online for children's thigh-length socks but could only find legwarmers, which are long but don't have feet. She decided to start her own business, and the Janesville-based Rock-a-Thigh Baby was born.
Rock-A-Thigh-Baby socks -- which cost $14 a pair -- are an alternative to tights, which can be a hassle when it comes to changing diapers or potty training. They also work well with babywearing (the practice of carrying a baby in a sling) and for children who wear leg braces.
Dutcher does not have a business partner per say, but says her husband and daughters help her immensely. Dutcher has four girls ages 9, 7, 4 and 2. Another daughter, her eldest daughter's identical twin, passed away at 6 months in-utero due to complications related to Twin-to-Twin Transfusion Syndrome (TTTS).
Dutcher says Rock-a-Thigh Baby socks differ from similar stockings like Baby Legs in several ways. Her socks are the only children's thigh-length sock that are USA-made and eco-friendly, made from 100 percent "pre-consumer" yarn and soy-based non-skid grips. Rock-a-Thigh Baby uses minimal packaging and mailing material that is 100 percent recycled.
Dutcher also says her design is a sure thing when it comes to staying slip-free.
"The socks stay up and stay on because the cuff is designed to not roll or twist," says Ditcher. "And they are superior-ly constructed with ribbed panels built in at the ankle and arch to help keep the sock in place."
The socks come in sizes ranging from 0-6 months to 6-8 years and offer many design options for boys. Her top sellers are Pink Polka Dots, Neapolitan, Chunky Monkey and Little Boy Blue.
"We just released four new solid designs, along with a funky Rockin' Rainbow sock that are all going over very well too," she says.
Dutcher was born in Minnesota, but has lived the majority of her life in Wisconsin. She graduated from UW-Madison with a degree in Interior Design.
"I literally selected my major based on which one required the least amount of math. My dad, a pilot who was killed in a plane crash when I was 11, had dyslexia. I have a form of it, too, that has to do with numbers / math called dyscalculia," she says. "I'm intrigued to have recently learned that 35 percent of U.S. entrepreneurs are dyslexic."
After graduating from college, Dutcher worked full-time as a designer in Madison for two years, but had to end her employment after she was abruptly put on three months of bedrest for her complicated TTTS pregnancy.
"For the past few years I've been a stay-at-home mom of four girls, working on launching my sock business by researching cuffs, creating designs, trying to identify a U.S. manufacturer and searching for funds," she says.
Dutcher received a Wisconsin Women's Business Initiation Corporation (WWBIC) loan, but when she was on the verge of launching her business the first time around, her family fell on some very difficult personal and financial times and she had to postpone the opening.
"I had to resort to selling vacuum cleaners. Needless to say, that was a very humbling experience. It was also very valuable. I eventually figured out that the company I was working for was shady. That experience gained me important business insight, and made me that much more resolved for my company to always be honest and ethical, without exception," says Dutcher.
Talkbacks
JenniferDutcher2011 | Jan. 2, 2011 at 10:38 p.m. (report)
Dear momto1, yes Rock-a-Thigh Baby socks are the same as Pork Chop Kids except for RTB socks are all USA-made, are eco-friendly (made from recycled yarn and grips are soy-based), they are superiorly constructed with ribbed panels built in at the ankle and arch, offer the small 0-6 months size, use minimal green packaging, retail for less, and always offers free shipping. ~Jennifer Dutcher, Owner of RTB
momto1 | Jan. 2, 2011 at 5:07 p.m. (report)
These are the same as Pork Chop Kids that are in the Milwaukee Area, started by a stay at home mom. Love Pork Chop Kids Socks!!!!!
Facebook Comments
Disclaimer: Please note that Facebook comments are posted through Facebook and cannot be approved, edited or declined by OnMilwaukee.com. The opinions expressed in Facebook comments do not necessarily reflect those of OnMilwaukee.com or its staff.