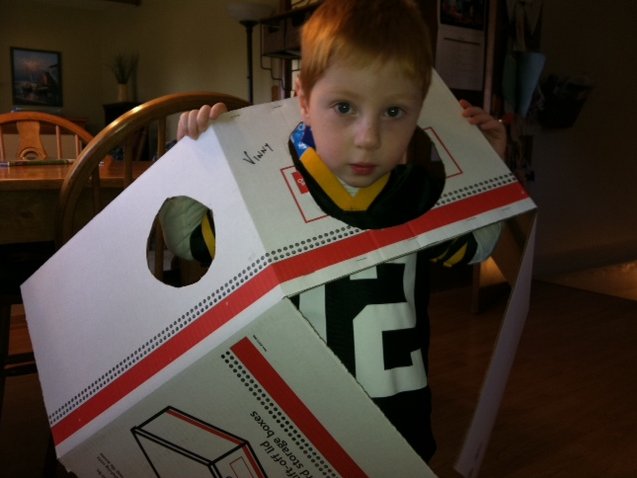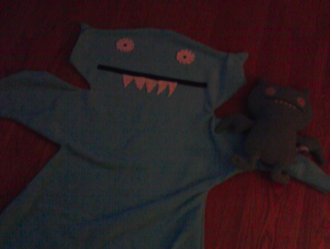 Local kids pick unique Halloween costumes
This Halloween during trick or treat, neighborhoods will be filled with sugar-buzzed kids running around in Smurf, zombie, Angry Bird and Mario costumes. According to retailers, these have been the top-selling costumes in 2011.
However, other children – or their parents – will take costume-wearing in another direction and avoid the mainstream's dress up options.
Vince Vitrano, the morning anchor on Channel 4, says his son asked to go as a brick for Halloween.
"I've actually been trying to talk him out of it, but he's stuck on it, and it seems people like it," says Vitrano.
Vitrano and his wife are still working on the design, but the base of the costume will come from a box that he picked up at work. It will also, most likely, include white duct tape as "mortar."
"I guess it's kind of interesting. The kid chose something so dull, boring and ordinary, that's it's actually unique," he says. "On the plus side, this thing is costing me virtually no money."
There is no way to determine whether or not it's cheaper to buy or make a costume. It depends where a store-bought costume is purchased, some stores are cheaper than others. Also, if making a costume, the cost is determined by the type of costume and what materials are involve.
Sarah Minella has two school-aged kids, and the three of them are going as a family of cockroaches. At least at this point that's the plan. Minella, who lived in New Orleans, saw a family dress as cockroaches for a parade called Crew De Vieux.
"They used brown felt, garbage bags and pipe cleaners. I am hoping to get the kids into it as much as I am. But, as I am sure you know, they have a mind of their own and that can change at any second," she says. "So, worse case scenario, I will be a lone cockroach with a Power Ranger and a cowgirl."
A person does not have to be artistic to make a kid's Halloween costume. In fact, resourceful is often more useful when costume creating. Mary Robins-Price, for example, has a 6-year-old son, Ross, and he wants to go as his favorite food: a box of macaroni and cheese. But not just any old box of mac.
"He wants to go as the Annie's box of Peaceful Parmesan macaroni-and-cheese. The tie-dyed box with the peace-sign-shaped noodles," says Robins-Price. "I'm not much of an artist, but I'm hoping to make this with large color copies and an air conditioner box. Wish me luck."
Taking a mainstream costume idea and adding an unexpected twist often leads to an original get-up. Matthew, the 9-year-old son of Lisa Dryer, asked this summer if he could go as a dead Angry Bird from the video game, Angry Birds.
"This is both funny and disturbing," says Dryer. "I'm still deciding as to whether or not I'm going to go for this. As an animal lover, I'm against it, but as someone who likes to make fun of popular culture, I'm all for it."
Anna Young's daughter, Audre, has a history of unique costume requests. Last year, Young, who went as a crane, made her daughter a Kung Fu Panda tigress costume. A couple of years before that, she concocted a Super Mouse costume.
"This lead to a Superman and mouse costume mash-up," says Young.
This year, Audre is going as an Ugly Doll. The actual hands-on time, according to Young, is about two hours, but a lot of planning ahead. "Drying the fabric glue added an overnight on various steps," she says.
Maria Holden's daughter, Ella, requests a costume every Halloween that cannot be bought. Last year, it was a peacock. The costume took more than two weeks to create and Holden says she worked on it about an hour every day. This year, the peacock image is more popular and peacock costumes are available, but Ella jumped the trend.
"I made a free hand long sleeved bubble hem dress from an acrylic faux fur. Since the synthetic material couldn't be dyed, I had to spray paint it royal blue. Oddly enough, there was a website completely devoted to peacock feathers, so I ordered 30," says Holden.
"I then cut out over 500 ovals from tan felt and added green and gold glitter to them. Those ovals were then placed over the peacock feathers and then attached with tacky glue and pins to the main dress. I added a black mask with a white eye stripe, and a feather covered blue winter hat."
Melody Smith's daughter, Makayla, went as a princess for the last two years. Smith obliged, but she wasn't thrilled about this choice and wished her daughter would pick something more original and less gender specific. This year, at the ripe age of 7, she finally did.
"I asked Makayla a few weeks ago what she wanted to go as for Halloween, and without skipping a beat, she said 'Johnny Cash,'" says Smith. "Her dad (a big Johnny Cash fan) is thrilled. I was thinking maybe a butterfly or an alien, but OK. At least it's not a princess costume."
tqdtvuysdubdcvsvceuadbztcqdzxcwc
Talkbacks
littletinyfish | Oct. 24, 2011 at 4:48 p.m. (report)
That peacock costume is pretty fantastic, but I have to admit, if I saw a kid dressed as a brick I'd just dump my bowl of candy into their bag. I don't get it, but I like it.
Facebook Comments
Disclaimer: Please note that Facebook comments are posted through Facebook and cannot be approved, edited or declined by OnMilwaukee.com. The opinions expressed in Facebook comments do not necessarily reflect those of OnMilwaukee.com or its staff.