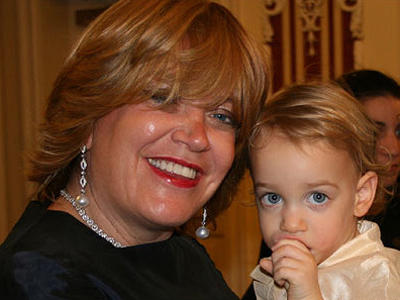 Head lice hatches a host of complications
Eighteen years ago, Adie Horowitz had a terrible experience when her kids got head lice and it took her the entire summer to get rid of the bugs.
"Our friends wouldn't come near us. I felt like a pariah," says Horowitz. "So when I finally got the situation under control – it was before the Internet, so it was more difficult to figure out what to do – I started volunteering at schools and educating people about head lice."
Soon after, Horowitz says a mother approached her, offering to pay her to help get rid of her kids' lice. Horowitz hadn't considered charging for her information until that moment.
Today, she owns the New York City-based Licenders, a professional service that provides screenings for and the removal of head lice. She also has agencies in Jerusalem and Connecticut and will open eight more agencies in the United States in 2012.
Head lice occurs 90 percent of the time on kids' heads because they stand and play closer together than adults do and, since lice cannot fly, they rely on moving from head to head. Usually adults get it from kids, particularly parents, through cuddling with their little ones.
"My kids got lice, and then I got lice and then my husband got lice and then we all shaved our heads and cleaned our bedding and it still came back," says Milwaukee's Maryanne Phelps.
Early detection is the best way to combat lice. Horowitz recommends that schools have a screening in the beginning of the school year since many kids pick it up during the summer through outdoor experiences and because it's the peak of bug season. Lice multiply quickly, laying about six eggs a day that can hatch within 10 days, and before long, there is a full-on infestation.
Licenders has trained clinicians who go into schools and screen kids for lice by combing through their hair and looking through a magnifying glass for lice or nits (eggs). If they detect lice, they send home a letter with the children, along with a Licenders coupon for removal services.
Licenders uses all natural products and has a special vacuum cleaner referred to as a "lice buster." Costs start at $275 for a two-hour removal process.
Lice cannot live off of a scalp for more than two days. The best way for families to get rid of lice themselves, although not always possible, is to evacuate the home for 48 hours. Otherwise, it is crucial that all of the lice and nits are removed from the head and all bedding is washed. However, once lice occur, they often reoccur because it is so difficult to get every last bug or nit.
Lice season used to be a summer and fall problem, but is now a year-round issue. This is partially due to the fact they multiply so quickly and also because new, stronger bugs come in from Europe all the time.
"Europeans' cultural attitudes toward head lice is very different from Americans'. In Europe, even the wealthy aren't bothered by head lice and children still go to school when they have it," says Horowitz.
Many Americans believe that head lice is more prominent if hair is greasy or dirty, but actually, lice prefer clean, shiny, long hair. Consequently, Caucasian children are more likely to get and spread head lice than African-American children who often wear their hair braided / restrained.
"Lice like clean, free hair because they grip their feet around the hair, and if the hair is greasy, it's harder to grab on," says Horowitz.
The only way to try to attempt to prevent head lice is to tie hair back every day and to wear natural repellents on the head and wrists that contain citronella, peppermint and / or tree tea oil. Kids should also be told not to share helmets, hair brushes or hats of any kind.
It's easy to determine if kids have head lice because they will probably scratch their heads repeatedly, often using both hands. The bugs actually bite the head because they survive on the blood of the scalp.
To get rid of lice, most people use all-natural products today. They are available at local natural food stores.
Andy Pagel, of Milwaukee, says his wife and daughter got head lice about six years ago after an infestation at school, and he says mayonnaise worked for them.
"We tried some of the over-the-counters, but they didn't work. We heard a crazy old wives' tale about mayonnaise getting rid of them, so one night my wife and daughter lathered their hair with a jar of generic mayo, donned shower caps, and went to bed. The next morning after washing thoroughly, the lice were gone," says Pagel.
"I have a picture somewhere of those two in their shower caps going to bed. It's a funny memory."
Talkbacks
amycotter | Dec. 18, 2011 at 11:03 a.m. (report)
Its much safer and more effective to use home remedies to remove head lice than using commercial lice shampoo. I find that mayonnaise and vinegar works great. To know more about these remedies, you can go to http://www.headliceinformationcenter.com
Facebook Comments
Disclaimer: Please note that Facebook comments are posted through Facebook and cannot be approved, edited or declined by OnMilwaukee.com. The opinions expressed in Facebook comments do not necessarily reflect those of OnMilwaukee.com or its staff.