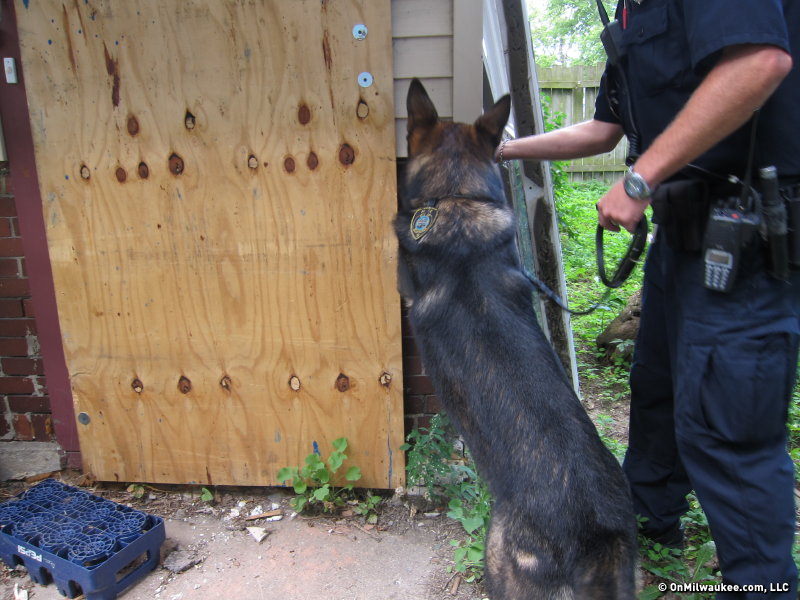 Shift Switch: Milwaukee Police officer on the K-9 Unit
Gallery:
A day with MPD's K-9 Unit
One of the most versatile officers on the Milwaukee Police force doesn't eat all day, understands German as his first language and works for free.
His bonus for sniffing out hidden drugs is chewing on a rolled-up towel.
While he's not a human cop, Dasty the German Shepherd proves his value every day to his handler, Officer Todd Johnson, as well as to the rest of MPD. Part of the Neighborhood Task Force, Dasty wears a badge, and when he's switched off, he's the most gentle, well-behaved dog sleeping in the back of a modified squad car that you'll ever meet.
When Johnson gives the command, though, well, you don't especially want to be on the other side of his bark. And let's not get started about his bite, though in the 50 to 100 instances that Johnson estimates Dasty has been used to coax a surrender, he's never once sunk his teeth into a suspect.
But subduing or terrifying a suspect into submission is just one side of the almost 7-year-old canine, who was bred in Germany for a sport called "Schutzhund." Dasty also possesses an unbelievable sense of smell that can accurately detect marijuana, cocaine, heroin and to a lesser extent, methamphetamines and Ecstasy.
It's because Dasty is both a loyal partner by day and protective pet by night that Johnson, the senior handler on the force, loves this aspect of his job – one that almost ceased to exist.
I had the unique opportunity to spend a day with both of them as part of our ongoing OnMilwaukee.com "Shift Switch" series. It was an incredibly eye-opening experience.
Johnson has worked as a Milwaukee Police officer for almost 20 years, and though he was assigned to the K-9 Unit in 1997, former Police Chief Art Jones cancelled the program in at the end of 1999. It remained canceled until 2007, and while Johnson worked on the S.W.A.T. Team, the remaining K-9 officers, including his mentors, Dale Racer and Dave Conroy, retired.
With just one K-9 cop left in '07, Johnson was tasked with recreating the program. Until recently, it was comprised of three dogs and three humans, but recently, MPD had to euthanize one of the dogs, so the department is down to two canine officers.
Johnson says he always was a dog lover and had dogs growing up, but until Racer and Conroy picked him – "I had no experience, I was a piece of clay," he says – he was hardly an enthusiast. "I owe everything I ever learned to those two."
But with Dasty, his second dog, Johnson has built a relationship that extends beyond "man's best friend." The K-9 dogs live with their handlers, and Johnson, 44, says Dasty is great with his two young children.
Like every OnMilwaukee.com "Shift Switch," our subject, in this case, Johnson, invited us to participate as much as possible on a typical day on the job. Of course, safety, protocol and common sense prevented me from doing all too much actual police work on this warm August morning. But in my almost seven hours at the side of Johnson and Dasty, I barely left their sides.
I'm fortunate the day began for me at 9 a.m. with a trip to the academy to pick up a bullet-proof vest.
Hitting the Streets
Johnson and Dasty got to work at about 7:30 a.m, and Johnson participated in an 8 a.m. roll call. Meanwhile, Dasty lounged in the back of the modified police cruiser; the car doesn't have a back seat, and Johnson keeps a temperature sensor near Dasty, with the air conditioning and car on almost all of the time. On his belt, Johnson has a "door popper," so at the push off the button he can remotely open the back of the cruiser, and Dasty will come jumping out, instantly ready for duty.
"It's like flipping a light switch," says Johnson.
There are, of course, deployment guidelines for Dasty, explains Johnson. Those include protection and serious felonies. But "barking doesn't equal biting," either, he says.
If it comes to that, Dasty is training to go after to the arm, to bite and hold until the handler says stop. MPD has always used male German Shepherds, and none of their dogs have ever died in the line of duty. Typically, they get the dogs at age 2, though Dasty was 3. They work about five to six years, then retire with their handlers.
Notably, the dogs retain their German names and respond to German commands, like "plotz" for "down." This serves the dual purpose of not confusing the dogs with a second language, but also decreasing the chances of a suspect convincing a dog to back off.
After being fitted for a bullet-proof vest – I'm warned, it's going to be hot – Johnson gets a text at 9:30, asking for help from the Warrant Squad. Even though he uses the police radio and in-car computer, he and his fellow officers also communicate by cell phones at times. This request is actually for a situation in West Allis, related to the possible homicide of a 2-year-old girl in Milwaukee, so the jurisdiction remains MPD's.
As we drive to West Allis, Johnson explains more about Dasty's training. His reward for finding drugs in a rolled up hand towel. During training, Dasty played with these towels that were placed in a pile of seized drugs. Now, Dasty knows that finding that scent equates to the towel. Johnson asks me to hold on to it; he guarantees I'll be tossing it to Dasty before the day is through.
When we're close, I ask Johnson if he's ever fired his gun. He says no, but he's been shot at, and finding himself in situations where his gun is drawn is routine. I had no idea I'd be in such a situation within the hour.
Page 1 of 3 (view all on one page)
Next >>
Talkbacks
TangoLS12. | Sept. 10, 2011 at 5:39 p.m. (report)
I really enjoyed this article. I thought it was well written and professionally done. I know there are a lot of officers out there doing a great job with I'm sure many rules and regulations to follow. They should be commended. The K-9 unit looks like a good program. I hope it works out for them. My hat off to officer Johnson and his dog Dusty. May you both be safe and careful!!
olderwiser | Aug. 22, 2011 at 7:51 p.m. (report)
Thanks for a really interesting story...and proof that there are truly many great people in Milwaukee not getting enough credit for their daily jobs.
Facebook Comments
Disclaimer: Please note that Facebook comments are posted through Facebook and cannot be approved, edited or declined by OnMilwaukee.com. The opinions expressed in Facebook comments do not necessarily reflect those of OnMilwaukee.com or its staff.