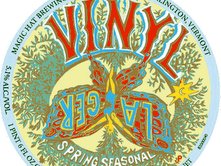 OnMilwaukee.com Recommends: Feb. 18, 2010
Another week, another wide assortment of goodies, gizmos and random "likes" from you friends at OnMilwaukee.com.
"Freak Parade" art show -- If creepy, old timey carnival art sounds appealing, don't miss Thomas Woodruff's "Freak Parade" at the Haggerty Museum of Art on Marquette's campus (www.marquette.edu/haggerty). The collection features 30 mixed media pieces, all created on large pieces of black rag paper. Most of the pieces are like fairy tale nightmares, including Siamese wolves with a sheep carcass draped over its body, a man made of lettuce heads, a tattooed panther and a multi-breasted baton twirler. Some include poems and / or are adorned with a limited number of well-placed rhinestones. Overall, the show is unsettling yet jubilant, and seemingly torn from the pages of old circus programs and storybooks. It's only around until April 18, so check it out before the fat lady sings. -- Molly Snyder Edler
Magic Hat's Vinyl beer -- One good sign that spring is really on its way is the re-emergence of new seasonal craft beers on the liquor store shelves. Vermont's Magic Hat recently released its Spring Fever Variety 12-pack and while some of the included beers are familiar favorites, there are two newbies in the bunch. One of them, called Vinyl, is a stand out. It's a deep amber lager with big malty richness and a smooth finish. Cool added bonus: The label are was created by Chicago-based renowned concert poster artist Jim Pollock. -- Julie Lawrence
Orbitz.com -- I know there are plenty of other sites considered more "hip" or that have better deals, but I like looking for flights through Orbitz. I get good deals, consistent service and an easy-to-use interface. The site makes travel agents about as useful as a rotary pay phone. -- Drew Olson
Royal Shoe Shine -- As winter salt builds up on boots and dress shoes, it's time to take your favorite pair in for a little special treatment. I stopped by Royal Shoe Shine, located on the east wing of Mayfair Mall, with a pair in desperate need of some love and attention. I was blown away by the service, speed and overall goodwill of the employees at Royal Shine-- not to mention the incredible face lift they gave to a pair of my leather boots. In and out in just 10 or 15 minutes, the cost is just around $6-$10 per pair. -- Maureen Post
The made to bake pizzas to go at Whole Foods Market -- There are plenty of great pizza options in Milwaukee, but few grocers make "ready to bake" fresh pizzas daily. Whole Foods Market does and not only are they a good deal ($8.99-$9.99) they are very, very good. Bake them 1-2 minutes longer than suggested and the crust will be extra crispy. I like the spinach and feta options best, but all of the varieties are good. -- Jeff Sherman
Uncross the Stars (Echo Bridge Home Entertainment) -- Now on DVD, this film is ostensibly about Troy Harper (played by Daniel Gillies of "Spiderman 2") building a portch for his aunt, Hilda (Barbara Hershey), as a way of honoring the last request of his recently deceased wife. But while at Hilda's retirement community he gets to know Bobby (Ron Perlma) and the sassy women who live there and through these relationships he starts to understand the real reasons behind his wife's odd and confusing wish that Troy "uncross the stars." Directed by Kenny Golde, this is a heartwarming film that will bring laughter and tears. It also features Pat Crawford Brown of "Desperate Housewives" and Irina P. Hall of "Soul Food" fame. -- Bobby Tanzilo
Technocel PowerPak -- Your Blackberry, iPhone, digital camera or Flip cam may make it through the day when you can plug it back it in recharge at 5 p.m. But if you're traveling, you already know that you will run out of juice when you need it most (for me, that's usually on a plane). You could opt for one of those dongles that will recharge your USB-enabled device via AA batteries, but that method is slow, puny and wasteful. Enter the PowerPak. This portable battery and charger will add up to three hours of extra talk time to your phone, or, if plugged in, it will recharge your device while it recharges itself. For people who understand what this means, the PowerPak offers 1,000 mAH, which is plenty of juice, but coming soon, Technocel is unveiling 1,600 and 2,000 mAH versions. The current model, which sells for about $50, will keep you plenty charged for everyday use, and because it interfaces with the, well, universal standard of USB, more likely than not, it will work with whatever you can plug into it. This little guy is a must for the mobile warrior on the go. -- Andy Tarnoff
Discount Liquor -- There are liquor stores and then there's Discount Liquor -- with locations on the South Side (5031 W. Oklahoma Ave.) and in Waukesha (919 Barstow St.). Discount is the Target of liquor stores. With hundreds of beers, wines and spirits from all over the globe (including otherwise hard-to-find options), if Discount doesn't have it, you probably can't drink it. -- Andrew Wagner
Talkbacks
CoolerKing | Feb. 23, 2010 at 7:54 a.m. (report)
Discount Liquor has been a favorite of mine for a long time. The staff know a lot about the wine, beers, etc. but Woodman's in Oak Creek has really got the variety in their liquor department. It's a great deal larger than Discount. I've never seen so many microbrews and wines in stock locally than I have there.
PlayerGotGame | Feb. 20, 2010 at 7:59 a.m. (report)
I have to give a shout out to Royal Shine as well. They also have a spot at the airport and from 9-5 p.m. daily, one of their gents is usually in the barbershop at M&I HQ on Water Street.
Facebook Comments
Disclaimer: Please note that Facebook comments are posted through Facebook and cannot be approved, edited or declined by OnMilwaukee.com. The opinions expressed in Facebook comments do not necessarily reflect those of OnMilwaukee.com or its staff.