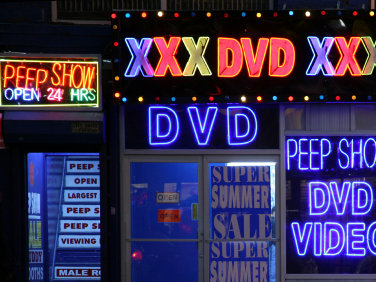 Porn, erotica give couples options for arousal
I had the enjoyment yesterday of watching my first episode of Oprah that required an explicit content warning. For those that didn't catch it the topic was "Porn and Erotica;" discussing who watches it, who stars in it and how women are changing the industry.
According to a report by Lisa Ling, women have become much bigger viewers of porn in recent years, via the internet as well as purchasing DVDs, and more women are taking control behind the camera as directors and producers in the industry. Couples have also become a much bigger player in the market.
Women are finding out more and more about their sexuality and what works for them and what doesn't.
The female orgasm is not a myth and women are more willing to try new things these days to reach that "happy place," hence the increase in female viewers.
The porn industry studies what their clientele wants and as it turns out men and women, as in so many aspects of our lives, want different things and the porn industry has learned to categorize based on those wants.
Porn is the more instant gratification, graphic material that usually appeals to more men because it's very visual, very sexual, but not necessarily sensual.
Erotica on the other hand, typically appeals to women and has more of a storyline. Erotica plays on the fantasy of passion and sex, while still featuring graphic images. Go figure, in films geared toward female viewers, more foreplay is built into the storyline.
These are the industries' interpretations of what each gender will typically purchase and enjoy. That's not to say that what you find to be a turn - on whether it be the softest or the hardest core porn -- is wrong (so long as it's legal); it should be about what does it for you based on your likes and dislikes alone.
Oddly enough, whether its porn geared towards men or women, women get paid a hell of a lot more for staring in pornography because they are what sell the film.
Ever look at some of the guys in most porn films? A lot of them are really, and I mean really, unattractive. But they aren't there to look good, that job falls to the women. The guys are there to do what needs doing, for lack of a better phrase. They need to do it relatively quickly, no matter if they are attracted to their partner or not. The women in porn are masters of faking orgasms but the guys obviously can't. So no matter what their faces look like, that's not the part that gets the job done.
One Oprah's guests was a woman that likely knows this industry better than almost anyone but Hugh Hefner. Jenna Jameson is an international porn star who took the industry for all it was worth. She's a best-selling author and recently became a mother. She is currently retired from porn but will be collecting royalties off of countless films, promotional materials and naming rights for the rest of her life.
Jameson was very candid and at times even a bit shy about certain aspects of her profession, but I thought she was wise in saying that no one should be involved in porn simply because they need the money, that you have to enjoy what you do.
She also said, which I found to be more of a cautionary note than anything else, "Once a porn star, always a porn star." She would know.
For anyone out there considering even a temporary career in the industry, keep in mind that with advent of the internet, any film you make or pictures you take have the potential to haunt you for the rest of your life, even if you leave porn. Those images are forever.
Don't go into the business assuming you will be the next Jenna Jameson or that you won't have regrets. Even she broke down on camera when discussing what she plans to tell her children or how they will be treated based on her previous profession.
Say what you will about Jameson; everyone has their own opinion of her and she set herself up for that. With celebrity comes scrutiny, certainly more so in pornography than in mainstream film.
But make no mistake, she's no idiot. She learned the ins and outs of the industry and used it to great advantage. There's no doubt Jameson used her body as well as her brain to earn millions and make herself the biggest porn star in the world.
I couldn't do what she does, but that doesn't mean at times I don't envy her. Not the porn part so much, but she really believes in what she does and doesn't have too many regrets about it.
For those that would rather watch porn than star in it there are plenty of ways to find what you're looking for. As mentioned on Oprah, there are boutiques that cater to women and their sensual and sexual sides. There you can find toys, lingerie and DVDs in an environment that feels very safe and informative and not judgmental.
Whether you view your porn online, (though I would air on the side of caution due to the amount of spy ware and viruses and not to mention the amount of illegal porn on the net) or you venture to purchase a couple DVDs, go into it with an open mind. It doesn't have to be dirty or embarrassing.
If you're going with your partner, talk about it first. It can be a hard topic, but one better brought up beforehand. Most importantly, find out what you like and what you don't and enjoy it.
Facebook Comments
Disclaimer: Please note that Facebook comments are posted through Facebook and cannot be approved, edited or declined by OnMilwaukee.com. The opinions expressed in Facebook comments do not necessarily reflect those of OnMilwaukee.com or its staff.