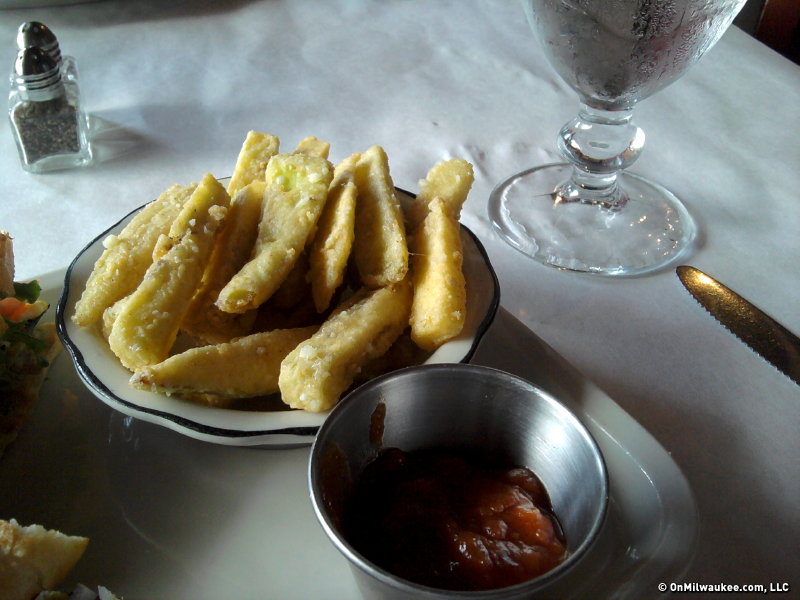 OnMilwaukee.com recommends, July 23, 2011
Whether you're in the market a good reggae medley, a new book for the little ones or lip gloss that's good enough to eat, we've got what you're looking for in this week's OnMilwaukee.com Recommends.
Vapour Organic Beauty products – You eat your lipstick. You "mangia" your gloss. That lip balm gets munched. If you put it on your mouth, it inevitably goes in your body, so be sure what you apply to your pout is safe for consumption. Vapour Organic Beauty products are a healthy option when it comes to cosmetics. I was sent a sampling of Vapour Elixir Plumping Glosses and their Lux Organic Lip Conditioner to try. The glosses are sheer, silky smooth and not sticky - perfect for a glossy, natural look. I didn't notice or feel a "plumping" action comparable to conventional "plumpers" I have tried, but the safety of the product takes precedence. Plus, the available shades are gorgeous and complement every skin tone. The Lip Conditioner will be a beauty staple for me. I adore the compact, wide applicator and soft, freshly scented moisturizing formula. Vapour's lip products are good enough to eat and pretty enough for daily wear. See Vapour's complete line here. – Lindsay Garric
Clifford the Big Red Dog books and plush toys – Kohl's Cares has been publishing affordable hardcover versions of great kids books and presenting similarly low-priced stuffed animals to accompany them for a while now and sales of these books raise money for Kohl's Cares, which helps fund children's education and health initiatives across the country $5 at a time. The latest batch features four books featuring the loveable oversized oaf of a dog that is Clifford. Each book has two stories and there are four plush toys – one is Clifford, of course, and the three others are some of his dog friends – too. Kohl's Cares has raised more than $180 million for kids to date. Help boost that number by taking home – or giving a gift of – some fun Clifford books and stuffed animals. – Bobby Tanzilo
Il Mito's eggplant fries – It seems like a simple side dish for an Italian restaurant, but I've never seen these offered anywhere else (with the exception of the closely related eggplant strips I die for every time festival season rolls around). Unlike strips, these fries are less eggplant-y, but still have a good vegetable-to-breading ratio. And unlike typical restaurant fries, these weren't at all greasy. They're only available with the lunch menu panini, but stopping by during this dining time window is worth it. – Renee Lorenz
Reggae Gold 2011 (VP Records) – There was a time when I had no need for this series. I used to stay up on the 45s scene back in the day and so I already had the tunes I liked. But nowadays, I'm woefully out of touch on the weekly releases from Kingston, especially when it comes to DJs in the dancehall. So, that makes me really appreciate VP's annual series of compilations, which must be going on nearly 20 years now. This latest opens with a great track from Stephen Marley. "Jah Army" features guest appearances from his brother Damian and the now-imprisoned Buju Banton. While non of the other 15 tracks reaches quite the same heights, Cham's "Stronger" is a collaboration with the inimitable Mykal Rose, Courtney John serves up some falsetto lovers rock on "Everyday" and the closer, Alborosie's reading of Rita Marley's "One Draw" is a gem. The set comes with a bonus CD featuring a DJ mix by a New York radio personality. – Bobby Tanzilo
The Harp's patio –On warm-weathered weekends, the patio at The Harp, 113 E. Juneau Ave., gets extremely crowded. However, if you swing by after work or on a week night, chances are you'll be able to grab a wooden bench and enjoy the flow of the river while drinking a beer or cocktail. The frequent rowing teams whizzing by – as well as the classic Usinger's sign visible from across the river – add to the pleasant aesthetic. – Molly Snyder
Oakley Flak Jacket sunglasses – More often than not, I'm a big believer in the theory that generic brands are the same product as the famous names, minus the massive advertising budget. (I once served a lady friend Roundy's-brand coffee in a Starbucks cup for a week ... she never knew the difference). I don't, however, skimp on things like toilet paper, cereal (I'm a Cocoa Pebbles guy) and sunglasses. When my migraines started handing me a regular beat-down, I invested in a new pair of American-made Oakleys. My eyes (and my head) have been thanking me ever since. Yes, $150 is a lot to shell out, especially for a cheapskate like me who's prone to sitting on and losing shades, but the investment was so worth it. – Andrew Wagner
Talkbacks
milROCKeeguy | July 23, 2011 at 6:10 p.m. (report)
And for the Techie World, I would like to recommend Google+ and Spotify. If you like social media and being social on this interweb thing, get on Google+. If you like music at all, look into Spotify. It's iTunes, Pandora, Amazon MP3, etc all into one. I'm hoping Google+ and Spotify make FB and iTunes go away. Thanks for reading, have a great weekend!
Facebook Comments
Disclaimer: Please note that Facebook comments are posted through Facebook and cannot be approved, edited or declined by OnMilwaukee.com. The opinions expressed in Facebook comments do not necessarily reflect those of OnMilwaukee.com or its staff.