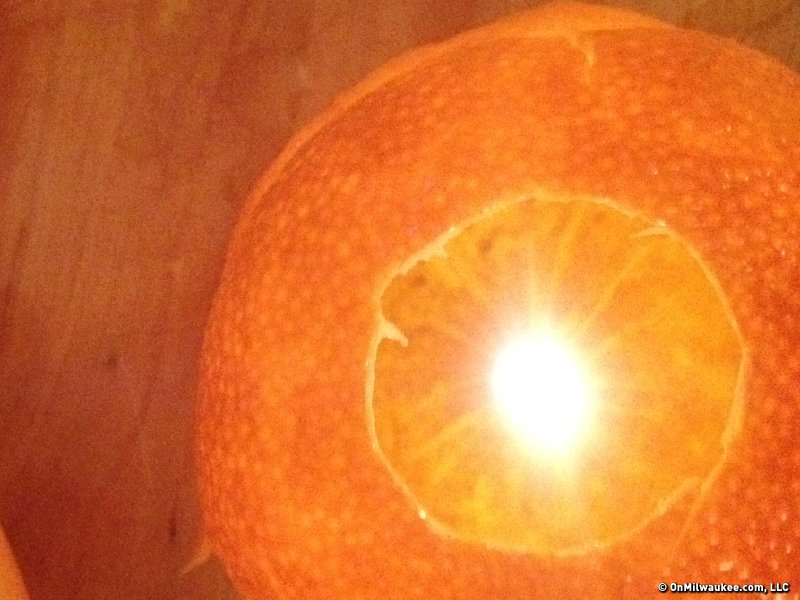 OnMilwaukee.com recommends, Dec. 29, 2012
Smart chargers, clever lanterns, cocktails and more – find this and more in this week's OnMilwaukee.com Recommends.
Cocktails at The Noble – I want to recommend just one cocktail at the Noble, 704 S. 2nd St., but the fact is, every drink I've consumed there is perfectly crafted and delicious, including the sage-muddled Sage Gibson and The Polish Moon, an Irish-cream-and-raspberry-vodka number. But, the thing about The Noble is that it's such a warm and transforming experience. Whether dining with friends on brown-paper-lined tables or sitting in the romantic front window, it has a feeling like no other place in Milwaukee and the world beyond seems far away and forgotten. Or maybe that's just the vodka talking again. – Molly Snyder
Dexim Visible Green Smart Charger – Though my house is filled with various Apple device chargers I never seem to have enough that are compatible with my current iPhone. This is the latest one I've acquired and I love it. It claims to save power and money via a cable that uses low power consumption EL technology and by automatically saving standby power when not in use or fully charged. I don't know what any of it means, but I hope it's "green." What I do know is that when I plug this into my phone and the wall, it glows blue and the lights look like power flowing through the cord into my phone, and that's pretty awesome. When the phone is 100 percent charged, the light goes out. This charger is compatible with iPhone, plus 3G, 3GS, 4, 4S, iPad, 2 and new iPad, iPod classic, iPod Nano (fourth-sixth generations) and first-fourth generation iPod Touch. Lists for $29.99, but you can find it for less on the interwebs. – Bobby Tanzilo
Bucks vs. Heat – Well, last week I suggested you go check out the Bucks at the BMO Harris Bradley Center to see them play the Cavaliers, and the team kindly responded with a blowout loss to a bad team. But, I have to recommend them again as they play host to the defending NBA Champion Miami Heat with former Marquette star Dwyane Wade and MVP LeBron James. The last time these two teams met, the Bucks pushed the Heat to overtime. The Bucks are 7-3 in their last 10 games, so they are playing better behind guards Monta Ellis and Brandon Jennings as well as high-energy forward Larry Sanders. – Jim Owczarski
MacFarlane Pheasant Pot Pie with Wild Rice – I've always loved a good pot pie, and as a kid I'm pretty sure I even loved bad, mass-produced versions, too. But Janesville's MacFarlane Pheasant Farms makes a great one right here in Wisconsin. This is a family-sized pie – it easily served two adults (including this always-hungry one) and two kids in my house – packed with tender pheasant – which is lower in total fat, saturated fat and cholesterol than chicken, beef or domestic turkey – in a delicious gravy with wild rice and vegetables. The flaky crust encases the entire delectable thing. Support your home-state pheasant folks by checking these out. They come in two- and three-pie packs and they'll ship them anywhere in the continental U.S. via UPS, too. For more info, visit pheasantfordinner.com. – Bobby Tanzilo
Orange lanterns – Recently, my kids and I have had a lot of fun going into pseudo-survivalist mode by making lanterns from oranges. They are easy, pretty and fit in well with holiday decor. To make one, cut an orange in half and hollow out both sides, leaving the pith at the bottom of one half. This will serve as the wick. Then, fill the pith side with olive oil and light. It will take up to five minutes to get 'er going, but once you do, it will burn for hours. Also, cut a hole in the "top" that's large enough to see the flame so it doesn't burn through the peel. Let there be citrus-scented light! – Molly Snyder
Facebook Comments
Disclaimer: Please note that Facebook comments are posted through Facebook and cannot be approved, edited or declined by OnMilwaukee.com. The opinions expressed in Facebook comments do not necessarily reflect those of OnMilwaukee.com or its staff.