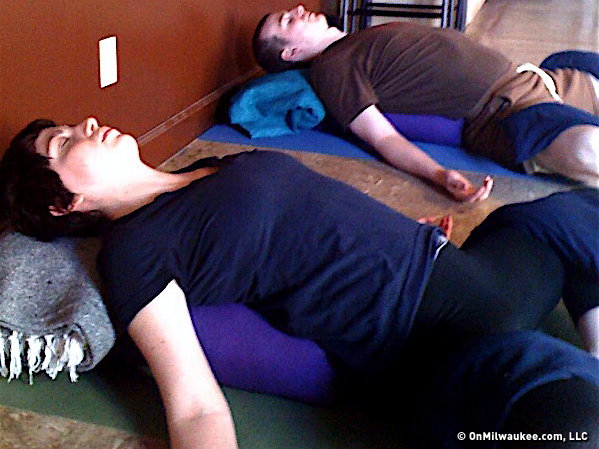 Saffron Yoga Center offers community wellness
Milwaukee may be shedding some of its beer, brats and cheese reputation. These days, it seems, the health conscious are starting to recognize the city for its more active side, such as its rapidly growing yoga culture.
Recently, Lululemon Athletica, a Vancouver-based retailer featuring clothing for yoga, dancing, running and other sports, announced its plans to open a Milwaukee showroom in the Third Ward, specifically because of its "active and alluring yoga community."
And with its popularity in Milwaukee, yoga has also taken a turn toward the affordable. The trend is in part thanks new studios that take a more community-style approach to the practice.
Bay View's new Saffron Yoga Center is one such place. Opening in early February, the brand new studio exists in the former Paper Boat Gallery space at 2375 S. Howell Ave. The space is accommodating, but certainly isn't huge, giving it a quaint, intimate feel.
That's just the way owner Morgan Engels prefers it. Occasionally, she'll get 10 students to drop in for her Thursday night therapeutic class -- a slower-paced class featuring supported postures -- but says a four-person session has been average in the month she's been open.
It's actually surprising her classes aren't overflowing out the front door. Engels designed her studio in a way that allows her students to pay what they can, rather than charging regular, standard fees. There's no minimum donation and she says it's been working out really well.
"I really wanted to try out that sense of freedom -- not needing to sign up for anything or having the price stop someone from taking yoga and being part of the community."
It's a business model that Bay View's Milwaukee Community Acupuncture has followed since opening in September 2009. Co-owners Amy Severinsen and Olive Crane agree that their sliding scale policy has helped make their practice successful, even during a recession.
It makes sense. Both yoga and acupuncture are important parts of Eastern wellness, which focuses on ongoing, preventive practice. The Western way of healing is generally more reactive; hence the popularity of strong medication and fad diets.
Yoga, like acupuncture, can do wonders to balance the body, and is most effective when done routinely -- and Saffron's "prices" allow almost anyone to do so.
Engels says she sees her studio as a collective where any teacher who wants to get involved can. She's starting out small. Two other practitioners teach there currently and she's soon looking to add a third who will teach yoga for kids. The youngest ones -- ages 3-5 -- can participate in a Reading Comes Alive With YogaKids.
"They'll go through a Dr. Seuss book or another really good book and impersonate or embody what's going on in the book. It makes reading really fun for kids," says Engels. Instructor Stephanie Sandy also teaches "YogaKids, Fitness, Fun and Feeling Great" for kids ages 6-9 and hosts a family day on Sundays.
The bulk of Saffron's space is dedicated to hatha yoga, levels one through three, as well as Monday night's "Mudras, Meditation and Movement" class and pilates classes. The back of the studio, however, is curtained off for Thai Bodywork sessions. Engels, who was motivated to become certified after being won over by a few sessions herself, works you through a series of assisted passive yoga postures in a relaxed state.
"It focuses on your sun lines -- also called your meridians," she says. "It's not deep tissue work, but it's great for the lymphatic system, improved circulation, immune system and energy flow."
Saffron also plans to be open for monthly potluck dinners as well as for art events and Gallery Night.
Talkbacks
ebass | March 16, 2010 at 3:40 p.m. (report)
Morgan...great article! We are so proud of you:) I wish we were nearby...I am sure some yoga would do all of us some good! Your Florida Family Misses You...
milwacky_jackie | March 11, 2010 at 8:11 p.m. (report)
So happy to see a this type of wellness coming to Milwaukee. Best of luck to you and your business. I hope to check it out next time I'm home in Milwaukee!
MCAcu | March 10, 2010 at 9:59 a.m. (report)
We're thrilled to have Saffron Yoga Center in our neighborhood. Morgan is an excellent teacher!
Facebook Comments
Disclaimer: Please note that Facebook comments are posted through Facebook and cannot be approved, edited or declined by OnMilwaukee.com. The opinions expressed in Facebook comments do not necessarily reflect those of OnMilwaukee.com or its staff.