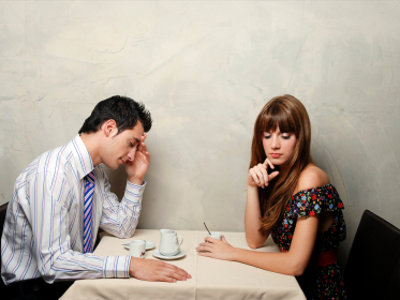 Do you know your partner?
How well do you know the person you're dating? Does their past weigh heavily on your list of information to share? That question recently came up between a good friend of mine and me. She began dating a guy in the past month and though they were friends beforehand, she's realizing now, she wants to know so much more about him, his past and his life before they knew each other and she's not getting much out of him.
I warned her about putting too much weight on this. Guys, especially straight guys, don't often volunteer significant, personal information. Not because they want to be closed off, but just because they don't always see how this exchange of stories and experiences brings closeness and a better sense of knowing another to those that share them.
If I want information about my boyfriend's life prior to our relationship, I have to ask direct questions to him or go around him to his family. The thing is, even when I ask and discover something interesting or surprising or unique about his life, he never turns around to ask me about a similar experience. It's not because he doesn't care. I've asked him flat out if that was the case, granted, he could be lying, but I think its genuine lack of curiosity. He doesn't ask because he doesn't see the connection between then and now. He never thinks to ask because that's just not him. It's just not most guys.
A lot of guys also assume that women like being the center of conversations like this. That they don't need to bother sharing their life because all we women want to talk about is ourselves and our relationship. Which isn't true. Sure there are women out there that don't have any interest in talking about anything but themselves, but all the women I know want to know about the pasts of our loved ones because we believe it gives us a better glimpse into who they really are. A person's past can tell you a lot about them, certainly not everything, but it does tell us bits and pieces about how a person's past made them who they are.
It's not that guys are shallow, but they tend to put the majority of their relationship emphasis on what's in front of them. They know what they've experienced with you, whether you're a friend or more, and that's what their focus is on. Your past is not as important to them as the here and now. That may be somewhat dumbfounding and maybe a bit frustrating to many women, but in a way it's refreshing.
Men either don't ask us about our past because they don't want to know, or they just feel as though your past isn't going to change today. Women put much more emphasis on who someone is as a whole and that a person's past applies to that. But I'd be willing to say that we don't do that with guys we don't care about. If I want you as a friend or more, I'm going to want to know about more aspects of your life than if I'm ready to move on and begin talking to someone more interesting. So take it as a compliment.
And, just a tip between you and me, guys, if you care about someone and you want to be with them, even if you are afraid one question will lead to three hours of talking about "feelings," ask anyway. It's nice to have someone show interest in your life and what you've experienced. When you love someone, or you just really, really like them it feels so great to have them ask even the simplest question about something that means a lot to you, even if you know it doesn't mean much to anyone else.
Give it a try. You might learn something shocking, sexy, incredibly unique about the person you thought you already knew so well.
Talkbacks
shorewood | Feb. 1, 2011 at 12:48 p.m. (report)
I was married for 11 years (divorce was final a month ago) and you would not believe the lies that I had been told, half truths and non-disclosure about finances, work, and Lord knows what else (and many of these, after the separation). Utterly unbelievable. So, now I am a firm believer...you never really know.
Jim | Feb. 1, 2011 at 9:59 a.m. (report)
Can you ever really know anyone? You might think you know someone after being together for years and then one day they surprise you. A lot of women barely even know themselves and are constantly trying to copy someone else in an effort to find themselves.
Steven | Feb. 1, 2011 at 1:47 a.m. (report)
sorry, sarah. i'm normally a big fan but this column was pretty weak.
Facebook Comments
Disclaimer: Please note that Facebook comments are posted through Facebook and cannot be approved, edited or declined by OnMilwaukee.com. The opinions expressed in Facebook comments do not necessarily reflect those of OnMilwaukee.com or its staff.