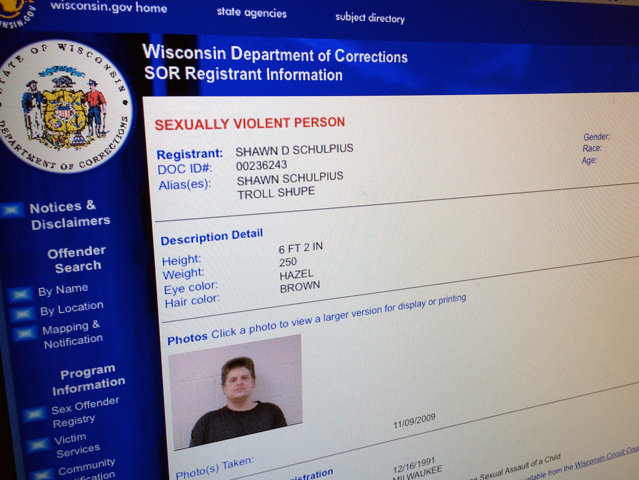 No welcome wagon for released sex offender
Nobody wants Shawn Schulpius in their neighborhood and it's easy to understand why.
Schulpius is a registered sex offender.
Schulpius, 39, was convicted of sexual assault of a 6-year-old girl, a 12-year-old girl and a 4-year-old boy when he was a teenager. He spent 21 years in custody, both prison and treatment facilities. His crimes were horrific, and he was big news in Milwaukee.
Now he's moving into a home on East Van Beck Avenue on Milwaukee's South Side. For the first year he will be under strict supervision and will not be allowed to leave the home for any reason except under limited conditions like buying groceries and attending mandatory therapy sessions. He will always have an escort with him when he leaves.
After the first year it is expected he will get a job to pay for his expenses and will wear a GPS monitoring ankle bracelet.
None of that seems important to residents of the area. They turned out in a public hearing and made their opinions known. This kind of thing happens all the time when a sex offender gets released into a community. "Not in my neighborhood."
John Chisholm, the Milwaukee County District Attorney was at the hearing.
"These are very difficult situations," he told me. "We did all we could to keep Schulpius locked up, but even our own expert at the end testified that he thought Schulpius could be released. We ran out of ammunition to keep him in."
Jason Cram in the Supervised Release Program Manager for the State of Wisconsin and the guy who signed off on the placement for Schulpius. He was also at the meeting in the neighborhood where Schulpius will live and got the same earful he always gets in these situations.
Wisconsin has more than 12,000 registered sex offenders who have been released into the community. But Cram's program, which is for the worst of the bad lot, has only released about 110 since the program started in the 1990s.
"In all that time," he said, "only one of our clients has re-offended. The rest have stayed out of trouble completely."
None of that, however, is going to appease the neighborhood which is getting Schulpius.
"Believe me," Cram said. "I understand how they feel. That's why whenever I go to one of these meetings the first thing I always say is that there is no perfect placement."
Here, from the Department of Health and Human Services manual, is how they pick a neighborhood:
Criteria for Residence Selection: Residence selection is an individualized decision within the context of each Supervised Release case. Need to consider the characteristics of the individual(e.g., victim profile, physical limitations, etc.) as well as the characteristics of the community (e.g., range of available housing, law enforcement presence, etc.).
The following criteria are utilized to identify, screen and review potential housing options:
1. Legal Criteria: The logic of Chapter 980 is that individuals should be returned to their county of residence for placement. Out-of-county placements are possible under Chapter 980, but would generally be used only for extraordinary reasons. In addition, the law specifies that in developing placements the Department is directed to work to minimize to the greatest extent possible, the residential population density of sex offenders.
3.Proximity to Potential Victims: If a potential residence does not provide reasonable physical distance away from vulnerable potential victims, the residence will be eliminated from consideration. For example, if children live in a multi-unit apartment building, and the individual has a history of offending against children, the apartment would be ruled out.
4. Victim Proximity: If the victims of an individual live in a concentrated area, the Department would attempt to locate the residence in an alternate location.
5. Market Availability and Price: Supervised Release clients are placed only in settings where the landlord understands the characteristics of the Chapter 980 population.
6. Proximity to Services: Specialized Probation and Parole Agents, specialized sex offender treatment providers, health care providers, and vocational opportunities.
CONCLUSION: In reality, there is no such thing as an "ideal" residence for a high-risk sex offender. In virtually every case, the selection of a residence does not come down to a choice between multiple locations. Rather, the choice comes down to selecting the best available location, and then building supervision and other services around the best available site.
There you have it. That's what goes into making their decision.
There is something else at play here, though.
If we don't put Shawn Schulpius there, where do we put him? Whose neighborhood gets him?
It's easy to say "just keep him locked up." But that doesn't really do any good and it may well be illegal. We are a society that has compassion for people who commit bad acts. Sure, we want to punish them and we want to treat them, but we also don't want to live in a "throw away the key" world.
So, while those people in the South Side neighborhood had lots of questions for the authorities at the meeting, I've got one for them: If Shawn Schulpius can't live in your neighborhood, where do you want him to go?
Talkbacks
Victor Golf | March 22, 2013 at 9:07 a.m. (report)
When it comes to sexually abusing children, I really don't have a problem with the "throw away the key" model.
Milly | March 21, 2013 at 8:11 p.m. (report)
Parents: If you really want to protect your kids from pedophiles, be vigilant about monitoring their relationships with grown ups. Most sex offenders don't jump out of bushes and attack kids. They are people that kids know and trust who seem like "good people" including family, friends or babysitters.
Facebook Comments
Disclaimer: Please note that Facebook comments are posted through Facebook and cannot be approved, edited or declined by OnMilwaukee.com. The opinions expressed in Facebook comments do not necessarily reflect those of OnMilwaukee.com or its staff.