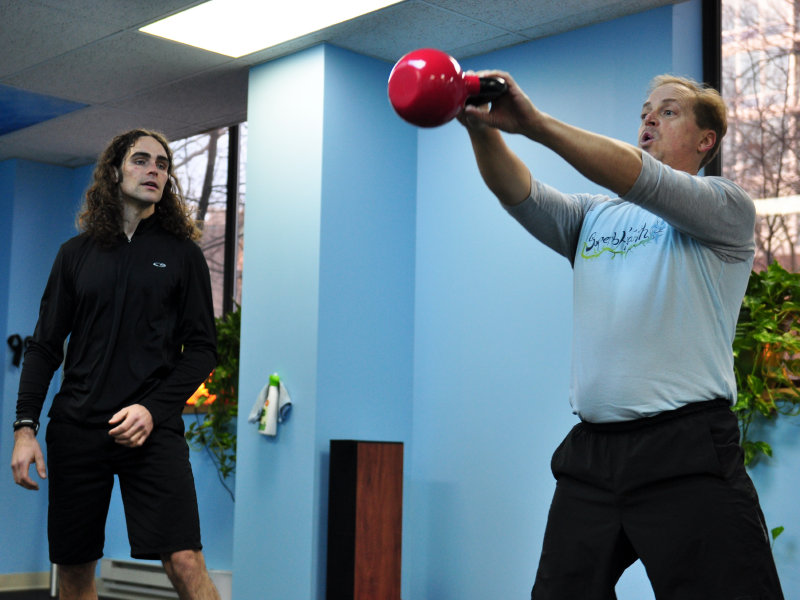 Build health the superb way
Superb Health, 2025 N. Summit Ave. Suite 111, is just off Prospect Avenue on Milwaukee's East side. Since 2009, its experts have offered unique classes and training in the fields of exercise and wellness on a pay-as-you-go basis in a naturally-lit, machine-free space.
"Here you learn how to use your own body for strength. We teach people how to cleanse their internal organs, lubricate joints, re-align their skeletal structure and alleviate aches and pains with correct movements for the individual. This can't be done with a machine because a machine is generalized," says co-owner Nick Lynch.
Superb offers the "Adventure Workout," an outdoor year-around class on Saturdays that includes everything from pull-ups on trees and stair drills to running on river trails and plyometrics (strength exercises involving pulling and stretching of the muscles).
Other adventure outings include farm visits, full-moon walk and meditation classes and endurance runs, as well as social get-togethers and river and park clean-ups.
Group exercise classes, group personal training, group detox and nutrition classes are available, as well as a range of one-on-one services, including nutrition counseling and personal training.
Nutrition counseling involves taking customers on food shopping tours, helping plan meals and offering cooking classes.
"Our meal plans do not sell any supplements or make us commission. They include organic, biodynamic and local foods from sustainable farms. Yup, the cast of 'Portlandia' would be proud," says Lynch, who's been studying healthy lifestyle choices from birth, "thanks to hippie parents who made everything from scratch."
This summer, Superb Health is starting a "farm-tastic meal plan," which includes crop and meat share. Most of the food will come from local farms and the rest from Outpost Natural Foods Co-op.
"Sound expensive? It's not, the last detox we did the average meal cost was $2.58; this will cost less than twice that," says Lynch.
Group classes cost $15 for each drop-in with special rates tracked on punch card: $12 for five classes and $10 for a 10-class punch card. Individualized training costs $45 per session, $42.50 for 12 sessions and $40 for 24 sessions.
Superb Healths' group detox and nutrition counseling costs $50 and the meal plan design, grocery shopping tour and consultation is $120.
"We do not charge interest. Whatever you can afford up front works for us. You create your own finance plan or pay-in-full; either way, it's your money, you figure out what is affordable," says Lynch.
Lynch, who owns Superb Health with his wife Natalie, is a certified personal trainer and specialist in sports conditioning through the International Sports Science Association. Lynch has worked with athletes, entire sports teams, the handicapped, marathoners, moms, dads and kids.
Besides Nick and Natalie, Superb Health includes Steve Gayhart and Karah Pesdan, both certified trainers.
Lynch was born and raised in Vermont and used to play semi-pro hockey in New York and Massachusetts. He began studying nutrition in 2002 and personal training shortly thereafter. He was a master trainer at two gyms in Vermont.
Lynch moved to Milwaukee in 2006, where he's been a trainer at Vita, Bally and the Wisconsin Athletic Club – where he was voted "Trainer most dedicated to fitness."
At Bally, Lynch met previous business partner and co-founder of Superb Health, Mike Veselka.
"We brought a more spiritual aspect into health and wellness that taught us a better understanding of people in general leading to a less judgmental style of training," says Lynch.
Lynch says he's met both horrible and amazing trainers over the years. The horrible ones came to work hungover, bored, were texting while they were supposed to be training and were generally unhealthy and uneducated.
"Good trainers come in to work healthy, focused, educated and caring. Superb Health was started so that we could present tips for a healthier way of life at affordable rates. We strongly believe in the quote listed on the Seven Stars yogurt top 'help ever, hurt never.' This is something we strive for daily," says Lynch.
Superb Health's mission includes a strong commitment to the earth in addition to health and wellness. Lynch says they use botanical cleaning products, organic cotton and chemical free inks on shirts, recycled paper and soy inks on brochures and business cards and Himalayan pink salt and plants to purify the studio's air, where the flooring is made from shoes recycled in Wisconsin.
Trainers use kettlebells, battle ropes, pull-ups, Olympic weights, bands, stability balls, parachutes, hurdles and other equipment to mimic the body's natural movements. Lynch says paying attention to detail and watching how customers' bodies react to this equipment, they can create a plan based on each person's needs.
"We really care about everyone who comes in to Superb Health and have a great deal of respect for that initial step. It takes a tremendous amount of motivation to get started and all of us here know that," says Lynch.
Facebook Comments
Disclaimer: Please note that Facebook comments are posted through Facebook and cannot be approved, edited or declined by OnMilwaukee.com. The opinions expressed in Facebook comments do not necessarily reflect those of OnMilwaukee.com or its staff.