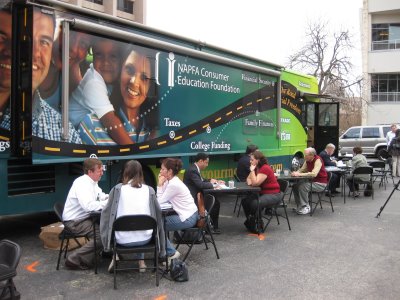 "Your Money Bus" loans answers to financial questions
This week, "Your Money Bus" drives into Milwaukee ready to loan you plenty of financial advice and information.
Arriving at the Pettit National Ice Center on Wednesday morning, visitors have the chance to meet one-on-one with finanical planners and get tips to wade through the current economic condition. Plus, the planners will have plenty of informational brochures on spending and saving.
This week, "Your Money Bus" drives into Milwaukee ready to loan you plenty of financial advice and information. Last week, we asked you to submit your banking questions and now, Justus Morgan and Joy Clady of Financial Service Group provide you with answers to some of the most popular and timely inquiries.
From Tom S. in St. Francis: When thinking about my savings, is there a risk that my bank or brokerage is going to disappear?
Answer: "In today's world of uncertainty, anything's possible. There's a couple of steps we recommend to reduce the risk associated with bank failures.
"First, make sure all of your bank accounts are within FDIC insurance limits. Your brokerage accounts also should have protection in case of bankruptcy of the brokerage company through the Securities Investor Protection Corporation (SIPC).
"If you don't want to rely on the government for all your protection, we recommend you do a little further research on your bank's financial health through Bankrate.com's Safe & Sound bank rating service (www.bankrate.com). You'd be surprised at which locals banks have one out of five star ratings!"
From Heidi K. in Shorewood: Should I cash out by 401K or hang on through the recession?
Answer: "This is a great question that is on the minds of many people today. I would urge you to take a deep breath before making any radical changes.
"First, if what you mean by "cash out" equals withdrawing all your money from the 401(k) you could be faced with some serious income taxes and penalties for early withdrawal. What the market didn't take away, Uncle Sam could!
"Second, depending on how your 401(k) is invested may mean you need to do something more than just "hang on." For instance, if you're loaded up on company stock, you have enough on the line with your career to also put your financial assets at risk too. The next most important decision is how much to have in stocks versus bonds. This should be based on your objectives, time horizon and risk tolerance.
"Make sure you have a healthy emergency fund in a safe, liquid account outside of your retirement assets as well. This can give you the peace of mind you need to weather the current volatility in the market."
From Miranda F. in Milwaukee: Can we assume taxes will be raised in the next several years regardless of which government plan comes into action?
Answer: "Balancing a national budget has the same fundamentals as balancing your own household budget. If you are spending more than you earn, there are two basic remedies: you can either start spending less, or find a way to earn more. Without implementing one or both of these steps, you will end up in debt.
"If the country wants to balance the budget or decrease the deficit, it too must look at either cutting costs or increasing its income. Increasing income tax rates is one mechanism that could be used to help finance the growth in spending. Like with a household, if the country does not cut costs or increase income, it will increase its debt. We wouldn't be surprised if taxes increase in the upcoming years."
You can catch "Your Money Bus" Wednesday morning at the Pettit National Ice Center from 8:30 a.m. to 1 p.m.
Facebook Comments
Disclaimer: Please note that Facebook comments are posted through Facebook and cannot be approved, edited or declined by OnMilwaukee.com. The opinions expressed in Facebook comments do not necessarily reflect those of OnMilwaukee.com or its staff.