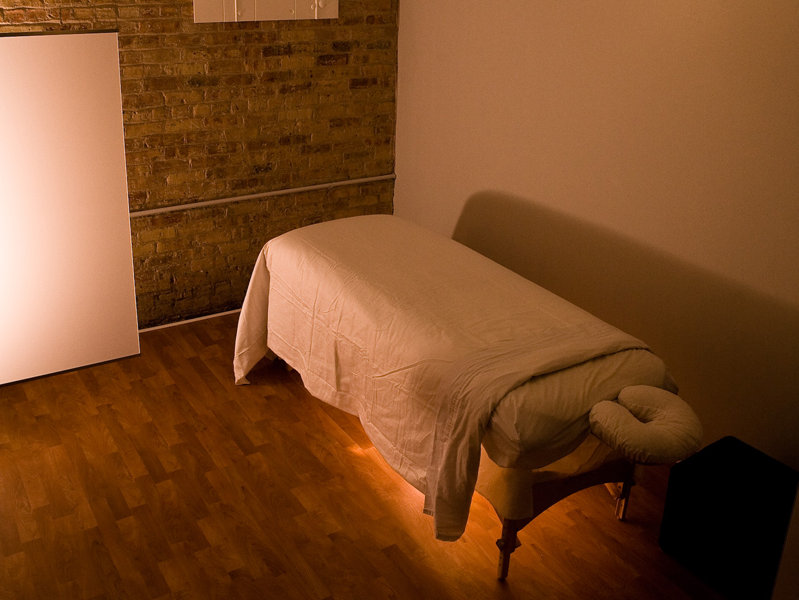 Small scale massage studio relaxes whole BODY
Some people get massages to relieve stress; others, like Milwaukee's Melissa Mitchell, give them. Working for years as an underwriter for an insurance company, Mitchell was well-versed in strain, but it wasn't until she enrolled at Aveda Institute of Beauty and Wellness that she recognized its reach.
"I think every massage therapist has a story like that," she says. "Something happens in their life and they make the switch to doing something very relaxing. I thought I'd go to school and see if I liked massage."
Now, after a few years working at a spa, she's opened her own BODY Massage Studio at 207 E. Buffalo St. Mitchell occupies a small and intimate space on the fifth floor of the Third Ward's Marshall Building and specializes in various massage techniques, including deep tissue ($75 per hour), aromatherapy ($75 an hour), hot stone ($90 an hour) and reflexology ($45 per hour).
She cites reflexology as a good place to start for first-time clients. Essentially a foot massage, reflexology can feel like a full-body massage without having to put in the time for one.
"It's based on the principles that there are different meridians on the body and that everything is connected to the hands and soles of the feet," she says. "So, by massaging the feet and getting rid of the toxins or trouble spots in the foot you can relax the whole body."
Mitchell says most of her clients come to her with stress-related issues -- headaches and shoulder and back problems -- and she applies therapeutic practice to specific areas of chronic discomfort.
But there are different kinds of massages for different people, and, for the most part, Mitchell says she has a service for just about anyone.
"Not everyone has a sports injury. There's the woman with six kids who just wants to lie on the table and get a relaxation massage."
Her aromatherapy massage uses blended oils to relax, stimulate or detoxify while dissolving tension and stress throughout the body. There's also her BODY glow massage ($70 per hour), which exfoliates the body, then heats it with warm towels, then hydrates it with body butter.
"It feels good to be able to help people like that. There are so many stressed out people and so many horrific jobs, I don't think I'll ever run out of clients," she says.
Mitchell specifically sought out a Third Ward location for her studio, which she describes as boutique-y rather than big and flashy. She's open by appointment only, Tuesday through Saturday.
"People down here don't want to put on a robe and sit in a waiting room until someone calls their name. I provide one-on-one service and I think it's more peaceful for them, they don't feel overwhelmed, or feel like a number being pushed in or pushed out."
Talkbacks
bellamiss22 | March 4, 2009 at 5:12 p.m. (report)
Melissa is the BEST!! Trust me on this one... I live out in Chenequa but I followed her when she made her move downtown from Delafield and its 100% worth the drive. I will never go to anyone else. I highly recommend Melissa!
Poeartemer | June 4, 2008 at 12:07 p.m. (report)
As a person with MS ...Massage is a GODSEND!!! I'll be visiting here!
Facebook Comments
Disclaimer: Please note that Facebook comments are posted through Facebook and cannot be approved, edited or declined by OnMilwaukee.com. The opinions expressed in Facebook comments do not necessarily reflect those of OnMilwaukee.com or its staff.