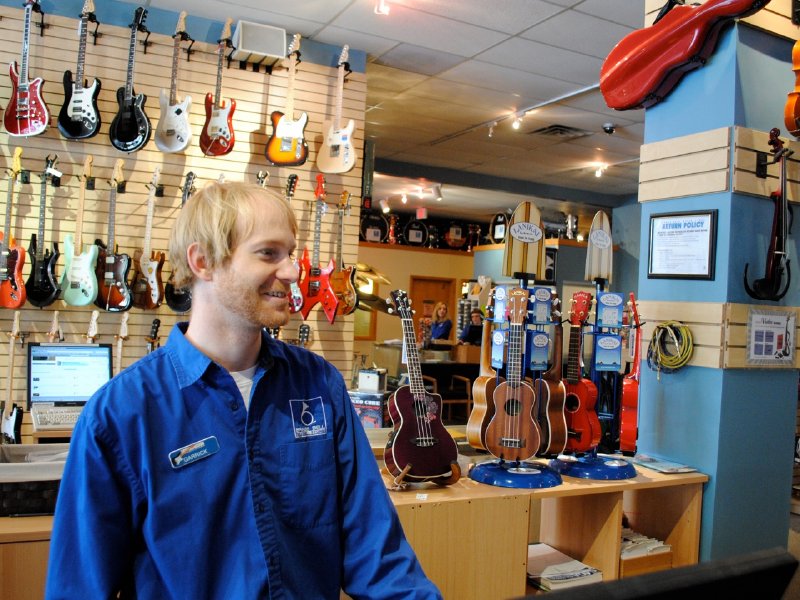 Brass Bell rings true with local music lovers
Anyone who grew up in Milwaukee and played a musical instrument is most likely familiar with Brass Bell. The family-owned music shop that's now located in Glendale at 210 W. Silver Spring Dr. was once five-stores strong in various locations around the city.
However, in 1991, the current owner, Tristanne Rieck, closed all of the shops and restructured as one mega-store. Rieck is the daughter of the original owners Alan and Sharon Gaulke, who opened the first Brass Bell in Hales Corners.
The shop later moved to the Southgate Mall, and other locations popped up around town, too, including a large Bayshore Mall (now Bayshore Town Center) location that existed for 20 years. At one point, a shop was also next door to Pier 1 on Port Washington Road.
Rieck says that moving to the current location, outside of the mall, was a risky move, but one that worked in her business' favor. This year, the business celebrates 30 years in the music industry.
"We really thought our sales would go down when we lost the mall's foot traffic, but we actually saw an increase in sales," she says.
Rieck says Brass Bell's biggest competitor is not Guitar Center in Brookfield, but the Internet.
"The Internet has crushed things a little bit for us. We have had to really tighten our belts," says Rieck.
Politics have affected the business' profits, as well. With more and more schools cutting music from their curricula due to budget restraints, fewer students need to rent instruments. Originally, Alan was a music teacher, and Rieck says preserving music education has always been important to her family.
"Music enriches everybody who's involved. It's different from anything else we do in our life," she says. "If we're stressed out or down in the dumps, playing music makes you feel better."
Rieck plays French horn with the Lakeshore Symphonic and the Shorewood Community Band. She says she started playing in grade school to appease her dad, but by the time she was in high school, decided to truly commit to the instrument.
"I got serious and took private lessons. I realized, finally, that I could be really good if I just worked at it," she says.
Brass Bell sells and rents new and used instruments along with printed music. It also features 16 practice spaces and a full-service repair shop with three on-site technicians trained on specific instruments. Brass Bell employs 50 music teachers who provide lessons for more than 1,300 students every week.
It costs between $23 and $36 to rent an instrument, and $15-20 per lesson.
Rieck says she only hires floor staff who are currently playing an instrument and, consequently, customers often comment on the high energy and knowledge level of her staff. During a recent visit, we chatted with Garrick Karpinski, the drummer for local band Uncle Larry, who has worked at Brass Bell for almost two years.
"It's great to work around music. And music education for kids," says Karpinski.
"People often say, 'your employees really love what they do' and that's really important to us because that passion really translates," says Rieck. "Music is a lifelong thing. In sports, for example, you can only be involved up to a certain point, and then it's too hard on your body, but music you can play forever."
Facebook Comments
Disclaimer: Please note that Facebook comments are posted through Facebook and cannot be approved, edited or declined by OnMilwaukee.com. The opinions expressed in Facebook comments do not necessarily reflect those of OnMilwaukee.com or its staff.