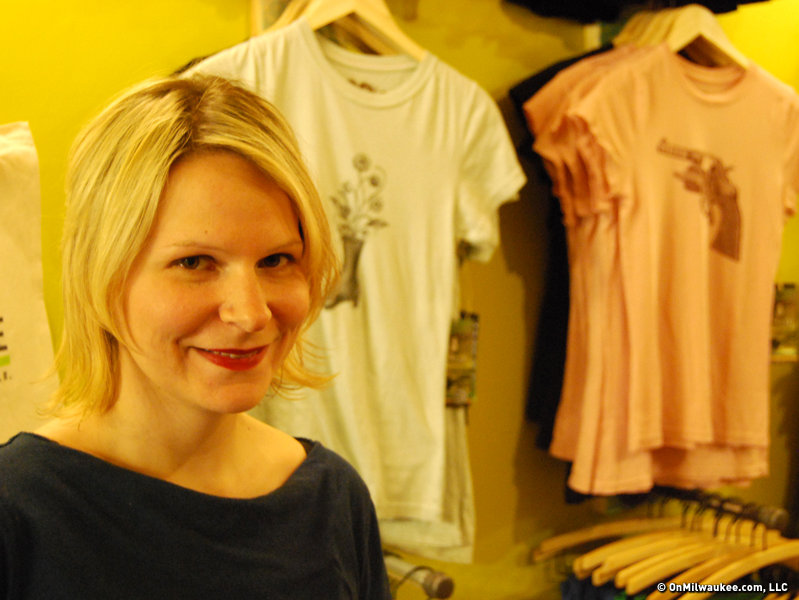 Bay View's new Chartreuse is eco-chic at its best
The first thing you notice when you walk into Chartreuse, an eco-friendly boutique at 2227 S. Kinnickinnic Ave., is the pleasant smell. Airy hints of lavender and eucalyptus swirl about, making the whole space tingle with spring. That would be The Bubble Roome display in the center of the store.
The Brooklyn-born "goodness bars" and hemp oil lotions are handmade with no synthetic fragrances, preservatives or dyes, making them a perfect fit for Sarah Szymanski's store, which focuses on organic, sustainable and quality-made items and apparel.
But don't let words like "organic" or the occasional hemp-based item stave off your interest; just because it's natural doesn't mean it's cloaked in the perfume of peace and love. Chartreuse (note the "reuse" in the name) is as trendy as they come and Szymanski's eco-fashion is just as much about style as it is about saving the planet.
"That's the problem," she says. "The older way of looking at eco-friendly stuff involved people wearing these hippy ... tents. I just wanted normal, solid clothes that people will wear every day. The clothes needed to stand on their own whether they're environmentally friendly or not."
So while you'll find racks of shirts made from soy, bamboo, hemp or flax, you wouldn't exactly know it without looking at the tag. The cotton clothing she buys is all 100 percent organic.
"Conventional cotton and other materials like rayon use so many chemicals, like formaldehyde, and the dyes can be nasty," she says. "Having that up against your skin when you're sweating with open pores can't be good for you."
Most of her inventory is naturally dyed, although she does offer a section of completely raw and un-dyed clothes for people with chemical sensitivities.
In addition to the personal health benefits, there are also a number of environmental reasons she promotes alternative fibers. Of course, there are pros and cons of just about any material: Bamboo is a resilient, naturally organic crop that requires little maintenance, but it grows in China. Cotton grows closer to home but, even when organic, it still needs ample water and is tough on the soil. While nothing is perfect, Szymanski sees the benefits of bamboo and other gentler fibers outweighing the negative.
Chartreuse has gathered a savvy stock from several eco-chic labels cross the country, each bringing its own unique, green technique to the table. Armand & Alba from New York weaves scraps from the fashion industry into sweaters. Vy & Elle -- a play on the word "vinyl" -- craft handbags form old billboards. Engage Green uses recycled cork to make messenger bags, purses and laptop carriers. SuperLuckyCat recycles vintage ladies' scarves into dresses.
"I support some brands, like Horny Toad, where not everything they carry is eco-friendly, but overall the company is ethical," she says. "They have some organic cotton and alternative materials but part of their headquarters in California is wind-powered. They also have really cool incentives for the employees -- if they bike to work that day, they get 10 minutes off at the end of the week."
After spending 14 years on the East Coast -- the first half at school in Boston and the second half in New York City -- Szymanski returned to Milwaukee and opened her boutique to, she says, spread awareness of issues like fair labor and sustainable materials. And because of this independent spirit, shoppers shouldn't expect to pay chain-store prices.
"People need to understand that there is a direct correlation between the prices and labor and materials and make responsible shopping choices," she says. "The neighborhood I moved from in Brooklyn was a lot of like Bay View, in a way, but way bigger. You could walk for a full mile from my house and not come across a chain store -- it was all independent retailers."
Chartreuse isn't a women-only affair. There is a large selection of men's clothes as well as an adorable baby and toddler section. There's also a small backroom that Szymanski is converting into a gallery for vintage and second-hand clothing, because, "You can't get anymore environmentally friendly that recycling existing clothes."
bqvtqqbacuxazecescscqfu
Talkbacks
Tammy | July 10, 2008 at 10:29 a.m. (report)
I was totally wow-ed by this store! Bought a great bamboo skirt (in a size 16-18 so they do have larger sizes) and a cute pair of organic panties (gol, I hate that word!) when I just stopped by to browse! And they have eco safe nail polish too. Worth a visit for sure!
fivefoottwo | May 8, 2008 at 3:19 p.m. (report)
Chartreuse is lovely! Everything is priced fairly and is really cute. I wish they had curvy girl sizes though.
Facebook Comments
Disclaimer: Please note that Facebook comments are posted through Facebook and cannot be approved, edited or declined by OnMilwaukee.com. The opinions expressed in Facebook comments do not necessarily reflect those of OnMilwaukee.com or its staff.