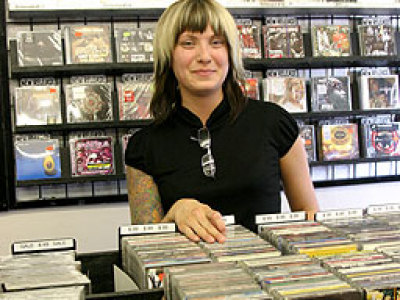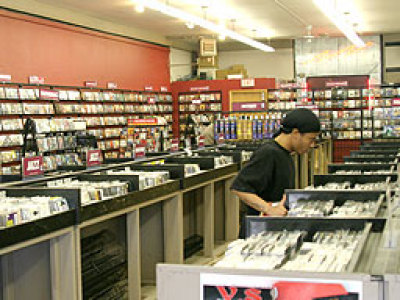 Disc Man remains a major player in the local music store game
Here's a scary question: Is the local music store a dying breed?
For the 17-year-old running out of room on his hard drive as he downloads album after album from iTunes, the answer might be a very indifferent, "Yes." After all, he's got the Internet -- what does he need a physical store for, anyway?
But as a nine-year Milwaukee music store veteran and now owner of Disc Man, Dale Darling is not prepared to take "yes" for an answer.
Although he admits that business is slower than it was when the store opened in 1997, there's rarely a day when Disc Man, 6008 W. North Ave., isn't fluttering with customers -- whether they're flipping through the racks, headphoned and busting out dance moves at the listening stations, or just shooting the breeze with the staff.
"I've been here for nine years," says Darling. "Dale (Anderson, another employee) has been here nine years. Valerie (Olson, pictured above) has been here a really long time, too. We know our stuff, we know our regulars. It's a great place to work."
So great, in fact, that Darling decided to buy it from former owner Jim Peterson -- who previously owned and operated the now closed Mainstream Music. Since December 2004, Disc Man has been in the very capable hands of Darling, who, with one finger on the pulse of the industry and another flipping through music bins in search of yesterday's forgotten gems, is determined to keep Milwaukee's music store relevancy as solid as the rock lock.
The North Avenue location was the first Disc Man location to open in '97, with five more following in the next few years. Today, however, the original -- which Darling says was always the busiest -- is the only one that remains in business.
"I think people like coming here because we've got a lot of really old, rare stuff that you can't find on iTunes, or at the mall, or wherever," he says. "And if they don't see what they're looking for, I usually find it in a matter of days. I make special orders a priority because that means that people will trust me and will come back. I can usually find anything, but sometimes people want something that's been out of print for 20 years. I mean, there's a limit!"
Although Disc Man remains undeniably current and competitive -- a glance at the Red Hot Chili Peppers' latest, "Stadium Arcadium," reveals that Disc Man's price is cheaper than iTunes' -- Darling says that his biggest focus, the one that keeps his customers coming back, is stocking up on older, harder to find music.
"We're kind of like the opposite of a lot of other music stores. Instead of coming in for the new releases and then browsing around for the artist's earlier stuff, a lot of people just dive right into the used CDs too see what's 'new' because they know that we are constantly refreshing our inventory."
As the name implies, Disc Man carries mostly CDs -- over 15,000, actually -- and starts the bidding at $3.99 for used releases.
Another point of pride for the staff - what an independent, locally owned music store is all about -- is its ever-glowing spotlight on local artists. The "Milwaukee wall' -- a large portion of the store's east wall covered in releases from local artists -- is where customers can keep up to date with what their fellow Milwaukeeans are up to musically. Darling estimates that he carries close to 300 Brew City bands and artists.
And there's more than just CDs -- Disc Man is a used media hound's Mecca. The store also slings used DVDs -- which have recently acquired the purchasing status of books, that is, never buy 'em new -- video games, VHS tapes and an ever-nostalgic collection of cassette tapes, which, according to Darling, "actually sell."
"A lot of people also like to shop her because we are a Ticketmaster outlet, as well,' Darling adds.
So whether you're on the hunt for that Nirvana release you never got, summer concert tickets or just a plethora of random accessories -- stickers, T-shirts, incense -- Disc Man remains a major player in the game.
Disc Man's phone number is (414) 257-1100.
Facebook Comments
Disclaimer: Please note that Facebook comments are posted through Facebook and cannot be approved, edited or declined by OnMilwaukee.com. The opinions expressed in Facebook comments do not necessarily reflect those of OnMilwaukee.com or its staff.