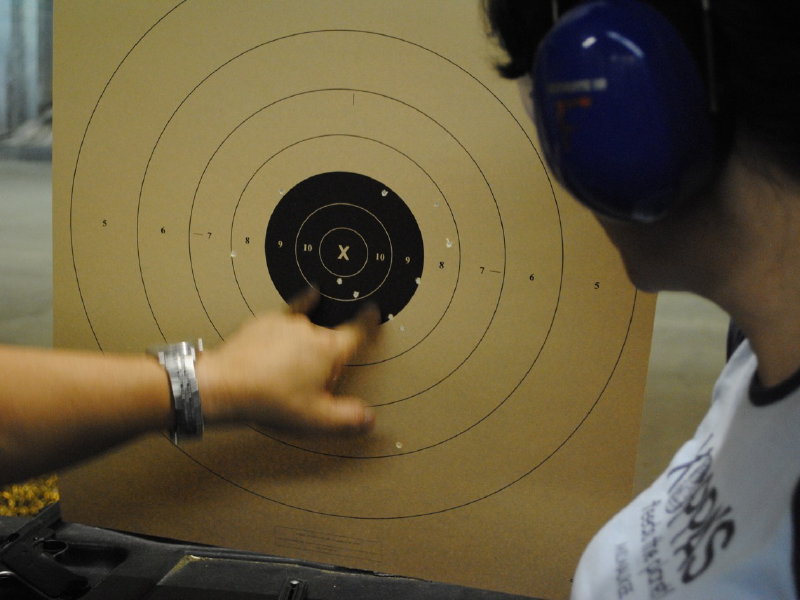 Waukesha gun shop educates first-time shooter
Growing up, I was not allowed to play with toy guns -- not even water guns -- so it's not surprising that I never fired a real gun for most of my adult life. Last week, however, this changed when I spent the morning at Fletcher Arms, 1441 E. Main St. in Waukesha, receiving a gun lesson and later, shooting in the indoor range.
Bob Llanas has worked as an instructor at Fletcher Arms for nine years, and he gave me two-and-a-half-hours of pre-shooting instruction that primarily focused on safety.

Llanas stressed the "golden rules" of firearms safety: assume all firearms are loaded, always point the firearm in a safe direction and keep your finger off the trigger until you are ready to shoot. It sounds like common sense, but as Llanas pointed out, accidents happen all the time that are a result of one of these three rules being ignored.
"Safety is top priority," says Llanas. "And here, at Fletcher's, it is just about as safe as you can make a range."
Fletcher Arms' has strict safety rules, including that all loading of ammunition must take placein the booth, with the gun pointed down. Plus, bullet-proof glass separates the shooters from the employees, who constantly observe the range action.
"If anyone appears unfamiliar with the sport or has a cavalier attitude we are quick to remind them of the rules or, if need be, request that they leave," says Llanas.
Wisconsin is one of two states where it is illegal for people to carry a concealed weapon, which includes transporting a gun in car. Hence, to transport a gun to a range, drivers must make sure the firearm is unloaded, enclosed in a case and put out of reach.

Fletcher Arms range fee is $13.99 for an hour. The cost to rent a gun is $8 for a handgun or $10 for a rifle. No one under 12 years old is allowed on the range (but they can be in the shop with an adult), and kids between the age of 12 and 17 must have an adult with them at all times. Individuals, groups and bachelor/bachelorette parties are welcome, but sobriety is a must.
"There is absolutely no shooting if there's partying first," says Llanas. "It's a rule for their safety and for everyone else's. That said, everyone's invited to come out and have a good time."
During my lesson, Llanas modeled for me how to pick up a gun with three different weapons, and then it was my turn to try. Also, he showed me how to load the guns. "Just drop 'em in like you're loading a Pez dispenser," he said.
Finally, he taught me how to shoot.
Posture is one of the most important aspects of shooting stance. A straight back with the knees slightly bent and your weight on the balls of your feet that are a shoulder-width apart is crucial. Knowing whether you are right- or left-eye dominant is important, too. I learned I was left-eye dominant.
We also talked about breathing, and Llanas said to take a deep inhale and exhale prior to pulling the trigger. He likened the deep breath to one that is usually associated with yoga or meditation. I found it interesting that yoga, meditation and firing a gun could have something in common. My strict anti-gun upbringing had made me suspicious, fearful and yet curious about guns. However, during my time with Llanas, I felt my perspective on shooting -- safe shooting for sport -- changing and expanding.
Llanas also spoke of the importance of intuition. He said that it's a key aspect to good shooting and that, in his experience, women have more intuition than men which, at times, makes them better at the sport.
"The fellas generally look for external results, like how well they are shooting, before they change something in their stance. The ladies, however, get more of a 'feel' for how they should stand to shoot and what they should do and they just do it," he says.
While receiving the lesson from Llanas, I heard lots of booms and bangs and pops and kabooms from beyond the bullet-proof glass. At first it made me a bit nervous, then just a little agitated and finally, I stopped hearing it altogether. By the time we were finished with the lengthy off-range lesson, I wasn't the least bit unnerved; I just wanted to start shooting.
I went to the counter and got eye protection, ear plugs and a paper target. The employee behind the desk asked me if I would prefer to shoot at a bulls eye or a person. I chose a bulls eye. Then, I met Llanas in the range area. He clipped my target to a pulley which he then sent about 100 feet away from us, into a huge enclosed space.
The indoor range has a ventilation system that removes debris and smoke from the air, but it is still a little hazy. A cascading water system washes the pieces of shrapnel into a trap. I was surprised by the little bits of warm brass casings that flew back at me after I shot.
I shot with two guns, a .22 and a .38, and I definitely got better the more I shot. One of my bullets struck just below the bulls eye, which I was quite proud of.
I felt very comfortable shooting, due to Llanas' clear command of the sport. Friends later asked if I felt a sense of "power" while shooting and, to an extent, I did. There is something very satisfying about aiming, shooting and striking. It gives one a sense of control.
Shooting a gun, when done in a safe, controlled environment, is fun. The sport takes an extreme amount of concentration and confidence. Admittedly, the underlying sense of danger adds to the rush.
Did my anti-gun upbringing affect my opinion of shooting a gun? No. However, living in an urban environment where gun-related homicides occasionally take place, I did struggle with my desire to "play with guns" prior to my lesson at Fletcher Arms. But despite some conflicting personal philosophies, I can honestly report that I enjoyed my lesson and the exhilaration of target shooting.
I wouldn't say I am a natural shot, but I wasn't terrible, either. And the best part of all was that I didn't shoot an eye out.
Facebook Comments
Disclaimer: Please note that Facebook comments are posted through Facebook and cannot be approved, edited or declined by OnMilwaukee.com. The opinions expressed in Facebook comments do not necessarily reflect those of OnMilwaukee.com or its staff.