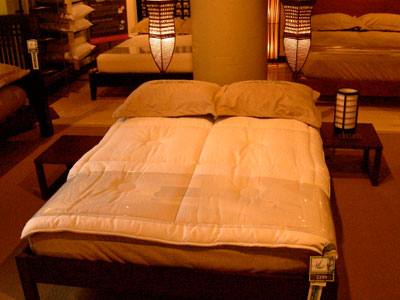 Third Ward's new futon and yoga store encourages "Livn Lite"
For years now, David Pionke has had a motto: Living light.
For him, that means seeking out a less encumbered life, down to the products he buy. With that in mind, Pionke recently opened Milwaukee Futon -- Yoga East at 316 N. Milwaukee St. to offer comfort and versatility in alternative bedroom furnishings as well as a large selection of products for yoga and meditation practitioners.
If you're searching for a connection between yoga equipment and modern bedding, Pionke explains his thought process, which centers on offering basic, simple products.
"It seems like people nowadays are wanting fewer items in the house and items that are very practical," he says. "These products don't take up a lot of room, they are simply structured and affordable. It seems like people who are interested in yoga and meditation are also interested in things like natural bedding, which I carry."
Pionke's motto -- shorting it to and trademarking it as "Livn Lite" -- has since become his store's philosophy, reflecting the quality of his products, either in terms of practicality or mobility or in terms of yoga -- the physical wellness of being.
What you'll find in the yoga and meditation section of the tranquil and spacious store adjacent to Coquette Café are specialty products like zafus and zabutons for meditation. The basic brushed cotton and buckwheat zafus - round cushions used for sitting meditation -- start at $39; the sari silk and dupioni silk varieties are a bit pricier. Zabutons -- rectangular cushions placed under zafus in sitting meditation -- come in cotton, hemps and kapok.
Pionke offers a large selection of yoga props, including round and rectangular bolsters, artistically designed yoga bags, three- and four-in. yoga blocks that come in cork or the environmentally conscious bamboo and yoga mats ($15-$30) made from a plastic that produces no carbons or fumes. Little extras include Zen fountains, blankets and Japanese incense.
"I decided to build a niche for people in the area who are participating in yoga and meditation to purchase these products, because there's no where else to get them, other than online," he says."
As for the interior design aspect of his store, Pionke aims to be affordable without compromising style or quality.
"I went for a balance of muted soft colors and simple furnishing. I have an attraction to natural products as opposed to metal -- I think wood is a lot sturdier, and more solid."
His galleries showcase platform beds and futons, as well as a few design --accessories such as shoji screens -- Asian-style room dividers ($99-$300) -- and Asian lighting. Platform beds, which start at $149, refer to those structured with wooden slats that support the mattress rather than a box spring. Futons, starting at $99, offer dual function as a couch or lounger by day and bed by night.
"With both products, ease in use and inherent simplicity is appealing to those individuals who are on the move and wanting to keep things basic and affordable, while not compromising comfort. Essentially, this is what the store's philosophy means to be Livn Lite."
Since opening Milwaukee Futon -- Yoga East in late August, Pionke says the "Utopia" ($299) is his best-selling platform bed. It's a streamline, low, Asian-style bed made of solid mahogany and comes with two side tables ($100 for the pair) that literally attach to the bed by clipping to the edge of the frame.
The store's official grand opening is this Saturday, Sept. 29 and Pionke is celebrating with a party and one-night sale from 7 to 11 p.m. Guests enjoy store discounts as well as complementary wine appetizers from Coquette Café.
Talkbacks
Nadia | Sept. 28, 2007 at 12:21 a.m. (report)
Ahh, it's about time someone in the Milwaukee area is environmentally and socially conscientious enough to supply quality products, pricing and service for like-minded consumers. Congratulations and cheers to your success in Milwaukee - we needed you here!
Facebook Comments
Disclaimer: Please note that Facebook comments are posted through Facebook and cannot be approved, edited or declined by OnMilwaukee.com. The opinions expressed in Facebook comments do not necessarily reflect those of OnMilwaukee.com or its staff.