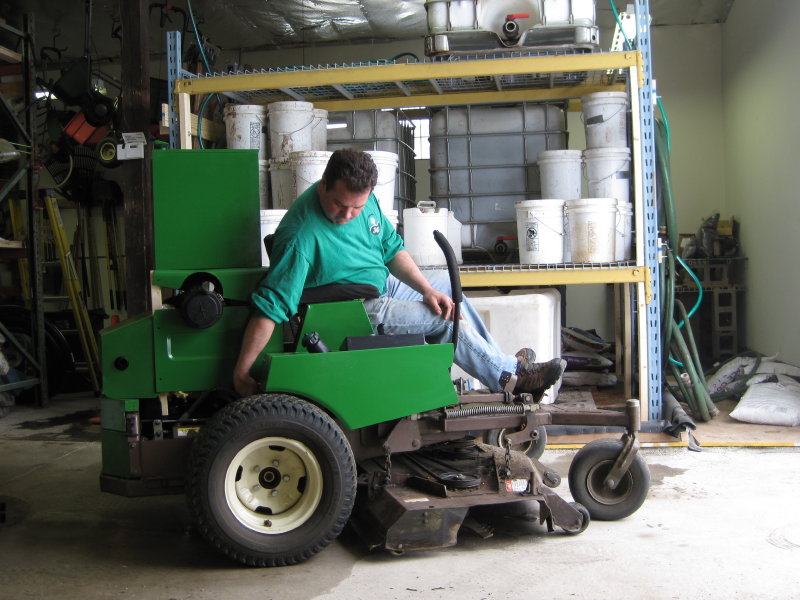 Blaeser's "Green Team" digs natural landscaping
Bradley Blaeser says he has always worked with earth, either as a profession, sideline or hobby.
In 2005, he started a natural landscaping business called "The Green Team," offering earth-friendly landscape maintenance techniques that include solar and waste vegetable oil-powered mowers as well as seasonally appropriate mowing heights that improve water infiltration, soil and turf quality.
"I wanted to create an economic engine by providing basic services that most people and businesses need, by which to do more innovative projects and eventually community work and young adult training," says Blaeser, 38.
Recently, Blaeser joined forces with Darrell Smith of Earthcare Natural Lawn and Landscapes and John LaPointe of Greener Roofs and Gardens, LLC. The three partners collaborate by sharing an office and operations base in Miller Valley, 5204 W. State St.
Smith's Earthcare uses all organic methods for fertilizing turf and preventing weeds including a special compost tea brewing process. LaPointe's Greener Roofs and Gardens offers creative and effective water management as well as natural child play spaces and high quality outdoor spaces.
"Each company offers its own unique approach to garden design and installations with a constant focus on sustainable solutions," says Blaeser.
Blaeser says his overall mission is to improve the "environmental bottom line" by using less petroleum-based fuel each year, preserving the good parts of a landscape and adding native and / or energy saving features, like vegetable gardens or rain barrels to reduce runoff to lake Michigan.
"I do love to swim at Bradford Beach," he says.
Is green landscaping more expensive? Blaeser says yes and no, and that it would take a lifetime to calculate.
"If one creates a more sustainable or regenerative system around their home they may pay the same or more upfront, than a traditional system, but the benefits can be multi-layered," says Blaeser.
Blaeser began landscaping nine years ago. He continued to landscape on the side for extra money and got into gardening and composting as a hobby. For 10 years he worked in environmental education before deciding to landscape full time.
Small business ownership can be all-consuming, but it does provide some flexibility. During the past year, this was extremely important to Blaeser, who lives on the East Side, because it allowed him to care for his infant son, Benjamin, when his wife returned to work after her maternity leave.
"To treat ourselves well now and be responsible for our kids later is the very least we can do," says Blaeser.
Talkbacks
green.209. | March 10, 2010 at 11:32 a.m. (report)
Want to start a landscape business that is battery powered, and solar charged. Would like any info on equipment,also on recycle of all cuttings. Thank you for your info.
thegreenteam | March 9, 2010 at 1:00 p.m. (report)
There will be an open house May 1st from 1-4pm, featuring alternatively powered mowers, a compost tea operation and a unique water feature on display @ 5402 W. State, 53208. 414-721-1431
Facebook Comments
Disclaimer: Please note that Facebook comments are posted through Facebook and cannot be approved, edited or declined by OnMilwaukee.com. The opinions expressed in Facebook comments do not necessarily reflect those of OnMilwaukee.com or its staff.