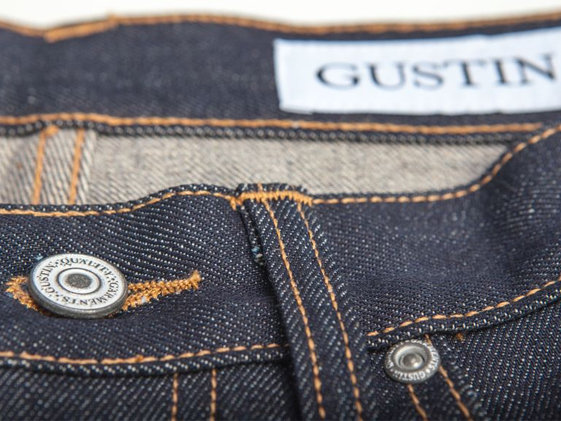 Premium denim Kickstarter project continues to grow
This isn't a story about Milwaukee, but if you've ever had a dream about building something and selling it, you might find it interesting.
Gustin is a high-end denim brand from the birthplace of blue jeans, San Francisco. For the past six years, its selvedge jeans sat on the shelves of boutique shops, selling for $205.
Now, thanks to Kickstarter, the crowd-sourced funding tool, Gustin will sell the very same jeans, direct to customers, for its wholesale price of $81, shipped.
The way it's all unraveled is impressive.
The founders of Gustin launched their Kickstarter project on Jan. 7 with the goal of raising $20,000 or, if things went really well, $40,000. A week in, their total has exceed $100,000 from more than 1,000 backers – and it keeps growing. Thanks to publicity from Esquire and Cool Material, Gustin has already set a fashion record on Kickstarter. The guys say they are on pace to raise $600,000 by the time the project closes on Feb. 9.
"It had just been the two of working on the project for the last nine months or so," says Stephen Powell, one of the founders of Gustin. "You never know how people will respond."
Are that many people in the market for high-end jeans? Apparently, yes, but the brand's founders never really knew their customers. Until now.
"We came from the old model of retail ... never having that direct connection with the people who wore our jeans," says Josh Gustin. "This is so awesome, that people see the need to a real alternative to that model. We can design anything we want and sell it at an awesome price."
Unlike some other projects on Kickstarter, this isn't a start-up company that's never been around the block. The money raised is, in essence, advance orders that will allow the firm to ramp up production to meet this quantity.
"If we were to run this line on our own, we'd need half a million dollars in cash," says Gustin. "I don't have that, and neither does Josh."
"Denim heads" like that Gustin is building these jeans the old-fashioned way, working with the best domestic mills, sewers and laundries in the business. After the launch the 13.5-ounce dark indigo selvage denim line, they plan on building crowd-sourced jackets and shirts, too.
"We've run this style before. We've worked with the same sewer in San Francisco for the past six years, so we're super-confident that we can deliver," says Gustin.
Indeed, Kickstarter projects have a reputation of missing their delivery times, but Gustin says he's prepared to get jeans to his customer by April.
The group isn't cutting corners, but it's also looking at efficiencies wherever possible. For example, while the jeans will come in several sizes, you don't get to pick the inseam. If they're too long, it's up to you to get them hemmed. But Gustin understands that many of its backers have never bought premium, expensive jeans before.
Says Gustin, "There's this community of hard-core denim guys who know we're making a good product. This can be a teaser for their friends."
In fact, Gustin says there are differences between the jeans you buy at a department store and the ones this Kickstarter project is supporting. It's the fabric – "There's a huge range in quality of fabric" – as well as the fit and the finish. "Everything is custom to us," says Gustin. "It's about authenticity. This is the way jeans are supposed to be made."
And, while the brand now has an infusion of cash, don't look for Gustin jeans in a store near you. Kickstarter has proven to its founders that the company's future is online.
Says Gustin, "We're totally pulling out of retail. This is the future of how to distribute clothing. We want to create this universe of Gustin menswear, all crowd-sourced by the people who actually like the brand."
Obviously, Kickstarter has worked well for Gustin, and if you want to try your hand at getting your own project funded, Powell says the best way to be successful is to spend the time in preparation of your launch, then follow up with excellent communication.
"Best piece of advice is that you really need the complete package to get a great response on Kickstarter," says Powell. "It starts with a great concept but requires an equal investment in communicating that concept to the audience. Prepping for and supporting the campaign is hundreds of hours (all fun)!"
Talkbacks
zipper | Jan. 17, 2013 at 11:04 a.m. (report)
If you are looking for a Wisconsin jean's story, Land's End has some US-made jeans. Little pricier than Gustin's at retail price, but Land's End did run a special on them that got them to $65. http://www.landsend.com/pp/mens-made-in-the-usa-traditional-fit-5-pocket-denim-jeans~244096_-1.html
Facebook Comments
Disclaimer: Please note that Facebook comments are posted through Facebook and cannot be approved, edited or declined by OnMilwaukee.com. The opinions expressed in Facebook comments do not necessarily reflect those of OnMilwaukee.com or its staff.