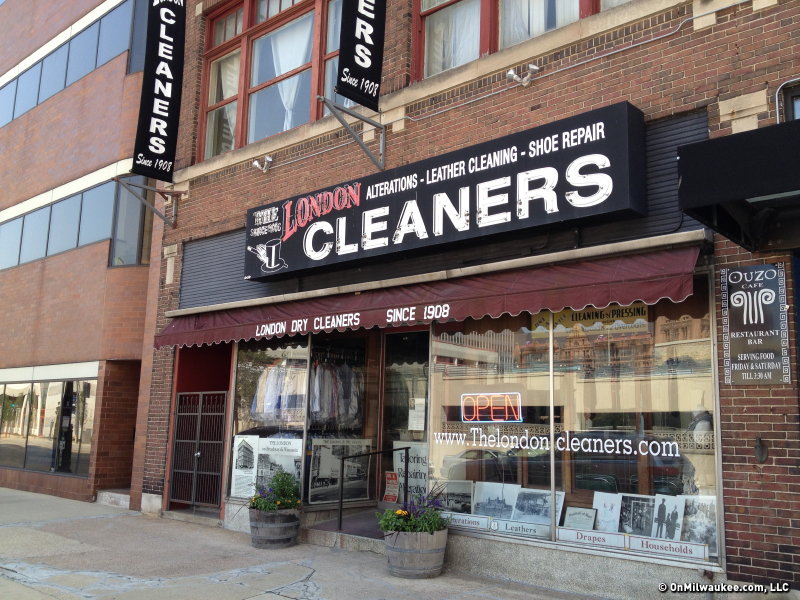 I've got a guy: Milwaukee recommendations
Need a plumber? A realtor? An orthopedist? How about a mechanic you can trust? We've got recommendations for all these and more.
Auto body: Pinky's
Any time I get a fender bender, Pinky's is the first place I'll call. Yes, they're less expensive than going with a dealer, but the main reason I used Pinky's because their work is perfect – and fast. They've been around forever at 120 W. Melvina St., and they're polite and responsive during what can be an uncomfortable time. I trust them with all my vehicles. --Andy Tarnoff
Dry cleaner: The London Cleaners
The London Cleaners, 778 N. Milwaukee St., is about as old-school, beautiful Milwaukee as you can get. Cleaning, polishing, tailoring and more, they do it all and Demetrios (Jimmy) Beltsos is a Milwaukee icon in and of himself. Trust me, take your dry cleaning to The London. Jimmy and his crew will treat you well. And, if you're lucky, you'll get some great conversation with the always on the move Jimmy. Love the guy. --Jeff Sherman
Mechanic: Tony Coffaro at Mobile Car Care
Most of us know so little about the inner workings of our cars that we have no idea when we're being taken for a ride. So, when we find a mechanic we like and trust, hold on tight. Tony Coffaro at Mobile Car Care, 3434 N. Holton St., was recommended to me by another mechanic a few years ago and though he's always busy – I'm not the only one who trusts him, it seems (he fixes the post office's vehicles, too) – he always gets me in, fixes me up and, when the work is easy, sometimes doesn't even charge. --Bobby Tanzilo
Orthopedist: Milwaukee Orthopaedics
On one hand, it seems odd to "have a guy" for your torn ACL, or busted elbow – but judging by all of the knee, elbow and shoulder braces I've seen around Milwaukee this summer, plenty of Milwaukeeans are doing things that get themselves hurt. So, if you find yourself in need of a doctor, see my guy, Dr. Michael Gordon.
He worked on my left knee, which was pretty messed up, from shredded ligaments to torn meniscus. Now, he can't control the rehab – but the pre-surgical meetings and post-surgical care was beyond top notch. He presents you options, and gives you the reasons why each option might (or might not) be good for you. If you're seeing him, chances are you're in a ton of pain, or your family members are having a rough go of it with you – and Dr. Gordon was awesome both to me and my wife. Things happen, both in play and at work and by accident, so while no one really wants to see my guy, if you have to, he's a good one. --Jim Owczarski
Plumber: Randy Romens
There are many plumbers and plumbing companies in Milwaukee. Thankfully, I've never had any major issues, but when I need work done Randy Romens has always come through. He's a pro, affordable, a great guy, reliable and always prompt. --Jeff Sherman
Realtor: Toni Spott at Keller Williams Realty
My guy is actually a gal named Toni and she sold me a house in 2011. As to why Toni's my guy, I have told this story many, many times and I will never tire of it. After a year of paying $1,000 a month in rent, I decided to buy a foreclosed home as a way to save on monthly bills. I was warned about trying to buy a house in foreclosure – people said it was tough to get a loan and that it could be difficult to get a realtor to take the time to show 'em because so little money is made in commission. Regardless, I randomly found Toni on the internet and contacted her. Toni sells a lot of high-end properties, but she proceeded with my request as if I were interested in a lake view condo. She walked me through a dozen places – some of them downright horrifying – before I found my adorable home.
There were some snafus along the way because the house had been in foreclosure for a while and I was in the middle of a divorce, but Toni led me through the murky waters with skill, determination and grace. I once did the math on how little money she made on my place and I am forever grateful for her perseverance. In part, this is why we became friends after the sale of the home. (Also because of her quirkiness – she gave me a plunger at the closing. "It's a good one," she said.) I would recommend Toni to anyone buying or selling any type of dwelling. Especially if in need of a good plunger. --Molly Snyder
Salon: Ran Yee at SEVVA Salon & Nail Boutique
A co-worker once said of me "Some people have tattoos or piercings; Nick has his hair." From standard short-and-messy to a pompadour to one we simply called "The Poindexter," Ran Yee has been styling my hair for years. I trust no one else -- so much so that I grew my hair out while living in Portland rather than get it cut elsewhere. (I tried once. It was terrible.) Ran is not only a skilled stylist -- for men and women -- but a genuinely nice guy. He's easy to talk to and doesn't push constant conversation -- perfect for the introvert in me. He just opened his own place, SEVVA Salon & Nail Boutique in the Third Ward. It's a gorgeous space and I can't recommend him enough. --Nick Barth
Tires: Mr. P's
I'm actually surprised how many times my family has paid a visit to Mr. P's Tires, 2366 S. Kinnickinnic Ave. For some reason, I manage to get a nail or a huge screw stuck in every tire I own (not my fault, I swear), and every time, the staff at Mr. P finds a quick, friendly and inexpensive solution. I don't think I've ever had to give them more than $25. In an industry that could squeeze a lot more out of its customers, this great local business doesn't ... and it's much appreciated. --Andy Tarnoff
Facebook Comments
Disclaimer: Please note that Facebook comments are posted through Facebook and cannot be approved, edited or declined by OnMilwaukee.com. The opinions expressed in Facebook comments do not necessarily reflect those of OnMilwaukee.com or its staff.