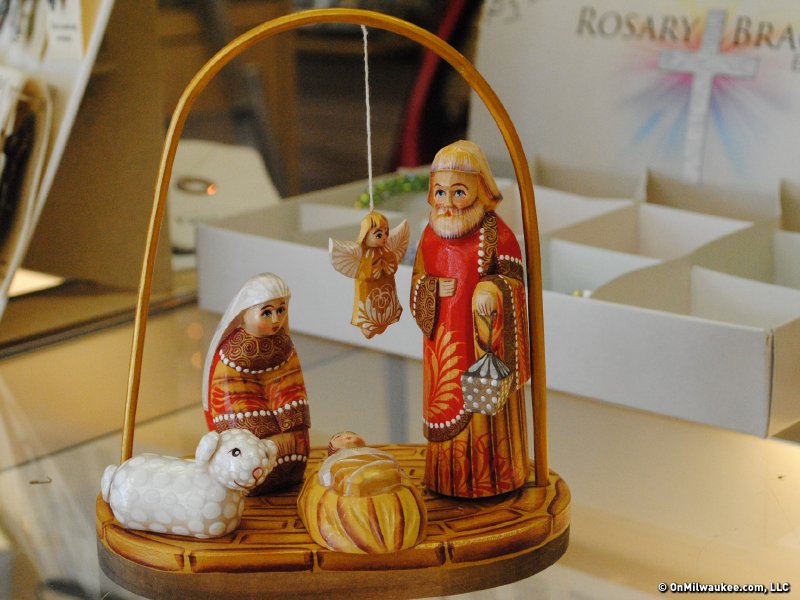 Li'l Friar shines in the shadow of the Basilica
The Li'l Friar Basilica Gift Shop, 622 W. Lincoln Ave., is a storefront that sits directly in the shadow of St. Josaphat Basilica. However, the store, which opened in 2000, is owned by the Franciscan Order and not the Basilica.
The bishop of La Crosse Diocese, Bill Callahan, started Li'l Friar when he was pastor at St. Josaphat. "He said, 'There's so many beautiful pieces of religious art, let's try to bring them together'," says Melissa Rabi, the store manager of Li'l Friar.
The gift shop carries an impressive array of crosses from Mexico, Slovakia, Austria, Ireland, Germany, Venezuela, Kenya, Thailand, Peru, Poland, Bethlehem and Russia. The inventory changes regularly, and currently includes two art pieces on consignment from artists in the neighborhood. By Christmas, the gift shop will have 150 different nativity scenes.
Rabi and the parish's business manager, Sharon Kubacki, travel together to market for many of the store's items. Rabi says the current pastor, Michael Glastetter, likes to join them when he can.
"And when priests travel out of the country, they shop for the store, so there's always something unique," says Rabi.
Li'l Friar is not just a "Catholic store." Rabi attempts to make the gift shop ecumenical and carries items for everyone, including everyday-feel-good items.
"Pick-me-ups, remember that God's with you kind of stuff. For people, you know, who don't like their religion shoved in their faces," says Rabi.
Rabi grew up in the Lincoln Village neighborhood, attended St. Josaphat Elementary and St. Mary's Academy for high school. She now lives in Muskego with her husband.
"I come home to go to work every day," says Rabi.
While they were getting the gift shop together prior to opening eleven years ago, then-pastor Calahan was looking for someone with retail management experience who also knew the neighborhood and could quickly take the store's reins while also being a good fit with the parish. Rabi's brother, who owns Rozga Funeral Home, suggested his sister to Callahan, but she wasn't interested – at first.
"I had a good job with a national retail chain. But that Christmas the corporate office sent letters out to everyone in the company saying, 'We made it through the Christmas season, and we did OK, but it would have been easier for all of you, if you had worked harder, sooner. Our family is going to have a great Christmas and we hope yours does, too.' Well, after that, I called my brother and asked if Father Calahan was still looking for someone," Rabi says.
Rabi loves to tell people about the Basilica and the neighborhood. She's familiar with a lot of parish families: who's moved in, who's moving on. "I've seen this neighborhood change from family homes to absentee landlord to owner-occupied again. This has always been a working class neighborhood – a place where people live together to give each other a break," says Rabi.
When Rabi was at St. Josaphat's for grade school, she remembers that teachers made sure the students knew the history of the parish (thus, the neighborhood). Rabi enjoys her work at the store and is there nearly everyday. The Basilica has a small gift shop in its pavilion across the street, which employs one person full time. With two volunteers to help fill in, Rabi and the pavilion store manager cover all the hours.
"If you have to work retail, this is a wonderful place – you don't get the problems or the really crabby people," says Rabi.
On such pleasant customer is Donna Baldwin, who has been shopping at the gift shop for years, picking out special gifts for family and friends and eschewing buying habits that she calls "getting the same T-shirt from Sears that anybody can get." Baldwin has a hand-carved nativity set from Russia waiting for her behind the gift shop counter – a gift for her sister, personalized and significant.
"My sister went to the USSR, back when it was the USSR, in 1984," says Baldwin.
Baldwin was shopping recently in the Li'l Friar for her mother, who was born on Christmas Day. "So we have to double up (on gifts) for her, but that's OK," she says. (Baldwin got her mother a beautiful blue rosary from Italy – but don't tell her – as it's a gift either for Christmas or her birthday this year!)
Li'l Friar carries many greeting cards, from the religious to the everyday, as well as postcards, rosaries, cross and other pendant necklaces. Children's religious books, and crosses which are more stylized for a baby's room, can also be found.
Even while being ecumenical in its selections, Li'l Friar does sell all the items necessary for religious training, such as communion veils, ties, rosaries and candles. There's a large selection of religious statuary, from tabletop Virgin Marys to others standing four-feet high.
Crystal figurines line shelves along the front of the store, and on nearly all the walls are crucifixes and other crosses, including the "Sick Call Cross," which slides open and contains items for a priest to deliver the last rites. (For when priests used to make such house calls).
Although the gift shop carries religious items from all over the world, Rabi also likes to buy locally. Religious icons from Italy sell for $38, a similar wall-mounted icon from St. Issac of Syria Skete in Boscobel, sells for $25. "It can make a difference," says Rabi.
Talkbacks
mikeg | Aug. 17, 2011 at 8:07 a.m. (report)
Thank you for covering the Li'l Friar. This is a beautiful shop and bookstore and I love going into it to browse and shop. I am glad it is getting some attention in the Milwaukee area.
Facebook Comments
Disclaimer: Please note that Facebook comments are posted through Facebook and cannot be approved, edited or declined by OnMilwaukee.com. The opinions expressed in Facebook comments do not necessarily reflect those of OnMilwaukee.com or its staff.