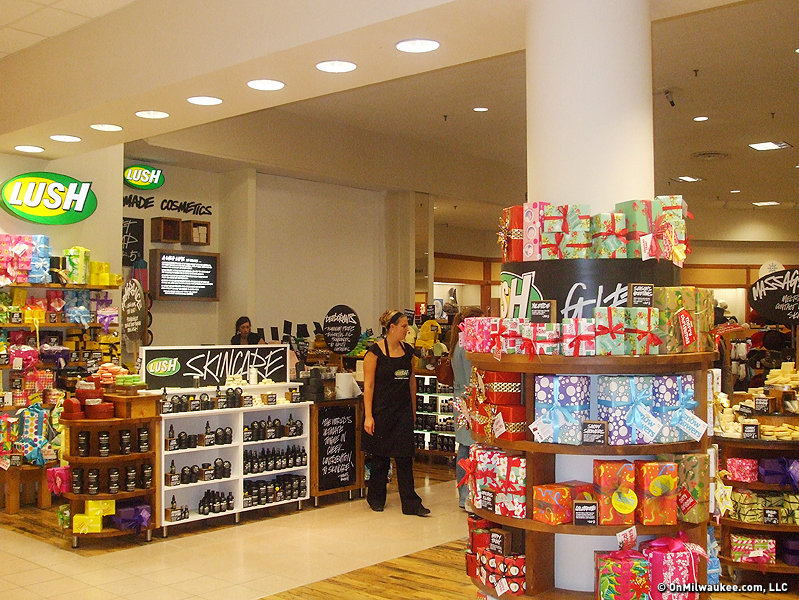 Mayfair's new LUSH promotes natural beauty
In today's more health conscious and socially aware world, many people have qualms about buying beauty and health products that are tested on animals.
The problem is, it's not an attribute that's often advertised, so unless you've done your homework, searching for ethics in the cosmetics aisle can be a real shot in the dark.
With entirely eco-friendly companies like Aveda widely available, more and more people are ditching the product guessing game and aligning themselves with specific brands they trust to adhere to their values, giving other environmentally conscious cosmetic lines like LUSH the green light.
Last week, Mayfair Mall welcomed Wisconsin's first LUSH Fresh Handmade Cosmetics line to the mall's Macy's store. The British-based bath and body product line has recently teamed up with Macy's to open licensed departments within the stores nationwide.
Since emerging in England in 1995, LUSH has been committed to hand-making scented selections of luxury skin care, hair care and bath and body products that are chock-full of natural ingredients, including fresh organic fruits, vegetables, herbs, flowers and essential oils. There's so much fresh produce in these bath bars and body butters that the company behaves more like a food retailer than a traditional cosmetics line, complete with prices by weight, grease-proof wrapping paper and best-by dates.
"The plan was to make cosmetics that were as natural as possible and to avoid using synthetic preservatives," says LUSH managing director Mark Constantine. Inspired by fruit and vegetable displays at grocery stores, Constantine designed LUSH's stores to resemble, "cheese shops and German veggie restaurants -- and any fresh fish counter."
The biggest component of creating natural cosmetics -- one of Constantine's passions -- is producing without animal testing and without animal products. LUSH's lines are 100 percent vegetarian, 74 percent vegan (some are made with honey, lanolin or yogurt, are labeled as such) and 65 percent preservative-free.
But its dream for green doesn't stop at its own factory walls. LUSH does not purchase ingredients from any company carrying out animal testing, ensuring that not one dollar of its money -- or the consumer's -- goes toward animal cruelty.
Now with more than 470 retails shops around the globe, the company has managed to make an impact on the industry. And it certainly doesn't hurt that a few of LUSH's eco-warriors include Halle Berry, Madonna Angelina Jolie and Jude Law and Leonardo DiCaprio.
To cut down on wasteful packaging, LUSH makes many of its products solid or semi-solid -- the company calls them "naked" -- allowing them to be sold wrapped in paper or in small bags. Instead of runny liquid bubble bath, for example, you'll find 6-oz. bath bombs in a variety of scents and clever names, including Champagne Supernova, Sex Bomb and Green Party. Shampoos come chunky -- admittedly resembling cooked oatmeal -- but work natural wonders on your locks.
Another major component of LUSH is its emphasis on freshness. Product labels come with the names and pictures of the individuals who made, wrapped or packaged the item and include the born-on and best-by dates. All bottles and bulk products for Canada and the U.S. are made in Vancouver or Toronto every week and immediately sent to retail shops. This, Constantine says, is all part of a LUSH life.
"We believe in happy people making happy soap, putting our faces on our products and making our mums proud."
Talkbacks
OlderWiser | Dec. 4, 2007 at 6:59 p.m. (report)
I have received Lush products as gifts from my son when he visits Aspen. I simply was not impressed. The bath gel looks and feels like Jello Jigglers and I've wasted it trying to balance it on my loofah or washcloth. The facial scrub is nice, but the scent is not. I haven't used it in awhile just for that reason....so close to my nose makes the unscently scent more annoying. The body lotion was nice and I used it all. So one plus out of three is my vote on the Lush brand. But as always, just my personal opinion. I would rather visit Lotions and Potions in Greendale.....or another non-franchise boutique.
anne | Dec. 4, 2007 at 12:52 p.m. (report)
It's about time we got a Lush here. I make a point of stopping at their stores when I travel. It's nice to have one close to home.
Stinky | Dec. 4, 2007 at 11:21 a.m. (report)
I discovered LUSH about six years ago during a trip to London and I always make it a point to visit them when in NYC or LA. I love their stuff and I highly recommend that people go check it out! Their products are fun and not full of chemicals! A great addition!
Facebook Comments
Disclaimer: Please note that Facebook comments are posted through Facebook and cannot be approved, edited or declined by OnMilwaukee.com. The opinions expressed in Facebook comments do not necessarily reflect those of OnMilwaukee.com or its staff.