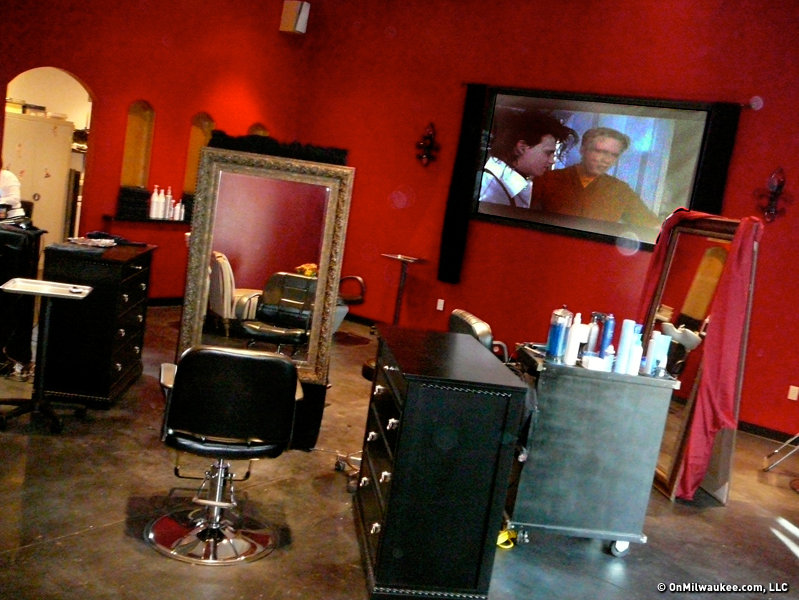 Mirror Mirror reflects a gothic evolution of former Fetish Salon
When the time came for Milwaukee stylist Deano (who doesn't use his last name) to pick up his salon and move to greener pastures, he had several reasons to retire the old name, Fetish, and start fresh with Mirror Mirror. But the big one summarized the change in direction for the stylist we first profiled in 2002.
"I wanted to grow up," says Deano. "I wanted to move on to a different area."
For Deano, who studied at London's Vidal Sassoon school and found himself inspired by Gothic architecture in England, Mirror Mirror, 3554 E. Sivyer Ave., represents a sophisticated but gender-neutral design that's close to his heart.
"I just love old things," he says.
The salon formerly known as Fetish moves from Kinnickinnic Avenue in Bay View slightly south east to St. Francis, just a block from Lake Michigan.
And the design, Deano says, is like nothing else in Milwaukee.
Dark red walls, a black cement floor, several free-standing mirrors, curved windows and doorways throughout -- as well as high-def projector showing classic movies -- the salon certainly does stand out in the neighborhood.
"It's a big 'wow' when people walk in," says Deano. "They can't believe it's a hair salon. But it's an extension of what my home is like, and it feels a little like a nightclub."
The only thing that isn't changing is the haircut Deano offers. A cut still costs $40 for men or women. Mirror Mirror also does coloring and brow waxing. Deano has a couple of other part-time stylists, but says he's always looking for more hairdressers.
"If I can change people, I can change the shop. I have to go with the times."
But changing names of a business, after five years of success and branding brings with it its own set of challenges.
"I liked the name 'Fetish,' but it's very difficult to sell the name. I had a list of names that I thought were very cool sounding, and I let my clients pick. 'Mirror, Mirror' was the one that really struck a chord with people."
The salon, which opened last month, will continue to evolve. Deano says he's adding more art and furniture. "I'll still mix it up, taking stuff down and putting stuff up."
It's a work in progress, but it's off to a good start.
Says Deano, "I feel very comfortable in this space. I have a hard time going home at night, even after 12- or 13-hour shifts."
Talkbacks
BlueSky3 | Oct. 9, 2007 at 8:59 p.m. (report)
Love Deano & the new Mirror, Mirror!
LegallyBlonde | Oct. 7, 2007 at 6:19 p.m. (report)
I, too, love the new name, Great cuts!! Deano is the mannnnnn!
littletinyfish | Oct. 7, 2007 at 2:48 p.m. (report)
I'm so glad that name is gone. I would think it would have been a determining factor for many people to NOT check the place out. Mirror Mirror is a huge step in the right direction, and doesn't lose it's edge.
Facebook Comments
Disclaimer: Please note that Facebook comments are posted through Facebook and cannot be approved, edited or declined by OnMilwaukee.com. The opinions expressed in Facebook comments do not necessarily reflect those of OnMilwaukee.com or its staff.