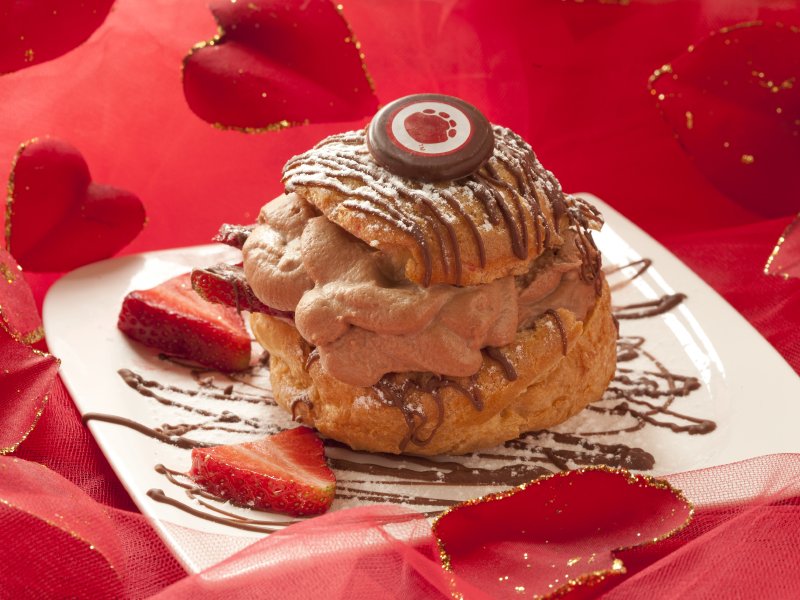 OnMilwaukee.com recommends, Feb. 16, 2013
Chocolates, fashionable iPhone accessories, zombies and salon services – what do these things all have in common? They're all things we love this week at OnMilwaukee.com!
Red Elephant's Chocolate Cream Puff Delight – The Third Ward's Red Elephant Chocolate has upped the ante on a Wisconsin favorite. The chocolate cream puff delight is just what it sounds like, and more. A good-sized puff (it seems small only compared to its gargantuan State Fair cousin) is sliced in half, filled with delicious chocolate whipped cream, reassembled, drizzled in melted chocolate and topped with a tumbled chocolate nut. This is exactly what the cream puff needed, if you ask me. It's exactly not what my waistline needed, however. Head over to Red Elephant, 333 N. Broadway, to try one. Bring your honey for a belated V-Day treat. See them online at redelephantchocolate.com. – Bobby Tanzilo
Barnacle Bud's in the winter – Barnacle Bud's, tucked away on the bank of the Kinnickinnic River, is a popular summertime destination because of its proximity to water, massive patio, free-flowing libations and outdoor entertainment. The cozy, quirky, shack-ish restaurant, however, opens every February (it opened last week) and there is something very strange and interesting about dining or drinking at Bud's – indoors, of course – when there's snow blanketing the patio and picnic tables. Feels so wrong it's right, or something like that. – Molly Snyder
Slim Armor iPhone 5 case and GLAS.tR screen protector – I'm not a huge fan of putting a case on my iPhone. I've tried a bunch, and usually I eventually just take them off. The case and screen protector that Spigen sent me, however, are pretty good. The $25 GLAS.tR screen protector goes on easy and without bubbles, and isn't noticeable except that it makes the home button more recessed. I tried and failed to properly line up about five of the included home button stickers, but finally gave up (and scratched the original button in the process), realizing that it's just fine without it. As for $18 Slim Armor case, it's a classy-looking minimalist protector that doesn't add much bulk at all. With a brushed metal back and flexible rubber top and bottom, it's rather unobtrusive, though any case will add noticeable heft to the featherweight iPhone 5. If you're looking for extra protection, the Slim Armor and GLAS.tR are both solid and affordable solutions. – Andy Tarnoff
An Evening with the Cast and Creators of the Walking Dead – I'll be honest – I'm not a fan of the show – but it seems the place to be this weekend in Milwaukee is at The Riverside for "An Evening with the Cast and Creators of the Walking Dead." Millions watch it and talk about it – so take advantage of this unique opportunity to learn more in one of the city's best venues. – Jim Owczarski
Cheap laughs – I am not a regular at Trader Joe's, but I may quickly become one. I like their selection and prices, but the best thing is the free laughs. They have bright red shopping carts for adults and these tiny carts with a "customer in training" label on them for little kids to stuff with food and drive around. Watching these little kids drive the carts and the mothers trying to keep them on track is one of the funniest things I have ever seen. I settled down near the samples of cranberry cocktails and watched these little kids try to make the turn from one aisle to another, complete with crashes into stacked food, other carts and even crashing into themselves. It's a great place to shop with its very own free-to-all entertainment. – Dave Begel
Haircuts at The Institute of Beauty and Wellness Aveda Beauty School – I have long, thick Irish hair, and when I go more than three months without cutting it, I start to look like a polygamist prophet's wife who wandered off her compound in Utah. But I also hate paying salon prices for haircuts. My cousin suggested going to The Institute of Beauty and Wellness, 327 E. St. Paul Ave., in the Third Ward. A very accomplished cosmetology student, Lizzy, tamed my mane like a pro – for less than $20. A scalp and neck massage was included in the price. All salon and spa services are offered at the IBW as well, so I think I'm going to return for a manicure (at only $12, there's no reason not to). – Colleen Jurkiewicz
Facebook Comments
Disclaimer: Please note that Facebook comments are posted through Facebook and cannot be approved, edited or declined by OnMilwaukee.com. The opinions expressed in Facebook comments do not necessarily reflect those of OnMilwaukee.com or its staff.