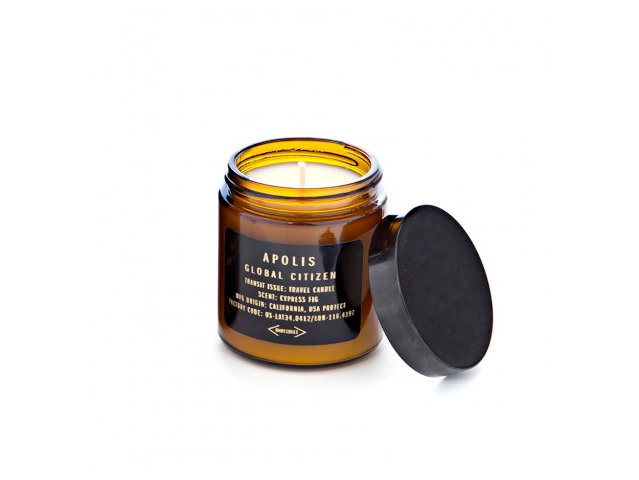 OnMilwaukee.com recommends, Jan. 18, 2014
It's time for another set of hot recommendations from OnMilwaukee.com. Literally, as this week's recommendations include hot chocolate, espresso and candles.
IMUSA 8-piece espresso set – The Italians have all kinds of nifty little table top sets for the important things in life: olive oil, balsamic vinegar, espresso. I've always wanted one of those handy table top racks stacked with espresso cups and saucers, and I found one in this IMUSA set.
Four cups dangle above four matching saucers on a heavy duty polished chrome rack that comes in a range of colors and patterns. It's handy, it's attractive and, maybe best of all, it's super cheap. You can find these in shops like Bed, Bath & Beyond for $9.99, but online sources like Amazon sell them for about a buck and a half less. imusausa.com – Bobby Tanzilo
The Pfister Hotel's hot chocolate – As the current Pfister Narrator, I spend a lot of time in The Pfister Hotel and, consequently, am quite familiar with the food and drink options. Since it's been polar-vortex cold, I have rekindled with mugs of hot chocolate, and The Pfister has one of the very best cups I've ever tasted. It's large, chocolatey and topped with both whipped cream and chocolate sauce. Best of all, it comes every time at the perfect temperature. Actually, it's almost too perfect because if it were a few degrees hotter, maybe I wouldn't consume it quite so quickly. Try one at the Cafe at The Pfister or the Lobby Bar and if the server asks if you want more whipped cream, the only answer is "absolutely." – Molly Snyder
Eating a whole lemon – I'll admit until I saw a bunch of stories about the benefits of lemons, I'd never considered eating one like an orange. I have nothing against whole lemons, but they usually serve as a garnish or way to drizzle juice on my fish fry. Now, they're a vitamin C machine that, if bought organic and ripe enough, also taste really, really good. You'd think lemons were more tart, but eat a few whole and you'll be hooked. Read this and you'll wonder why you haven't eaten more of them. – Jeff Sherman
Apolis Transit Issue Travel Candle – I can't say I've ever traveled with a candle before, but I'm sure you could if you wanted your overnight bag and hotel room to smell nice. Rather, I just use the $30 Apolis "Global Citizen" candle as a regular candle – to make my office smell nice.
Each 4 oz. amber jar, handcrafted in the United States, holds a soy wax candle. With Cypress fig notes, it smells manly but not so dude-like that the ladies will find it overwhelming. Along those lines, please note that this isn't a very strong scent and is suitable for smaller rooms – so consider that before you drop $30 on a candle with a burn life of 40 hours. – Andy Tarnoff
"Dirty Wars" – One of the surprises during the Oscar nominations Thursday morning was Tosa native Jeremy Scahill's documentary "Dirty Wars" managing to wiggle its way into a Best Documentary nomination. The documentary, based on Scahill's own book "Dirty Wars: The World Is a Battlefield," follows the investigative journalist as he hunts down the truth behind some of America's deadly covert military actions, done in the name of winning a war and protecting the country but with a horrific moral cost.
The documentary is polished almost to a fault, but it's hard to deny the film's potency and horrifyingly fascinating subject matter. It's pretty compelling cinematic journalism. I remember walking out of a screening when it was in theaters in June and being worried I was going to get sniped for seeing it. And now, thanks to the wonders of Netflix Instant, you can get that same sense of paranoia in the comfort of your own home!
I doubt it'll win the award March 2 ("The Act of Killing" and "20 Feet from Stardom" are the likely frontrunners), but "Dirty Wars" deserves its nomination and your attention. – Matt Mueller
Facebook Comments
Disclaimer: Please note that Facebook comments are posted through Facebook and cannot be approved, edited or declined by OnMilwaukee.com. The opinions expressed in Facebook comments do not necessarily reflect those of OnMilwaukee.com or its staff.