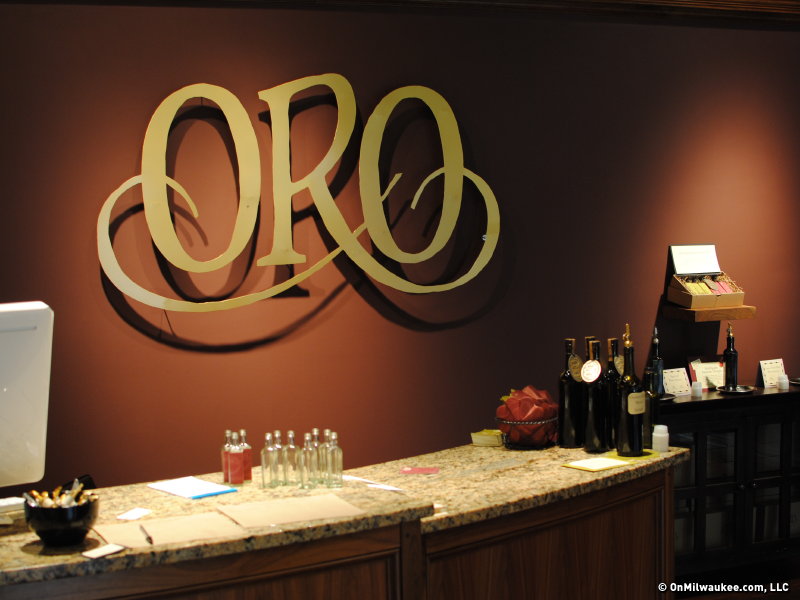 Oro di Oliva brings "liquid gold" to professional and amatuer chefs
For the fifth straight year, October is Dining Month on OnMilwaukee.com, presented by Concordia University. All month, we're stuffed with restaurant reviews, delectable features, chef profiles and unique articles on everything food, as well as the winners of our "Best of Dining 2011."
According to Josh Saiia, good olive oil is not stocked in your favorite grocery store and, in fact, most of what's available there is technically rancid. Saiis, who owns two gourmet oil and vinegar stores called Oro di Oliva, cooked Italian food with his Sicilian family for most of his life and decided early on that most olive oil just didn't taste very good. Hence, he often chose butter or corn oil to cook with because he found grocery store olive oil so disappointing.
"What we have on the shelf is old, tired and – studies are proving – the vast majority is rancid and should not be labeled extra virgin," says Saiia.
And then, a few years ago, he went to an olive oil tasting and tried a sample of fresh olive oil. He was told it would taste like the smell of a freshly-cut lawn and that 10 seconds after ingesting, he would experience a peppery taste. Sure enough, he did, and Saiia, a piano technician who owns a piano repair business with his brother in Greenfield, was absolutely captivated by the potential of this particular olive oil.
Three weeks later, he hopped on a plane with his wife to California to find out more about gourmet olive oil.
"It was one of those life moments," says Saiia. "I had to know why other olive oils didn't taste like this one. I had to find out if this was out of the ordinary or if I could get this kind of oil consistently."
Saiia met with award-winning growers in California and became completely taken with the taste of truly fresh olive oil. He wanted to share the experience. "We came back with a perspective on how we could present this, and get it on people's palates," he says.
Saiia returned to Milwaukee and opened a kiosk-like tasting area in Brookfield Square. After six months, he opened an Oro in Wauwatosa, 7606 Harwood Ave., and in 2009, a second location in Whitefish Bay, 338 E. Silver Spring Dr.
"A lot of North Shore customers came to our Wauwatosa Oro and asked for a store closer to their homes," he says.
Both Oro locations offer multiple stations with stainless steel dispensers of various oils and vinegars. All of them are available for tasting. Customers buy olive oil and balsamic vinegar to cook with, as well as to use as a salad dressing, marinade or to drizzle over desserts. Many of the types of oil and vinegar are intriguing, such as dark chocolate balsamic, blood orange olive oil and an 18-year-old balsamic.
"It's amazing in this economy that people are spending money on olive oil and balsamic vinegar, but really, the cost of a drizzle is just a few cents. It elevates life quality and it's cheaper than a coffee fix," says Saiia.
Oro sells oils from growers in the northern and southern hemispheres, they buy different oils based on harvest season and taste to ensure that they're selling the freshest, most flavorful olive oil possible.
"Very little time passes from tree to table with our oils," says Saiia.
Despite popular opinion, Italy is not always the top exporter of olive oil; however, because of what's sold in grocery stores, consumers are led to believe this. According to Saiia, the best oils are from all over the world, and vary from season to season.
At the recent world-wide olive oil competition held in Los Angeles this past June, four of the six best in show oils were from California and Australia. (Oro carries four of these oils in their stores.) Even more surprising were that two of the winning oils were flavored oils, which are not usually considered to be in the same category as non-flavored oils.
"When you sit down and blind taste test, by no means has Italy cornered the market on olive oil," he says.
Saiia says opening a third location is always in his mind but at this point, he does not have a solid plan for another shop. For now, he is focusing on his two shops and continuing to grow his customer base.
Aside from fine oils and balsamic vinegars, Oro sells dry pasta, dipping dishes, bath gels, hand creams, pesto, jam, emulsifiers and cookbooks. They also sell gift boxes.
Saiia says as time goes on, more and more companies try to sell oils in fancy bottles that are not high quality.
"Anyone can pour something in a bottle and make it look good, but freshness is everything," he says.
Talkbacks
rob | Oct. 8, 2011 at 2:50 p.m. (report)
I have been using Oro olive oils and balsamic vinegars for almost a year now. They are TERRIFIC! It is so amazing to be able to go into the stores and try them out before buying. You will definitely taste the differce once you try them.
Facebook Comments
Disclaimer: Please note that Facebook comments are posted through Facebook and cannot be approved, edited or declined by OnMilwaukee.com. The opinions expressed in Facebook comments do not necessarily reflect those of OnMilwaukee.com or its staff.